Designing your dream home is easier said than done. While building the house, everyone wishes to include such elements able to attract positive energies. Owing to this, you probably come across the most common term, i.e., Vastu Shastra. According to ancient Hindu customs and beliefs, deciding the home architecture based on some set guidelines is what Vastu shastra is all about. As per the Vastu beliefs, every room known to inherent energy skewed towards negative aspects or the positive ones. If any particular room possesses negative energy, adding positive elements will help neutralize the adverse effects. As far as Vastu is concerned, plants help balance out the energy flow in the place. That is why; people include Vastu plants for home while decorating the place.
Vastu shastra also prescribes where there is greenery; people can extract the maximum benefits from natural elements. Planting trees and plants give the most positive energy and infuse the home's vibe with prosperity and luck. Talking about the significance of Vastu for home, it helps to harmonize nature, and some specific plants work the best to add the required balance to your home. Plants benefit in improving air quality and give positive energy in abundance, needed for a stress-free and comfortable life at home.
Now, you must be wondering what are the best Vastu plants for bedroom, kitchen, or your whole house? Don't worry as we will answer all your questions. But, before that, you should be aware of the fact that implying Vastu for your home is not an easy job. You have to follow specific guidelines and prescribed rules while placing plants in different rooms.
So, have a look at some required guidelines before including plants as per Vastu at your home.
As far as Vastu Shastra for home is concerned, directions play a significant role. Knowing the Vastu significance of these directions will help harmonize the home ideally. The four directions signifying nature elements as per Vedas are:
The South West area represents Earth or Bhumi.
The North East area represents Water or Jal.
The North West area represents Air or Vayu.
The South East area represents Fire or Agni.
Vyom represents the central space in the house.

To maximize the positive energy flow in the house, all these five elements should be in harmony. While choosing the perfect Vastu plant for your home, keep the following points in mind:
The outdoor lawn should be in the North or East direction.
Avoid having a water body in the southwest direction, resulting in lost mental peace, happiness, and wealth.
Wish to have a rock garden? Always choose the southwest direction for the same.
The Southwest direction is perfect for growing large plants and trees.
Avoid planting trees that attract worms, snakes, and honey bees, as it will bring bad luck for you and your family.
Never plant tall trees at the entrance to your home as they can block the flow of energy.
Avoid planning tamarind trees because, as per the Vastu beliefs, this tree attracts evil spirits.
Planting flowering plants will bring good luck and prosperity in life.
Potted plants are considered the best source of positive energy.
Ensure removing the dry-out leaves from time to time as they can negate your home's vibe.
Peepal is one such plant that takes root through the house walls. But, this is not considered a good omen, and people hesitate to remove them. The best way to get the job done is to offer a small puja before removing the plant.
It is recommended not to keep a bonsai plant at home because, as per Vastu, the bonsai plant will cause financial stagnation, and the negative energies will affect the home vibe.
Taking proper care of plants plays a very important role as keeping dying and rotting plants at home is not a good omen.
If you have creepers in your house, then they can attach themselves to your house walls and start damaging them. The damaged walls attract negative energies.
Avoid keeping thorny plants at your home as they bring in negative energy and disturb the place's positive vibe. Cactus, like thorny plants, reflect death and bad luck. Hence,
it's better to avoid them for home décor.
Best Vastu Plants for Home
Nature is an almighty gift for humankind that keeps on giving beautiful and beneficial bounties. These bounties not only help controlling natural flaws like pollution and hazardous toxins but have a lot more to offer. Because of the rising pollution levels, embellishing homes with golden green plants has become a necessity. Purifying the air and decorating the home is not only the cardinal job of the plants. According to Vastu Shastra, you can place indoor plants at your home to bring good luck, prosperity, positivity, wealth, and health to life.
So, check out the range of Vastu plants perfect for home interiors to balance the flow of positive energies:
1. Golden Pothos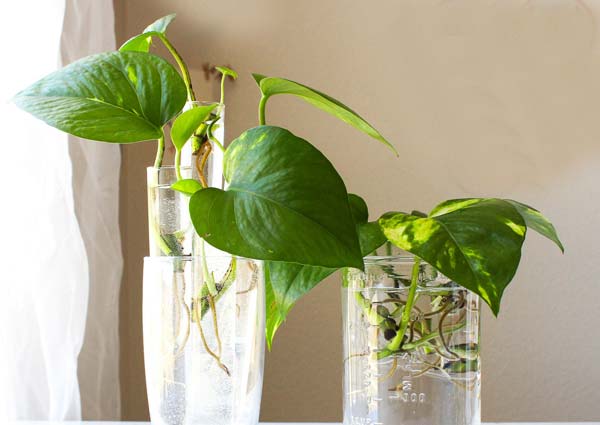 Botanical Name: Epipremnum aureum
Common Name: Devil's ivy
Benefits of keeping Golden Pothos in the home:
Keeping Golden Pothos in the house will help spread positive energy in the house.
This plant attracts wealth and fortune, making it a good gifting item as well.
If you keep this place as per the Vastu guidelines, the negative energies in the surrounding will be destroyed.
It is also one of the best and effective air purifying plants. Having it at your place will increase the oxygen amount.
Mental problems like stress and anxiety can also be reduced by having this place near you.
Vastu Guidelines
The southeast direction is perfect for placing Golden Pothos.
The northeast direction is not a suitable area for plant placement.
2. Lucky Bamboo Plant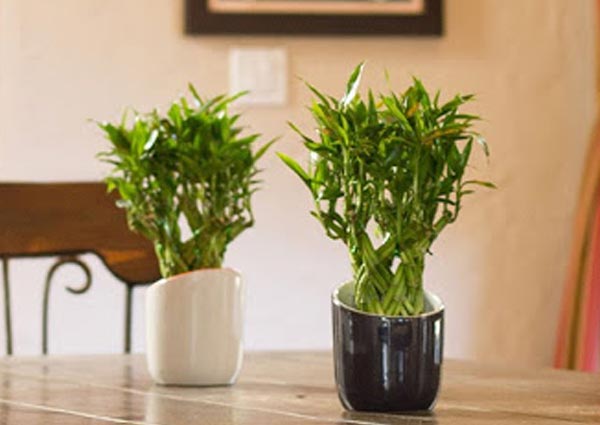 Botanical Name: Dracaena sanderiana
Common Name: Curly Bamboo
Benefits of keeping Lucky Bamboo plant in the home:
This plant is capable of attracting positive energy in the surroundings when kept in the most suitable direction.
If you have this gem plant in your surroundings, you can enjoy a peaceful life with your acquaintances.
This plant also works like a lucky charm for your dear ones when gifted on any occasion or merriment.
It is one of the most popular and beneficial Vastu plants for home, office, kitchen, and home entrance.
You can send lucky bamboo plant online to your dear ones as a plant with seven stalks brings prosperity, peace, luck, and happiness.
Vastu Guidelines
The southeast direction is the perfect one to keep lucky bamboo plants in the house.
Choose a plant having six stalks is the perfect one to get the maximum benefits.
3. Snake Plant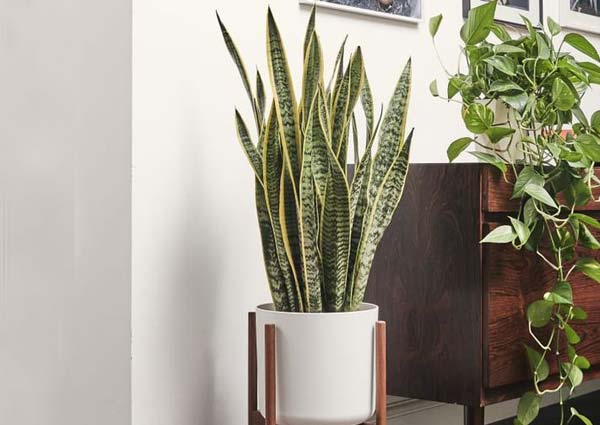 Botanical Name: Dracaena trifasciata
Common Name: Mother in law's tongue
Benefits of keeping Snake Plant in the home:
You can keep a snake plant around you as it spreads positive energies.
Keeping this plant at your home help create a healthy environment for your family.
The snake plant also works as an air-purifying plant as it absorbs harmful toxins like formaldehyde from the surrounding air.
Carbon dioxide is very harmful to the body and mind. Thus, keeping this amazing plant at your place will help reduce the amount of CO2.
Keeping a snake plant in the living room will help reduce stress and anxiety.
Vastu Guidelines
South or East direction is the ideal place to keep snake plant in the bedroom.
4. Rubber Plant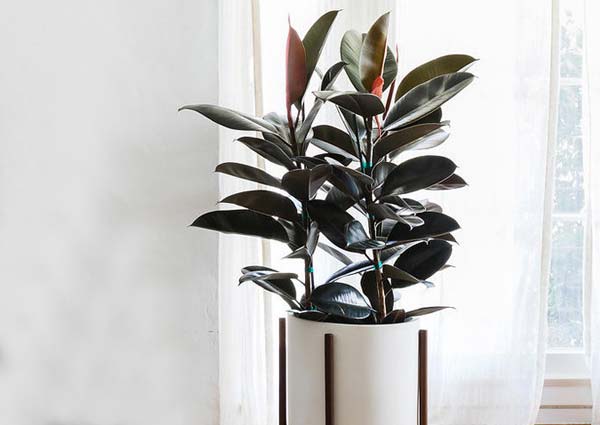 Botanical Name: Ficus elastica
Common Name: Indian rubber tree
Benefits of keeping Rubber plant in the home:
Keeping a rubber plant in your garden will add more auspicious values to it.
Having this plant in your home will brings fortune.
You can also keep this plant in a pot inside your living room or kitchen to spread a positive vibe around.
Giving a rubber plant to your near and dear ones will bring financial prosperity for them.
The rubber plant is also a perfect Vastu plant for office as it brings wealth and commercial success.
Vastu Guidelines
The southeast direction of the living room is the ideal place to keep the rubber plant in the living room.
5. Jade Plant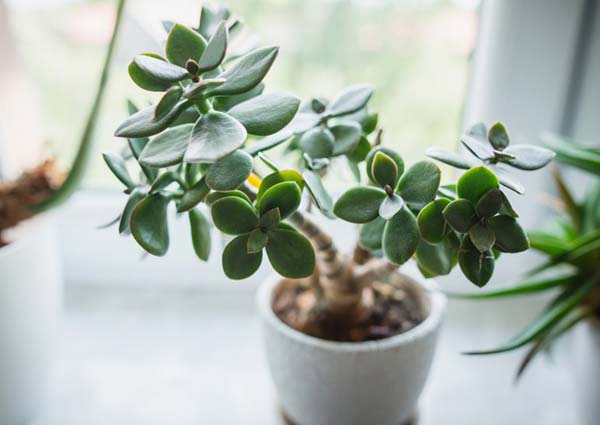 Botanical Name: Crassula ovata
Common Name: Jade plant
Benefits of keeping Jade plant in the home:
Jade plant brings luck and fortune for you if kept as per the Vastu guidelines.
Having a jade plant around you symbolizes prosperity and growth in life.
This plant attracts commercial prosperity and wealth when kept in the office.
This plant is perfect for spreading positive energy in and around the home.
Gifting a jade plant to someone will lead to a flourishing friendship.
Vastu Guidelines
The southeast direction of the entrance is the best place to keep a jade plant at your place.
Keeping a jade plant in the bedroom or bathroom will attract negative energy.
6. Aloe Vera Plant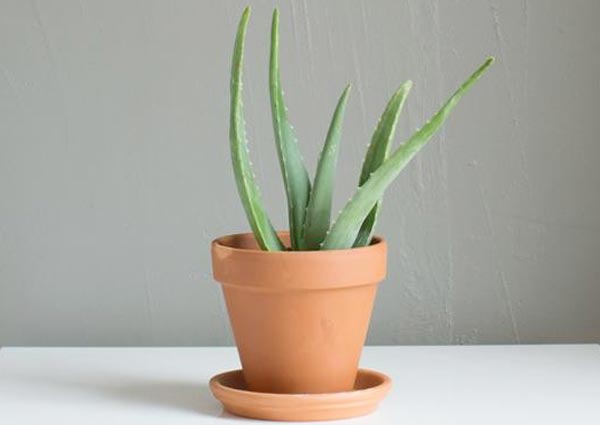 Botanical Name: Aloe barbadensis miller
Common Name: Aloe
Benefits of keeping Aloe Vera plant in the home:
Having an Aloe Vera plant at your home will help take proper care of your skin and hair.
Aloe Vera will is also used to cure digestion-related issues.
Keeping a potted Aloe Vera plant will direct the prosperity flow.
Having this plant around you will bring happiness and peace to your home.
Aloe Vera is also known to have air-purifying qualities, based on which it is one of the best indoor plants.
Vastu Guidelines
The North and East direction is considered as the best part of the house to keep the Aloe Vera plant.
7. Peace Lily Plant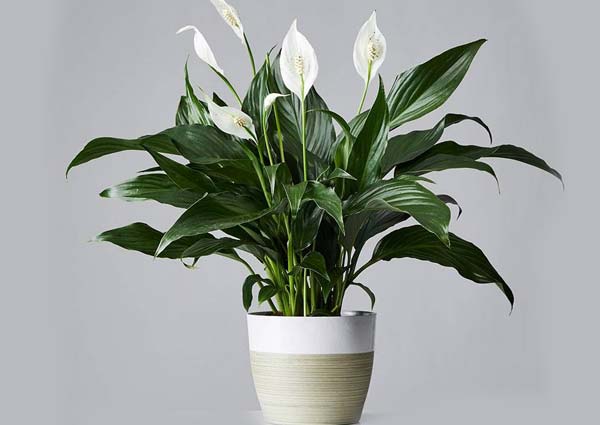 Botanical Name: Spathiphyllum
Common Name: Mauna Loa Peace Lily
Benefits of keeping Peace Lily plant in the home:
Keeping a Peace lily plant in your home interiors will add an elegant look.
When kept as per the Vastu guidelines, this plant will help bring peace and calm to family members' lives.
If you keep this Vastu plant in your bedroom near the window, it will infuse the surrounding with calmness and tranquility.
Keeping this plant in the kitchen, library, or living room will part away from the negative energy.
Giving someone a peace lily plant will bring good vibes for them and will represent a sweet gesture from your side.
Vastu Guidelines
Keeping this particular plant near the bedroom window is the ideal place to bring calmness and peace.
8. Banana Tree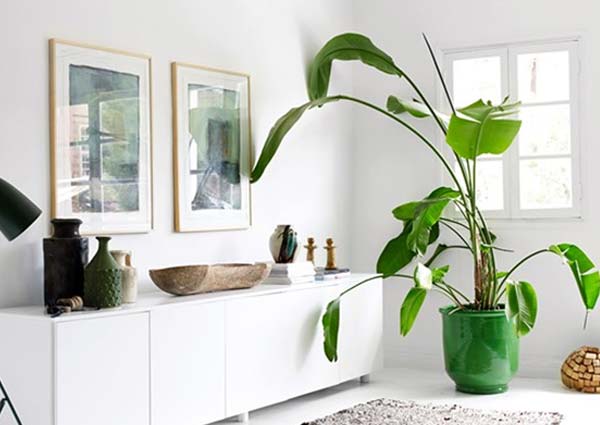 Botanical Name: Musa
Common Name: Banana
Benefits of keeping Banana Tree in the home:
Having a banana tree around you symbolizes prosperity and happiness in life.
Keeping this gem plant in your living room will bring wealth.
This plant is used during various auspicious festivities and merriments in India to bring fortune and luck.
Planting a banana tree at your home will bring good health and mental peace for the family members.
You can also think of giving a cute and small banana tree to someone planning to shift to their new house.
Vastu Guidelines
The northeast direction of the garden is the ideal place to plant the banana tree at home.
9. Holy Basil Plant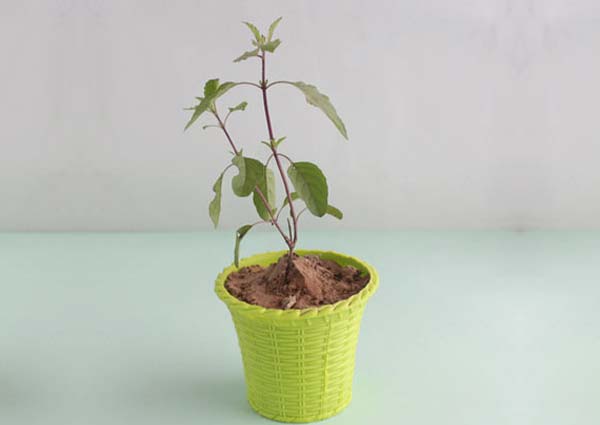 Botanical Name: Ocimum tenuiflorum
Common Name: Tulsi
Benefits of keeping Holy Basil plant in the home:
Holy basil is a well-known plant for its incredible medicinal properties.
This amazing plant also has air purifying qualities.
Having this plant around will be very beneficial as it produces oxygen.
Consuming its raw leaves will help remove harmful toxins from the body.
If you keep this plant as per the Vastu guidelines, it helps create a positive aura.
Vastu Guidelines
North, East, Northeast direction in the house works the best to keep Vastu holy basil plant.
Avoid keeping the plant in the South direction of the house.
10. Lavender Plant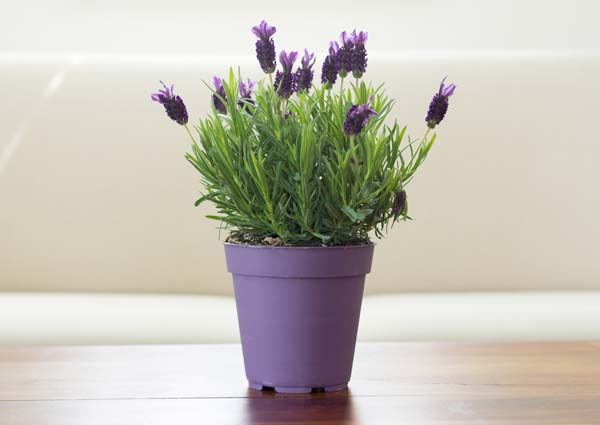 Botanical Name: Lavandula
Common Name: Lavender
Benefits of keeping Lavender plant in the home:
The Lavender plant is one of the most beautiful flowering herbs, perfect for enhancing your house look.
You can grow this place in your garden for its incredible ornamental and medicinal properties.
Having this gorgeous flowering plant in your bedroom or living room will relax your mind because of its amazing fragrance.
Lavender is also known to have mood-elevating properties, and hence, this plant will help create a stress-free environment for you.
Keeping the lavender plant in your bedroom will result in a peaceful sleep and promote romance for couples.
Vastu Guidelines
Keep the plant in your bedroom near the window will help receive positive vibes.
11. Peony Plant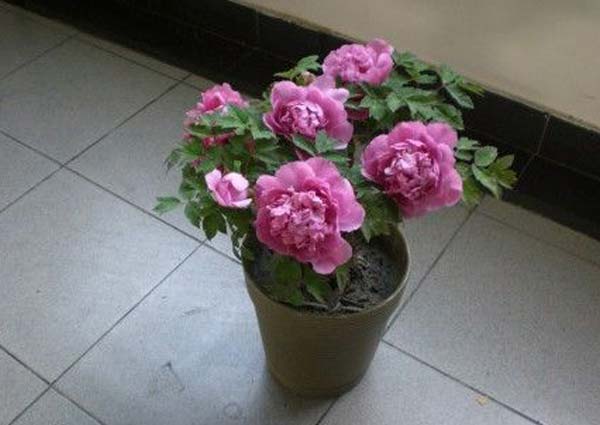 Botanical Name: Paeonia
Common Name: Garden Peony
Benefits of keeping Peony plant in the home:
The peony plant is indeed one of the most alluring flowering plants one can have at their home.
Having this plant near you signifies love, positivity, and optimism.
Growing peonies in your garden will give it an appealing look.
Keeping a potted peony plant in different areas of the home will help to enhance the relationship ties.
Peony plant also works as one of the best desktops and tabletops if kept in offices.
Vastu Guidelines
Southwest corner is the ideal place to keep peony plants in your home.
12. Money Plant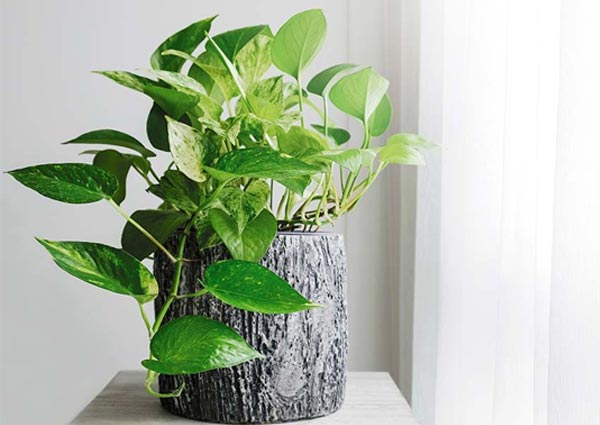 Botanical Name: Epipremnum aureum
Common Name: Pothos
Benefits of keeping Money plant in the home:
The money plant is one of the best Vastu plants you can have for your home interiors and outdoors.
This plant has heart-shaped green leaves that mean having it in your living room will add an aesthetic look to the place.
As per the Vastu guidelines, keeping a money plant in your living room will attract wealth.
Gifting a potted money plant to your dear ones will bring fortune for them.
Money plant is also blessed to have some fantastic air-purifying qualities making it the aptest addition to the home interiors.
Vastu Guidelines
You can place a money plant in your bedroom near your bed.
Avoid placing the plant near the headrest or your bed's foot.
The south-eastern direction of your home is the best for plant placement.
You can lay your hands on any of these Vastu indoor plants to bring positivity to home and your life. Choosing plants as per the Vastu Shastra to decorate the hall, kitchen, balcony, and bedroom will clean the surrounding air and exude positive energy. The list aforementioned gives you the best Vastu plants for bedroom. Choose from the list and embellish your place with the goodness of nature.
Closing Thoughts
Having plants around you is the best way to connect with nature. They help balances the inside energies with that of the universe. If you align the plant placement as per the guidelines laid out by Vastu Shastra, science will help you fill the home with peace and harmony. However, including plants in your home decor comes with a rider. Taking proper care of plants goes without saying that the energy inside stays positive, balanced, and harmonized.
GiftaLove.com offers its esteemed customers a wide range of green plants perfect as per the Vastu shastra guidelines. The wide range of indoor plants available here on this online gift store includes air purifying plants, lucky bamboo plants, indoor plants, outdoor plants, flowering plants, good luck plants, and terrarium plants. Send good luck plants online from here without going high on the budget to dazzle every festivity and merriment with nature's goodness.

Priya Gupta is the in-house content writer and developer of Giftalove.com. Her ever-smiling face, big heart, and jolly-good personality make her stand out. Her writing style demonstrates a harmonious union between passion and creativity. She is a multitasking person, delivering flawless work while listening to music, and dancing to the beats of Justin Bieber. All she needs is a cup of coffee to express her views through her words!