During this period of time it is obvious to see women of every age busy in shopping of beautiful Rakhi threads for her dearest brother as the awaited and cheerful festival of Raksha Bandhan is approaching fast. And the Rakhi that is becoming the most favorite of all is Silver Rakhi. In fact there are numerous reasons that why Silver Rakhi is becoming the much preferred choice of sisters to embellish their brother's wrist.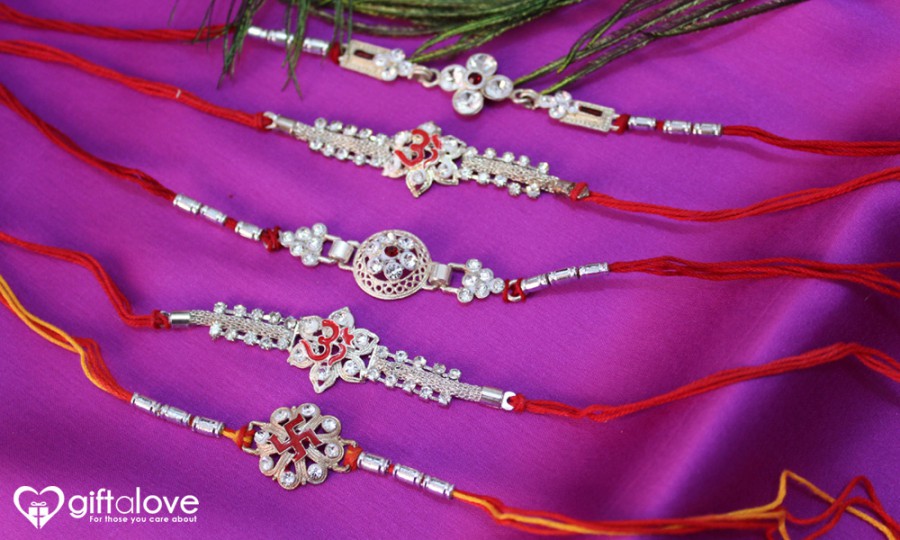 There was a time when a single thread with few beads or pearls was considered perfect as Rakhi thread to strengthen the brother-sister bond of love. With the course of time Rakhi has become a beautiful embellishment for sisters to choose and adorn the wrist of their brothers with. Thus an endless variety of Rakhis has been introduced in market over the course of time. However it is interesting to know that which Rakhi is now trending and becoming a much preferred choice among all. Well it is none other than exquisitely crafted, uniquely designed and beautifully shined Silver Rakhis.
Dazzling jewellery inspired Silver Rakhis are one of the best Rakhi varieties available in the market these days. Apart from being a Rakhi, Silver Rakhis hold the charm of being a kind of Bracelet that brothers can wear and flaunt in style. Thus Silver Rakhis is not just loved by sisters but also liked by brothers too.
More interestingly Silver Rakhi is available in amazing varieties that can beat the charm of any other Rakhi range. Thus you can find:
Silver Rakhis with Sparkling Shine:
One of the silver Rakhi varieties that is easily available online and at local Rakhi shops is the Stone Studded Silver Rakhis that is much preferred among all because of its sparkling shine. In fact Stone Studded Silver Rakhis are best to dazzle the wrist of brother and to bring that dazzling smile on his face too.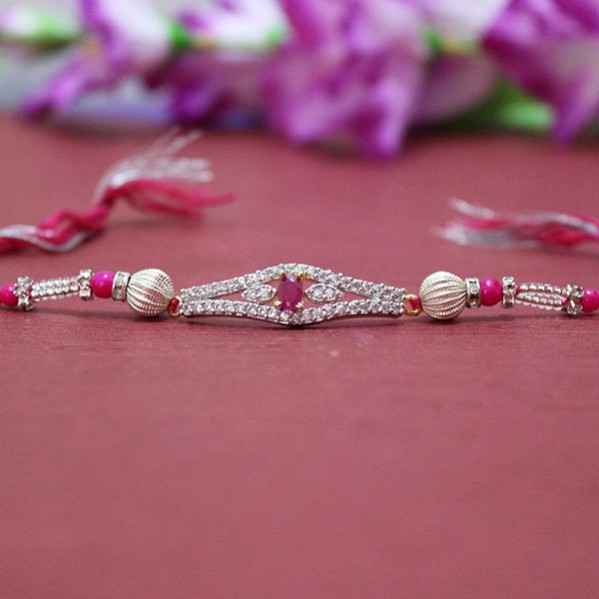 Silver Rakhi with Hints of Colors:
One of the elegant and attractive Silver Rakhis choices is the Colored Silver Rakhi range. There can be endless color variants of Silver Rakhis. An intricate design with hints of Blue, Green, Red, Orange, Pink and other such colors make Colored Silver Rakhis quite attractive for sisters to choose for embellishing wrist of brother.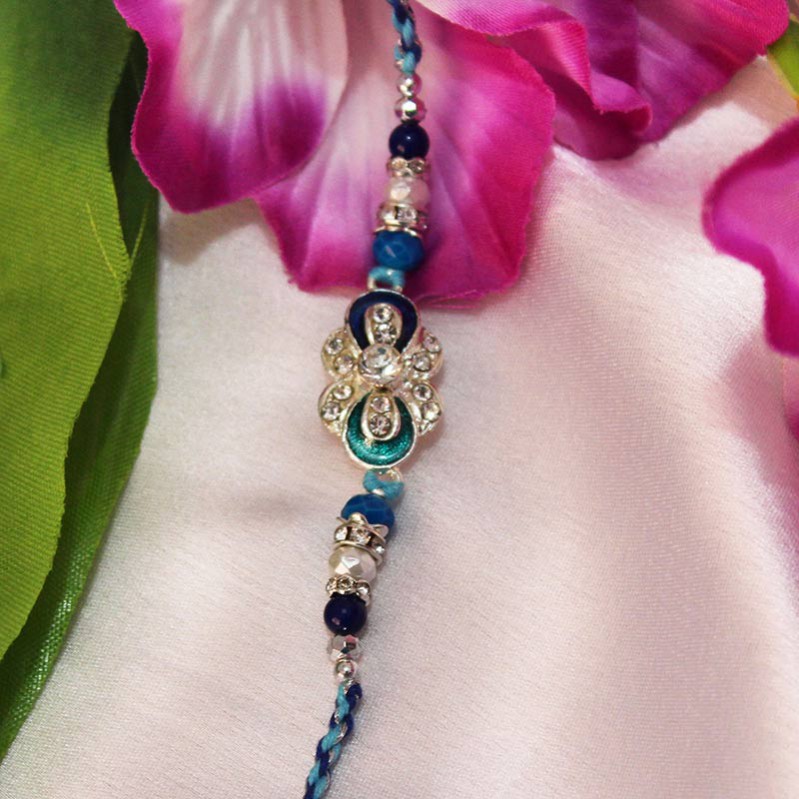 Silver Rakhi as a Bracelet:
Now this is one such Silver Rakhi range which not only allures sisters but is much loved by brothers. Well it's a Bracelet Rakhi that we are talking about. Sisters obviously find this Rakhi an excellent choice to adorn the wrist of their stylish brothers and brothers love to wear and flaunt this Rakhi as a Bracelet long after the festival is over.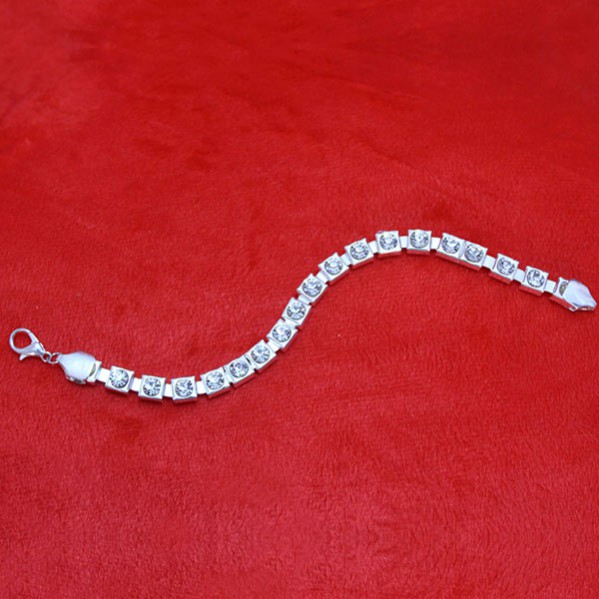 Silver Rakhi with Blessings of God:
Obviously this means that we are talking about Auspicious Silver Rakhis that are crafted with symbols of God, Goddess and other auspicious symbols that add more charm into the Rakhi with sanctity. For sister Auspicious Silver Rakhis with Om or Swastika symbol are perfect choice to bring blessings of God to brother in a form of a Rakhi.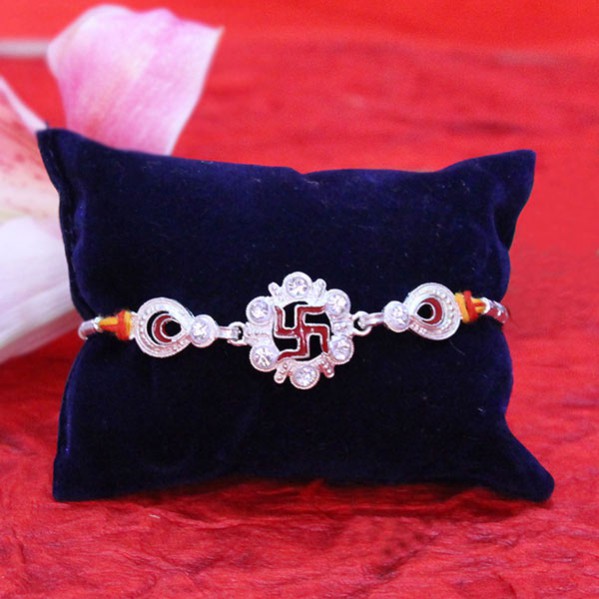 Well there is lot into the range of Silver Rakhis if we start searching markets and online Rakhi selling portals like Rakhi.giftalove.com. So why wait when beautiful and intricate Silver Rakhi ranges at Giftalove.com is waiting for you to be explored and chosen. Hurry and buy such lovely Silver Rakhis online at the portal with free shipping facility on orders of Send online Rakhi in India and worldwide.
Save