Red flowers are associated with the heart. This is the color of blood, the sign of life, and the sign of living in you. Since red flowers symbolize heart and life, they regulate and represent them. A red flower is a statement that cannot be denied. There are many ways to say 'I love you,' to 'I can't live without you,' to 'I'm scared of you,' to 'I'm proud of you!' When you can't figure out what would be the perfect gift for your special occasion and when you find yourself struggling for the right words, trust the red flowers to do the talking. Additionally, every red flower makes perfect Valentine gifts online.
Want to bring some attention to your garden? Try painting (or rather, planting) it red! In order to get you started, we've collected our favorite red flowers – the ones that will turn heads and add some serious visual interest to your garden. There are many types of red flowers to choose from, ranging from classic bloomers like the red poppy to gorgeous bleeding hearts and vibrant tulips (assuming you live in the right area where online gift stores deliver valentine week gifts easily).
You are likely to be more than pleased with the results, whether you incorporate them into one of your new backyard ideas or scatter them throughout your beautiful English garden. Take a look at our favorite perennials and annuals, including both dark and light varieties. Don't forget to browse our other inspired red flowers around the world –
1. Roses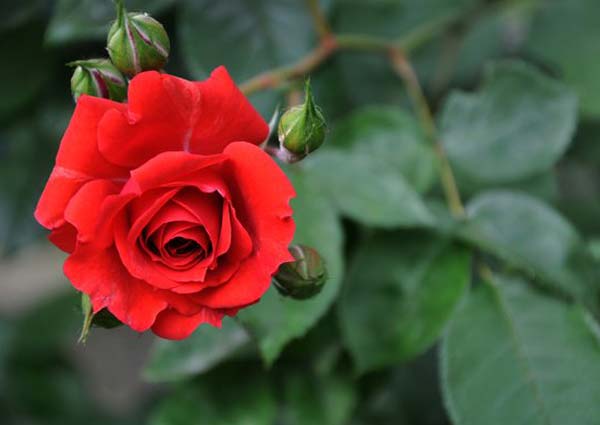 Over 150 varieties of roses are available in a range of colors, but red roses, traditionally associated with love, are the most popular. There is no doubt that roses are the most beautiful of all flowers. The flowers are available in several colors, and the red color symbolizes deep love, intelligence, and concentration. When gifted beautifully, one of the most well-known flowers representing togetherness and passion is the red rose. In addition to representing appreciation and fidelity, it also represents the most demonstrative message of desire and emotions. On Valentine's Day, couples usually present one another with red roses, which is an exceptionally popular flower. The red rose is a symbol of love, passion, and desire.
2. Poppies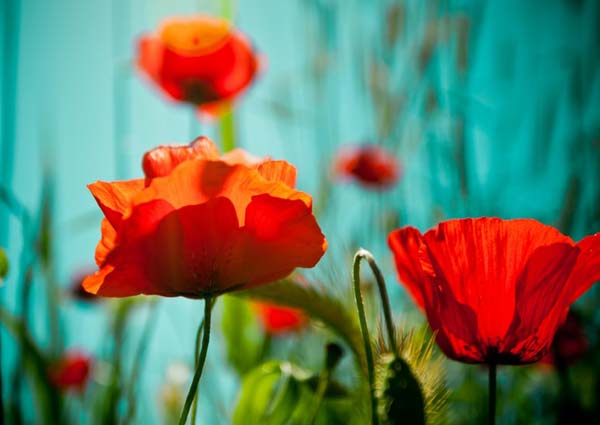 This bright red bloom is a show-stopper, featuring textured petals that resemble crepe paper. Poppy is an ancient wildflower that symbolizes death and rebirth, a symbol of Remembrance Day in many countries. The broad petals of this vibrant red flower are dotted with dark spots near the base. The violet anthers of the stamens stand out against the vivid red color. This makes Poppies one of the best flowers to send gift combos like Valentine flowers with cards to uniquely convey your emotions and feelings.
3. Bleeding Hearts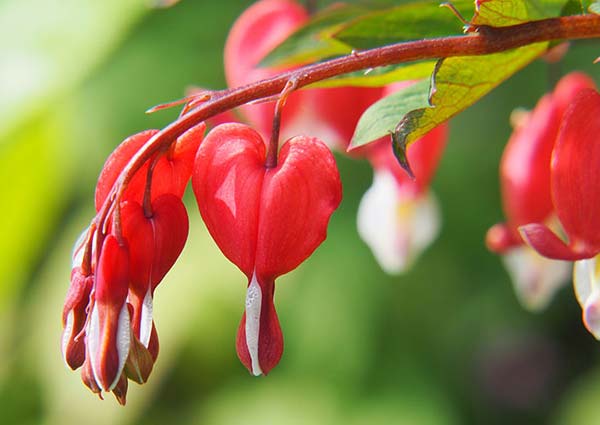 Blood-red bleeding hearts are a very unusual type of flower, which got their name from their extraordinary shape. Heart-shaped flowers adorn this spring-blooming perennial that prefers well-drained soil, partial shade in warm climates, and direct sunlight (in cold climates). The petals of this flower range in color from pink to red, and they grow in a heart-shaped shape with a white drop-shaped petal at the bottom. These flowers bloom in the spring and end their blooming period by the end of summer. If you are searching for Valentine romantic flowers, bleeding hearts can surely be your option if you don't want to go with roses.
4. Amaryllis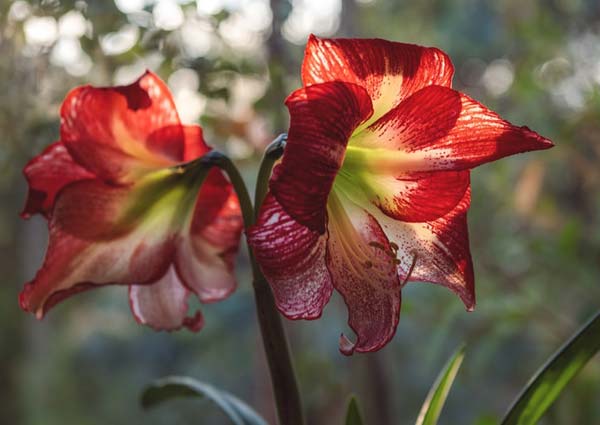 Amaryllis are popular plants for Christmas decorations. Symbolizing radiant beauty, these trumpet-like blooms have tall stems. The crimson flower was thought to have been born from the blood of a shy shepherdess who punctured her heart to create it. The Amaryllis is an iconic, vivid symbol of pride, determination, radiance, and beauty. The product comes in several colors, including white, pink, cream, orange, and red. Here is a short and quick care tip for growing healthy Amaryllis – they work well planted in beds, borders, edgings, or even in containers. The flowering period can be extended by planting bulbs every 1-2 weeks.
5. Gerber Daisies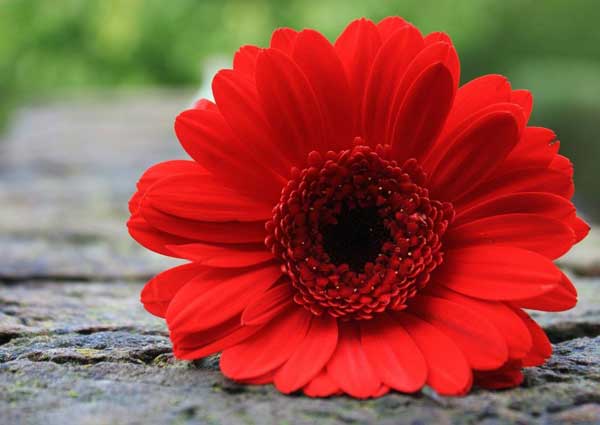 A Gerbera daisy is a perennial plant that is renowned for its vividly colored flowers. The Gerbera daisies (also known as Gerberas) come in a variety of colors, but the red ones are particularly gorgeous, with ray-shaped petals and a golden-brown center. There are a variety of colors in this flower, including white, orange, cream, pink, and red. In appearance, it is similar to a large daisy with several petals surrounding a golden center.
6. Tulips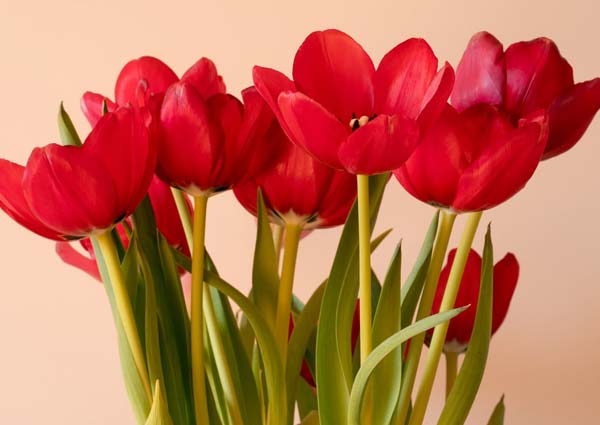 Various tulip varieties bloom at different times in early and late spring, allowing you to enjoy flowers all through the season. Red tulips are associated with love and passion, just like red roses. The red tulip is both elegant and romantic, making it the perfect flower for showing your love. These flowers are also historically significant. Farad, a Turkish prince, was smitten by a young woman named Shirin. His grief at the death of Shirin led him to ride his horse over a cliff after learning of Shirin's death. Each red tulip was said to have sprouted from a droplet of his blood. They are, therefore, a symbol of pure love. You can definitely choose red tulips to send Valentine flowers online to your love of life as a symbol of your pure and true love.
7. Poinsettia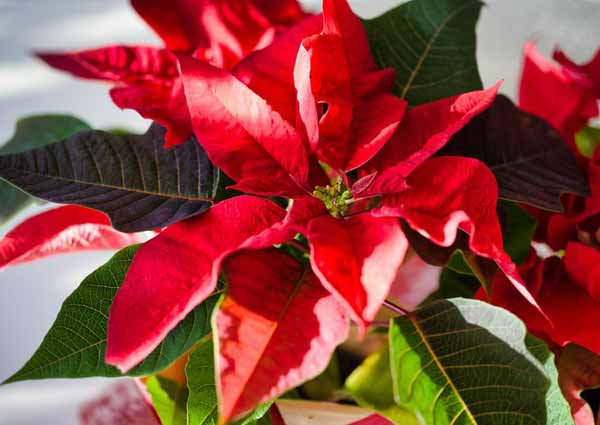 The poinsettia is a bright red flower native to the United States. Poinsettias are not actually flowers; they are a cluster of leaves that change color and create a wonderful hue. They come in colors such as orange, cream, but most commonly red. In addition to symbolizing purity, poinsettias represent cheerfulness and success.
8. Cockscomb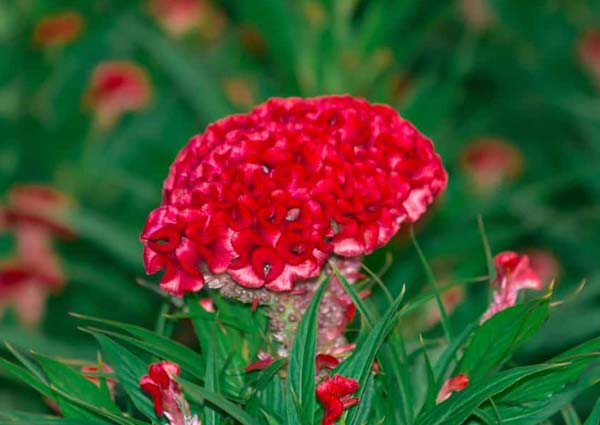 In addition to being a fall bloomer, cockscomb receives its name from its resemblance to a rooster's head (the "cock's comb"). Although it is typically grown in the red color shown here, it is also available in yellow, pink, and white.
9. Lily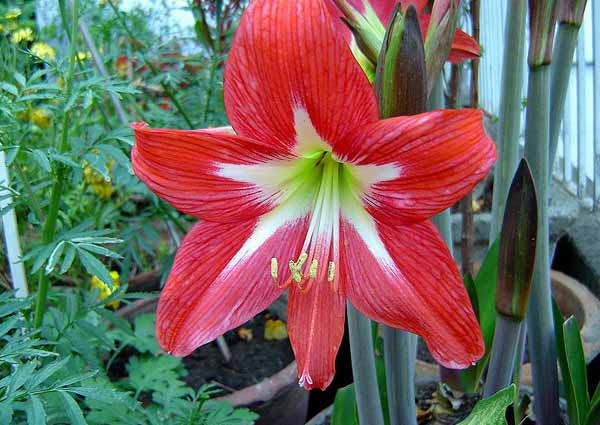 The flower inspires feelings of passion and desire when given as a gift. Lilies come in a variety of colors and sizes like yellow, white, lavender, orange, and red. At weddings, lilies are traditionally used as a symbol of union, partnership, and long-term relationships. The white lily is often associated with Virgin Mary and is thus regarded as a symbol of purity and chastity.
10. Freesia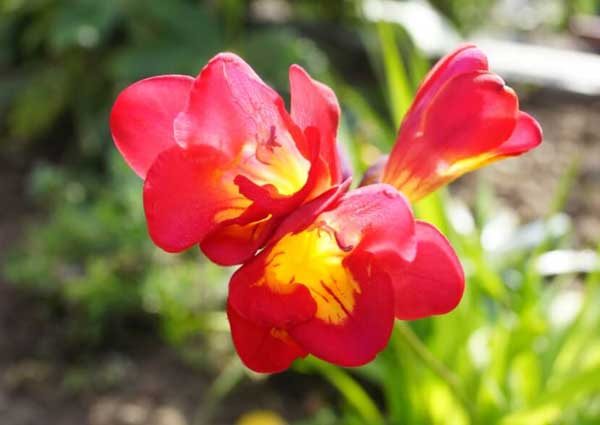 This beautiful night-blooming flower features trumpet-shaped petals and comes in several colors, including red, mauve, and purple. Africa is home to the freesia flower, a member of the iris family. Among the many colors of this bell-shaped, fragrant flower are orange, red, pink, yellow, mauve, lavender, purple, and others. Freesias symbolize friendship and trust, as well as sweetness and innocence.
11. Coneflowers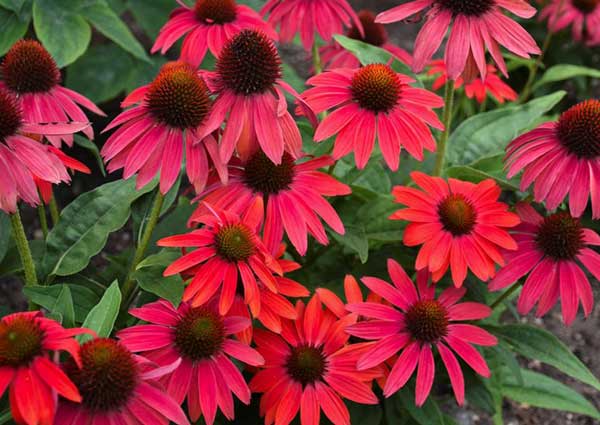 In addition to being called echinacea, this collection of flowers is also an easy-to-care perennial that blooms in the summer. Herb tea can be made with petals, leaves, and roots. It's a great plant for attracting pollinators. And, moreover, if you are looking for an easy to available red flower for the garden, you can never go wrong with this one.
12. Petunia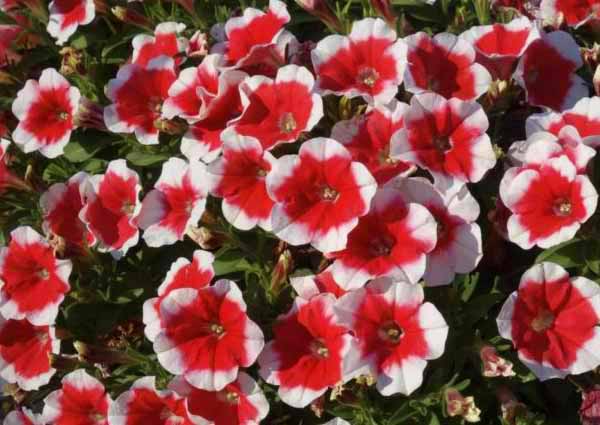 Featuring variegated shades of red and white, yellow and white, or purple and white, this flower blooms in beautiful shades of red and white and is a stunning addition to the garden. There's no question that this is one of the best-looking flowers. Despite its beauty, it represents haughtiness, anger, resentment, and retaliation against the recipient. So, if you are searching for perfect Valentine gifts online, a flower bouquet of red petunia can be your go-to option for sure.
13. Dahlia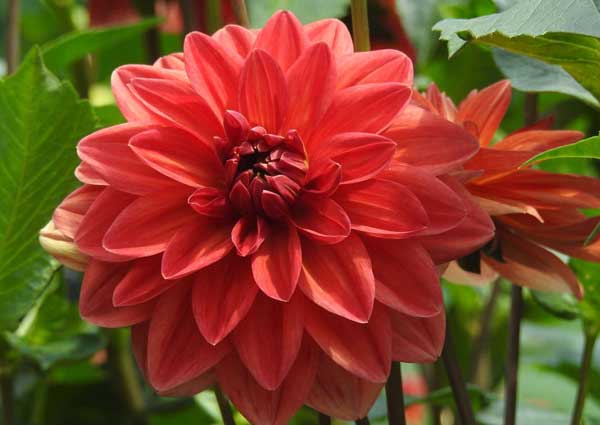 Perennials of this type are known for their distinctive petal formations and are available in an array of colors. For those who suffer from hay fever allergies, you may want to be careful when planting them.
Associated with the Asteraceae (aster/sunflower family), Dahlia is closely related to chrysanthemum, daisy, marigold, dandelion, and zinnia. It is remarkable how Dahlia flowers can have such a wide variety of shapes and colors. These symbols can mean anything from a warning to a sign of change or travel to a sign of betrayal. Dahlias were known as 'survivor flowers' during Victorian times. According to symbolism, the Dahlia represents elegance and dignity.
14. Red Marigold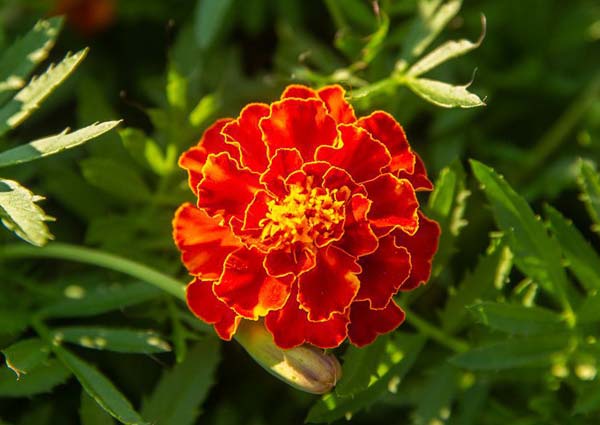 There are several different colors of marigolds, ranging from pale yellow to a deep, russet red. Consider the varieties 'Durango Red' and 'Red Charm' if you're looking for red varieties. Bonus tip – These plants are easy to grow.
15. Hibiscus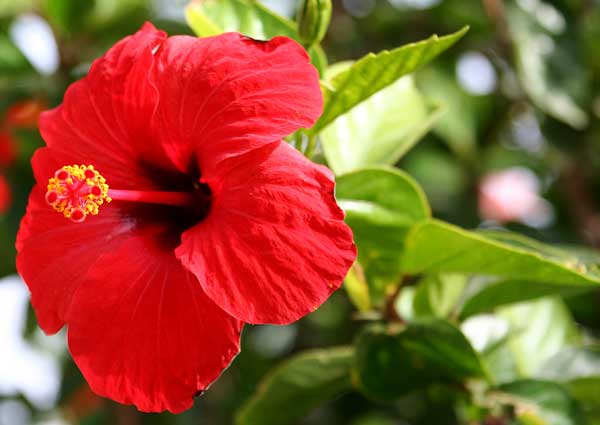 Even though hibiscus flowers only last a few days, they are replaced by new ones shortly thereafter. To use the petals in recipes like this hibiscus-mint lemonade, you can dry the petals and steep them as a tea.
A tropical flower, Hibiscus belongs to the Malvaceae family. This beauty is called a 'Flower-of-an-Hour,' and many admire it because of its beauty. If someone gives you a hibiscus, that can also symbolize 'Seize the moment,' which is represented by the bloom of the Hibiscus, which can end at any moment. The red Hibiscus represents outstanding beauty and love and is inspired by love.
16. Anthurium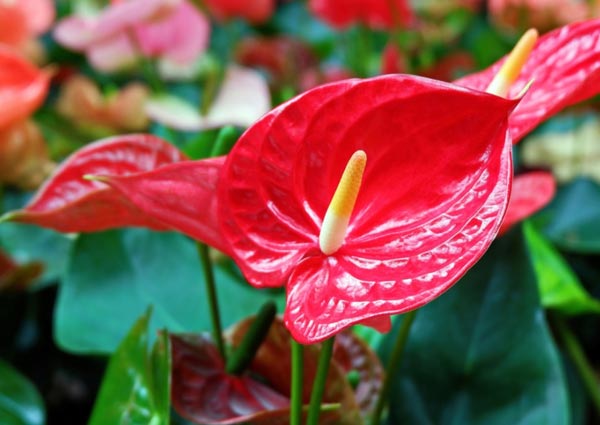 The heart-shaped leaves of the anthurium can last for months and will rebloom throughout the year with proper care. It is a fantastic choice for novice plant owners. It is also a great choice for indoor plants!
There are more than 300 varieties of anthurium, a tropical flower named for its resemblance to a tail. Upon close examination, it has a glossy, heart-shaped bract that surrounds the true flower, which is actually a spike that blooms at the center. Red, pink, lilac, green, and brown are just a few of the colors available if you wish to send flowers as Valentine gifts for girlfriend or wife. Anthurium flowers are symbolic of hospitality, happiness, and prosperity.
17. Cardinal Flower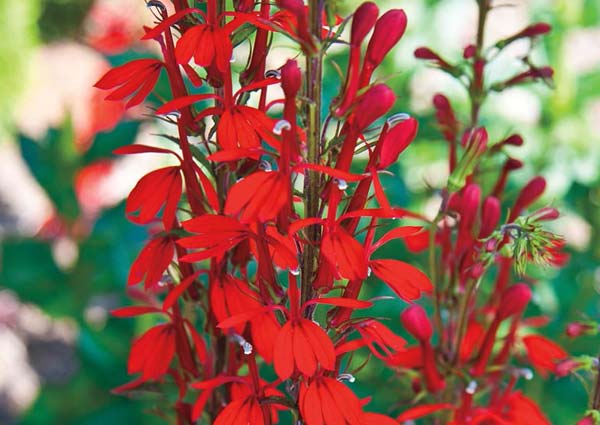 This flower is obscenely beautiful, featuring beautiful colors like deep red, crimson, and scarlet. The Cardinal flower is an endemic plant of North and Central America, closely related to the species of the genus Lobelia. Typically found in wet meadows and marshes, this spiky flower has a strong scent. Consider planting it nearby to control algae growth in a water feature, such as a small pond.
18. Anenome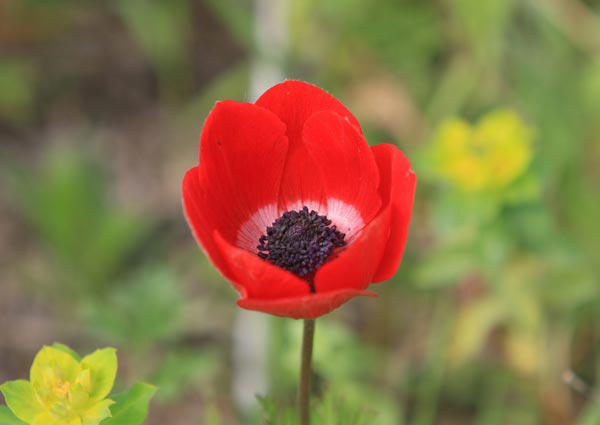 It requires very little maintenance to grow these poppy-like flowers. The plants bloom in early to mid-spring and do best when they are partially shaded or in full sun. These flowers are popular in wedding bouquets, coming in several colors, including white and blue. This is why Anenome is considered one of the popular anniversary gifts for wife or newlyweds.
Originally from the Mediterranean region, this flower has a scarlet center with white or yellowish accents. Many colors of anemones are available, including lavender, lilac, scarlet, pink, deep purple, magenta, and even two-colored color-block shades with a white or pale base.
19. Begonia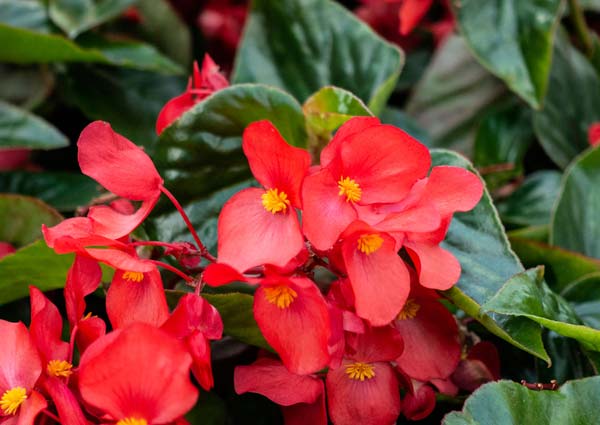 The shade-tolerant annual begonia is relatively easy to grow, but it is still a little needy. If you wish to grow a healthy begonia plant in your garden, make sure you follow these tips – Remove dead flowers, leaves, and stems daily for the plant to thrive in extreme weather conditions.
20. Carnation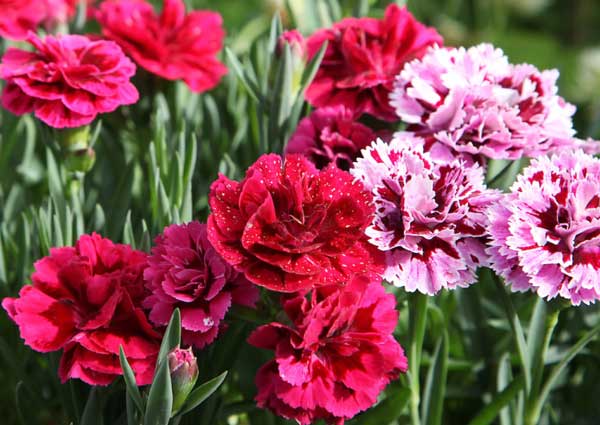 Carnations are found in a variety of colors and symbolize love, fascination, and distinction. There is a strong belief that carnations are a symbol of undying love since they first appeared on earth from the Virgin Mary's tears. As a symbol of admiration, charity (light red), affection, and understanding, you can definitely choose to send Carnations as Rose Day gifts if roses are not in your go-to list as the red carnation symbolizes these qualities. In floral terms, it means "I wish my heart ached for you.".
21. Camellia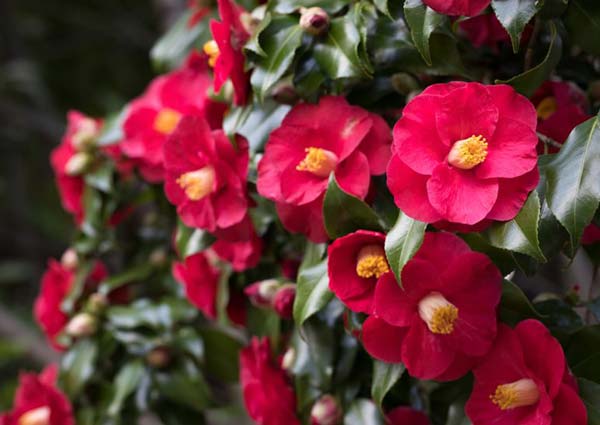 The Camellia plant genus actually consists of several hundred varieties of plants that bloom during winter. Winter is the season when the state flower blooms in Alabama. Shrubs such as this prefer moist, rich soil that remains consistently moist.
22. Canna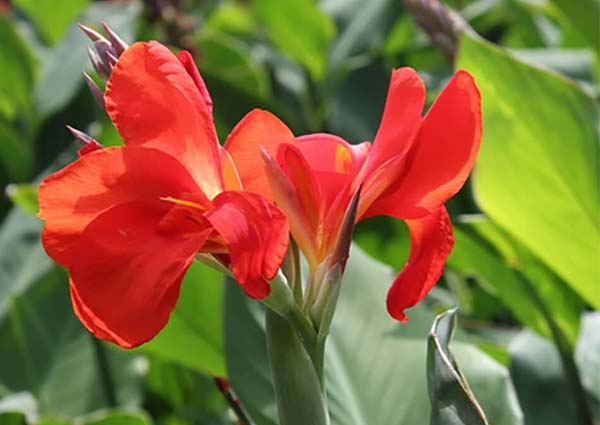 In areas where summer rainfall is less than an inch per week, be sure to water Canna plant often if you live in an area that gets lots of sun and plenty of water.
23. Chrysanthemum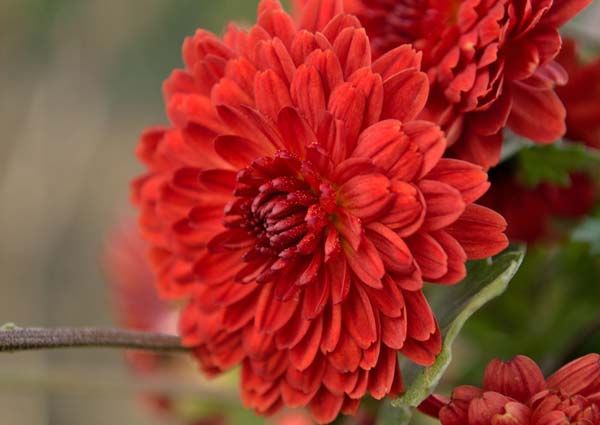 Chrysanthemums, commonly known as mums, produce pom pom and daisy-like blooms and are a fall garden must-have. Seduction and desire are conjoined to red, the color of passionate love. Therefore, it is advisable to combine red flowers with white flowers if you plan to give red flowers to your soul mate so that you convey the right feeling, that is, the desire for true and intense love. In addition to representing strength, red blooms also symbolize courage. Red flowers are energetic and conjure up positive feelings.
24. Orchid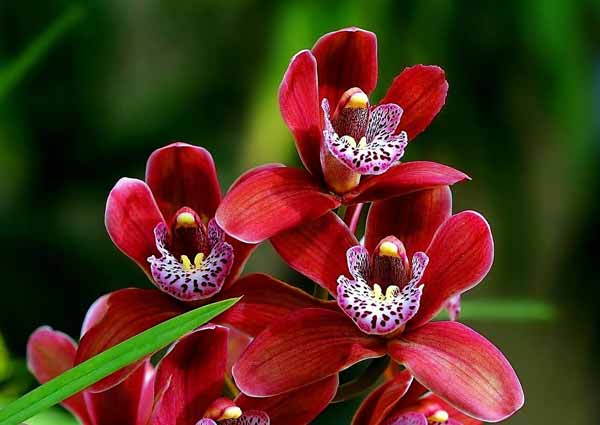 Red orchids are often called the 'lovebird's dream' of Asia because of their magnificent appearance. Its sophisticated and beautiful nature signifies passion, energy, strength, power, and determination. It is also one of the most popular flowers used when expressing gratitude and love.
25. Zinnia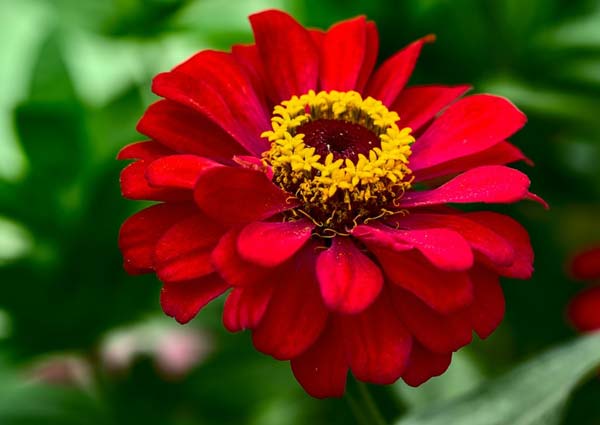 Not many people are aware of the Zinnia flower, which is quite uncommon. Mexico is the native country of this flower, which is also widespread in South America. With its vivid colors, it stands out from the crowd. The zinnia symbolized love, goodness, thought for an absent friend, and faithfulness in ancient Greece. Its red color represents constancy.
Wrap Up
Passionate love is characterized by red flowers, whose color is associated with that of the heart. In our society, young people and lovers often use red flowers to express their love for one another. Red flowers will surely turn everyone's head as they make your flower garden a show-stopping masterpiece. A red hue evokes a broad range of emotions, from passion to fury. There are two sides to it, and it represents both good and evil at the same time. Thus, red flowers are not only associated with seduction, blushing desire, and romance but also with anger, violence, and danger.
You are likely to be more than pleased with the results, whether you incorporate them into one of your new backyard ideas or scatter them throughout your beautiful English garden. Take a look at our favorites, including dark and light varieties, perennials, and annuals. And don't forget to check out our other garden ideas while you're at it. And, if you wish to avail of online flower delivery in Delhi, Mumbai, Bangalore, or PAN India, Giftalove.com can be your great option for sure. The reason can be the delivery services and our vast gift collection for different occasions and celebrations.

Sakshi Ecavade is our in-house content developer having a good understanding about the gifting industry. She creates quality content surrounding flowers, chocolates, plants, cakes, and other products which makes excellent gifts for the people. Accurate and authentic information is what she tries to deliver through her blogs.