It feels extremely exciting and amazing with just a few more days to the grand festival of Diwali. There are already fresh and festive vibes in the atmosphere as the people are busy shopping in the markets and having a gala time with their families and friends. Not just apparels and accessories, people are on a shopping spree of Diwali gifts to exchange with their loved ones and wish them a happy and prosperous Diwali. As this religious and cultural Indian festival is all about spreading the positive vibes in the lives of the dear ones with love, care, and affection, there are auspicious Diwali gifts available which are thoughtful and reflect our hearty sentiments to the family, friends, and relatives. Explore these gifts now –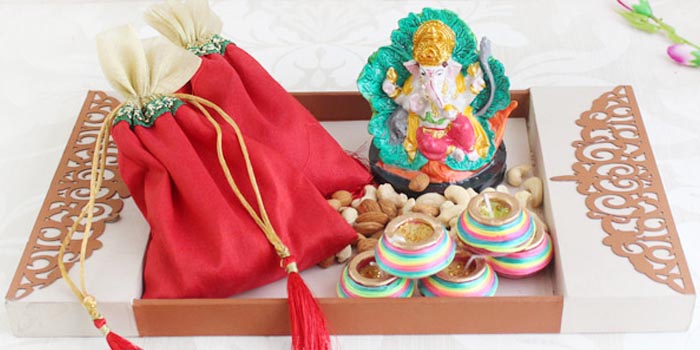 1. Lucky Bamboo Plants
Plants as gifts for Diwali have become popular choices for the people not just because of the benefits they provide to the human health, but also due to the happiness and good fortune they spread in homes. As bamboo plants have garnered massive attention of people in the recent years as amazing gifts on several special occasions, they are now given as Diwali plants to loved ones to bless them with all the happiness and good luck. The bamboo plant must be kept either in the South East or West direction to promote good health and prosperity in life.
The benefits of this plant include –
According to Vaastu Shastra, they spread positive energies in the surroundings of the home.
It brings peace and good fortune in the home in which they are kept.
They ward off negative energies from homes.
Every number of stalks of bamboo plants represents different characteristics –
Two stalks: It signifies the feeling of love and brings good luck.
Three stalks: It represents joy, wealth, and good fortune.
Four stalks: Avoid giving bamboo plants to loved ones with four stalks as it signifies bad luck and death.
Five stalks: It elevates mental, spiritual, emotional, physical, and intuitive well-being.
Six stalks: It attracts success and financial gains in life.
Seven stalks: It promotes good health and wealth.
Eight stalks: It attracts growth, fertility, and development.
So, choose the most appropriate one for your understanding and supportive loved ones and make Diwali 2021 a prosperous and healthy affair for them!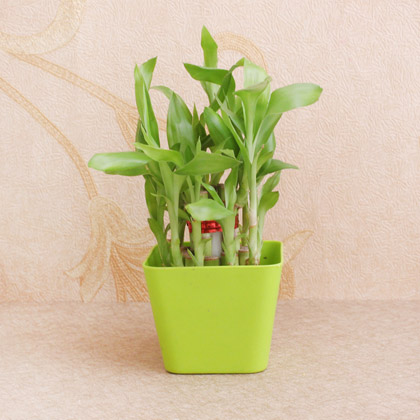 2. Statue of Lord Buddha
Another most popular Feng Shui gifts for the splendid occasion of Diwali to surprise and bless dear ones is Lord Buddha statues. Due to the fast-paced lives, our hearts and minds remain restless and bringing home this statute will bless homes and lives with calmness, joy, and contentment. Available in a variety of designs and postures, this one is a meaningful auspicious gift item that will bring happiness, peace, and tranquility in everyone's life.
Every posture of Lord Buddha communicates a different aspect of his life. Let's know here…
Laughing Buddha: It marks the aspects of happiness, celebratory spirits, and immense energy in the surrounding. Keeping the on the entrance of homes brings in good cheer and positive energies in them.
Sleeping Buddha: It epitomizes tranquility, calm, and simplicity, and brings a soothing effect to the surroundings of your home. It spreads relaxing energies when placed in the drawing room or close to bedrooms.
Meditating Buddha: Gifting this postured Buddha statue to loved ones blesses them with prosperous careers and good blessings.
There are Lord Buddha water fountains available which provide a soothing and peaceful effect in the homely atmosphere.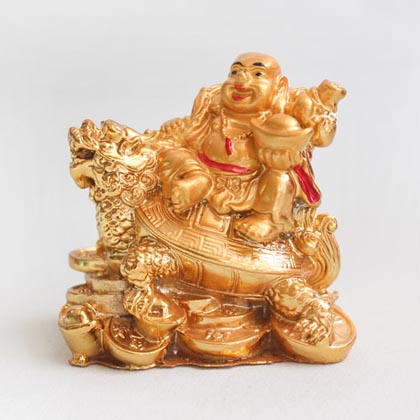 3. Lord Ganesha Idol
As Indians always worship Vighnaharta Ganesha on every festive occasion, the Lord also holds a special place in the Puja ceremonies on Diwali. The Lord Ganesha is devoutly worshipped as the god of happiness, health, wealth, and knowledge. He is worshipped along with Goddess Lakshmi to remove all obstacles from the Diwali religious ceremonies. The idols of Lord Ganesha are also gifted along with other gifts to the loved ones to shower them with the divine blessings. The idols are a mark of happiness and prosperity to the loved ones and therefore, hold a special place in the Diwali gifting.
Every posture of Lord Ganesha signifies something special. Read here before picking up one for your loved ones…
Standing Ganesha: The standing position of Lord Ganesha is known as 'Abhanga' posture. A standing Ganesha represents the right attitude and rigidity.
Sitting Ganesha: Ganesha in 'Lalitasana' signifies relaxation and calmness. He sits with one leg on the ground representing his concern for devotees, whereas another leg folded symbolizing the state of half-meditation. This posture is common and is ideal for worshipping in homes and offices.
Reclining Ganesha: This posture of Lord Ganesha is ideal for homes for decoration purposes. The reclining posture is not considered viable for worshipping. They represent comfort and luxury.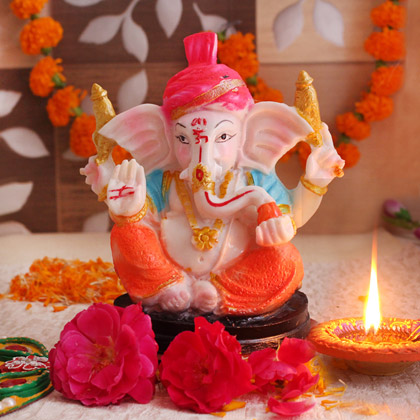 4. Ganesh-Lakshmi Silver Coin
As the festival of Diwali is all about worshipping Lord Ganesha and Goddess Lakshmi to bring home wealth and prosperity, Indian people also buy silver coins engraved with the images of both the divine idols on them. Since the Diwali festival is preceded by the festival of Dhanteras on which purchasing metal items is considered auspicious, people purchase these coins in advance on Dhanteras and worship them on the day of Diwali. Owing to the auspicious element in the silver metal, these coins are also gifted to dear ones on Diwali by various people. The preciousness of the silver coins and the carvings of the Lakshmi-Ganesha make loved ones feel special!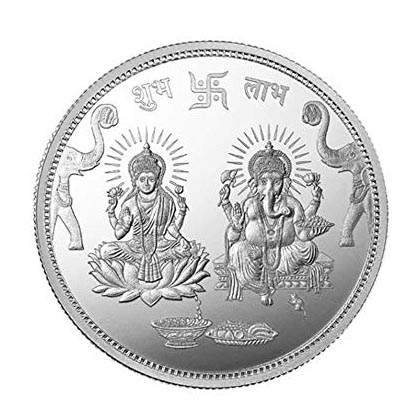 5. Diwali Puja thali
As Diwali Lakshmi Puja holds immense significance on the day of this festival, people always prepare a special and beautiful Pooja Thali to impress the Goddess. With the availability of various readymade designer Diwali Puja thalis, there is no need to take out extra time from the busy Diwali schedule to decorate your own thali. These items of religious Diwali celebrations can be gifted to dear ones to help them save time and religiously perform all the rituals in a proper manner.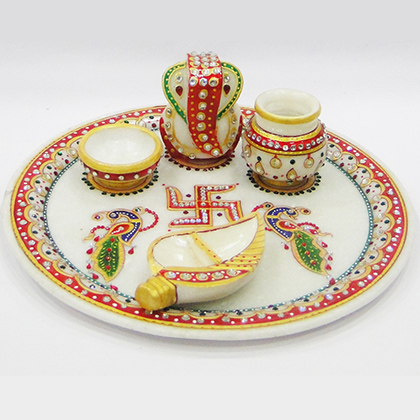 The latest collection of these Diwali gifts include –
Silver Puja thali
Designer clay Puja thali
Golden Puja thali
Wooden Puja thali
6. Dry Fruits
Dry fruits like almonds, cashews, pistachios, raisins, dried apricots, walnuts, and others make exciting and healthy Diwali gifts. As the festival of Diwali is all about wishing loved ones with love, happiness, and good health, these dry fruits makes the best and thoughtful Diwali gift for them.
As soon as the festival of Deepavali approaches, these salubrious nuts come packed in designer boxes and containers to make Diwali gifting a fantastic and sophisticated affair for the dear ones. The dry fruit gifts include –
Dry fruit baskets
Designer dryfruit potlis
Decorative dry fruit boxes
Designer and antique finish dryfruit chests and more…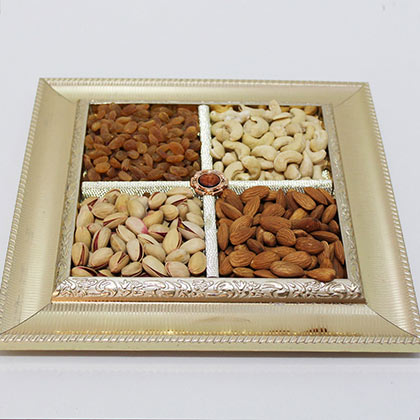 7. Paper Home Decoration Items
According to the Vaastu Shastra, paper is considered as an auspicious material to be gifted to someone. It gives out positive vibrations and promotes good energies in life. As sweets and dry fruits can make Diwali gifting a bit more conventional, you can accompany colorful home decoration stuff made from colorful paper like torans, lamps and lanterns, and others to make your loved one's home look appealing and fantastic.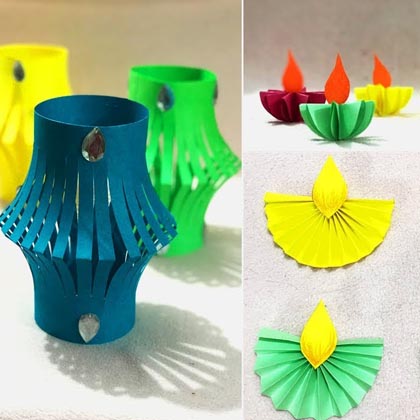 The Final Note
The above-mentioned gifts can make this upcoming Diwali a momentous and wonderful extravaganza for your special ones. The festival already carries the positive and amazing vibes; these gifts for Diwali will even bring more cheer exhilaration in its celebrations. Giftalove.com is a website which offers a good variety of these gifts online for the magnificent festive occasion of Deepavali. o, which one is your favorite?
Sakshi Ecavade is our in-house content developer having a good understanding about the gifting industry. She creates quality content surrounding flowers, chocolates, plants, cakes, and other products which makes excellent gifts for the people. Accurate and authentic information is what she tries to deliver through her blogs.