"And in my flower-beds, I think, Smile the carnation and the pink."- Rupert Brooke

Pink carnations are perfect flowers for the occasion of Mother's Day. We all know that! But, have you ever wondered what makes carnations an official flower for this special day of mothers in the world. What makes it grab so much popularity among the people across the world?
Carnations are one of the most pleasant blossoms after roses which have managed to win the hearts of the people with their unique and attractive appearance. These ruffled beauties understand the value of human emotions well and therefore, makes one of the best floral gifts to sway the hearts of the ones you love and admire the most. Just like lilies, orchids and roses, carnations too speak a language of their own through their colors and have a rich history to trace back in the different cultures and times.
So, next time, when you are gifting a bouquet of carnations to someone special, the meaning and symbolism of carnations will help you decide the most perfect carnation you should pick for the person or occasion.
Meaning of Carnation Flowers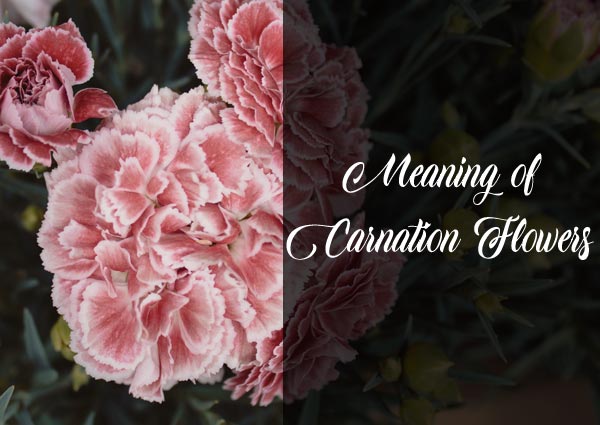 Like other flowers, carnations to have a meaningful language of their own. Carnation flower is botanically known as Dianthus Caryophyllus which means "heavenly flower" or "the flower of love". Popularly known as flowers for mothers, carnations are expressive of a myriad of emotions in the simplest way.
Let us know here the meaning of carnation flowers –
Like other flowers, carnations to have a meaningful language of their own. Carnation flower is botanically known as Dianthus Caryophyllus which means "heavenly flower" or "the flower of love". Popularly known as flowers for mothers, carnations are expressive of a myriad of emotions in the simplest way.
Affection: The flower of carnation is synonymous for affectionate feelings for someone who we love and adore.
Distinction: Carnations symbolize distinction owing to its unique appearance. The ruffled petals, bright hues, and appealing fragrance makes it look different from other popular and beautiful flowers.
History of Carnations – Etymological Meaning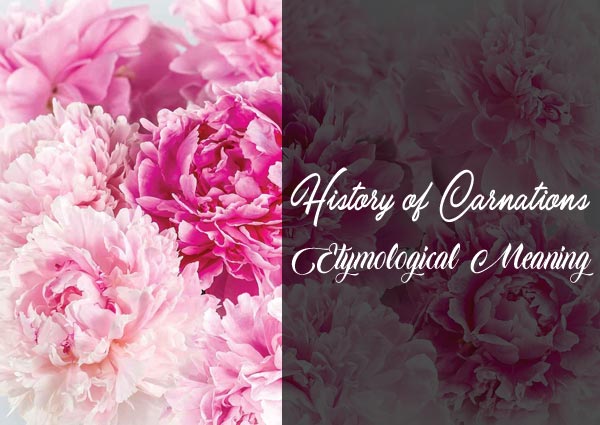 The origin of the carnation flower goes back to the ancient Greece in the works of Greek botanist Theophrastus in which he referred carnations as 'dianthus'. The Greek name comes from the combination of two words "Dios" which means Gods and "anthos" meaning flower. It is believed that the flower got the name "Carnation" from the ancient Romans who used this flower in garlands. These flowers were referred to as "corone" in Roman language and worn as crowns in religious rituals and ceremonies.
Other theories regarding the history of carnations come from a Latin word "Caro" which means flesh as the first carnation was of skin color. It is also believed that the name was derived from the Latin word "incarnation" which means the incarnation of God in the flesh.
Symbolism of the Carnation Flower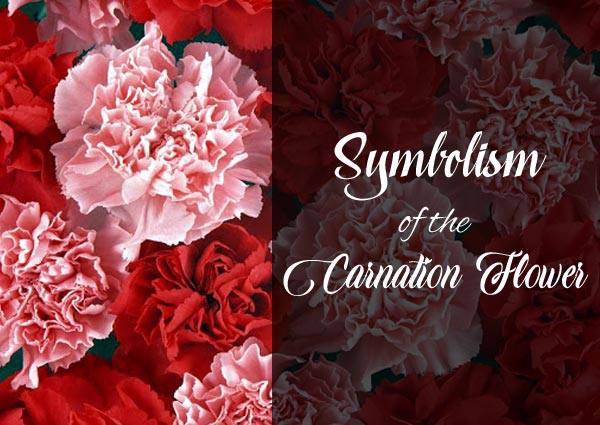 Ancient Roman Legend: According to the famous Roman legend, carnations first appeared from the tears of mother Mary when she wept after the Crucifixion of Christ. This legend strengthens the belief that the carnation flowers got its name from the Latin word "incarnation".
Korean Culture: Carnations are used by the Korean people for fortune-telling of young girls. The pink and red carnations are also worn on Parents Day. In Korea, people also wear these flowers on Teachers Day (15 May).
Chinese Culture: The carnation is used in weddings in China. In fact, it is the most common flower used in Chinese wedding ceremonies.
Japanese Culture: The red carnation stands for love in Japan and is a popular flower for Mother's Day.
Victorian culture: During the Victorian era, flowers were used to convey a secretive message to a suitor or a secret admirer. A solid-colored carnation implied "yes". A carnation with stripes represented "I'm sorry, but I can't be with you." A yellow carnation stood for a "No" in answer.
United States: Carnation is the official flower for the special occasion of Mother's Day. The American people wear carnations in garlands and wreath on special events. A green carnation is a popular flower on St. Patrick's Day.
Portugal: In 1974, when the authoritarian Estado Novo government was ousted, the bright red carnations became a symbol of unity among the Portuguese people. This movement later came to be known as the Carnation Revolution.
France: Carnation is a traditional funeral flower used to express feelings of condolence and empathy.
International Workers' Day: The red carnations are a symbol of the labor movement in countries like Italy and Austria are often used in demonstrations on International Workers' Day (May Day).
Netherlands: White carnations were associated with Prince Bernhard in the Netherlands during World War II as a symbol of defiance and rebellion. After the war was over, these flowers became a symbol of the resistance.
Ottoman Empire: Red carnations are popular flowers used in the wall paintings of mosques in Turkey since Ottoman times as carnations were believed to be the symbol for Muhammad. Not just in mosques, these flowers were also used in other forms of traditional art in the Ottoman Empire.
St. Patrick's Day: Green carnations are official flowers for St. Patrick's Day. When this flower was worn by the Irish writer Oscar Wilde, it became a symbol of homosexuality in the early 20th century.
Czechoslovakia and Poland: Carnations are traditional flowers given to women on Women's Day along with other commodities such as tights, towels, soap, and coffee.
University of Oxford: Traditionally, carnation flowers are worn by students to their examinations. White carnations are for the first exam, pink for the exams in between, and the red ones for the last exam.
National flower: Carnation is the national flower of Spain, Slovenia, and Monaco. It is also the provincial flower of the Balearic Islands.
State Flower: Scarlet Carnation is the state flower of Ohio which was introduced to it by Levi L. Lamborn.
Carnation Meaning by Color
Just like roses, every color of carnations stands for a meaning and conveys a variety of thoughts and human emotions. Some shades of these flowers even epitomize a particular special occasion like Mother's Day. Let us know the meaning of different colors of carnations here –
Pink Carnation Meaning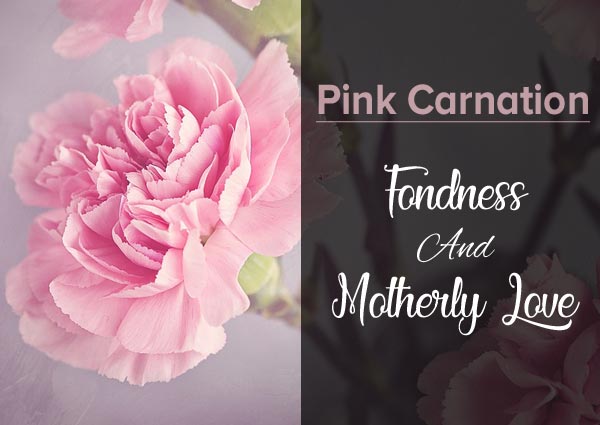 Pink carnations state that "You are always on my mind and I deeply admire you."
These flowers are a symbol for Mother's Day. It is believed that they bloomed for the first time when the tears of Virgin Mary fell on the ground. The flowers became a popular symbol of a mother's undying love.
Yellow Carnation Meaning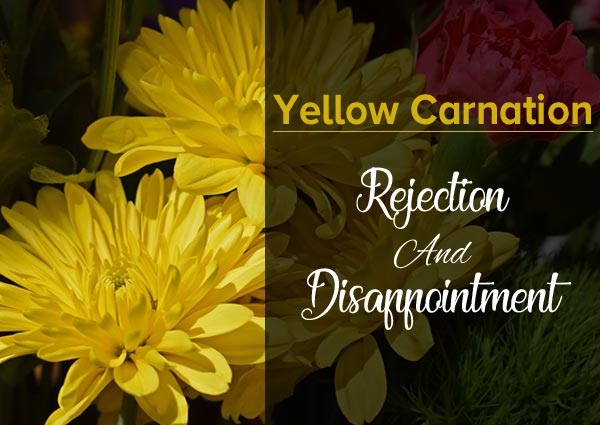 Yellow carnations stand for refusal and regret. Although most of the carnations represent positive meanings, these flowers indicate a negative. It even symbolizes contempt.
White Carnation Meaning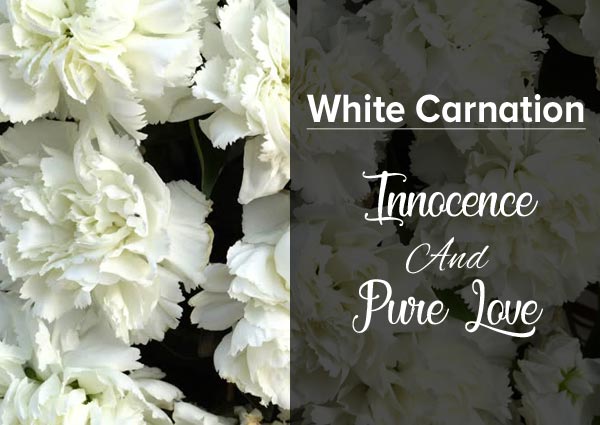 White carnations signify pure love and innocence. It also makes an excellent gift to wish good luck to a woman. If you want to tell someone that he or she is sweet, the white carnation is a perfect flower to express these feelings to them.
Red Carnation Meaning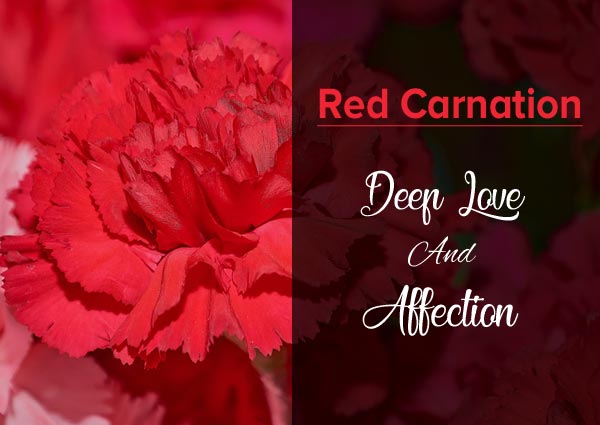 Red carnations express that "My love and admiration for you knows no bounds."
This flower is a symbol of immense love making it the best flower to express honorable feelings to your partner, spouse, or mother on Mother's Day. Light red carnations stand for admiration and dark red carnations indicate love and affection.
Purple Carnation Meaning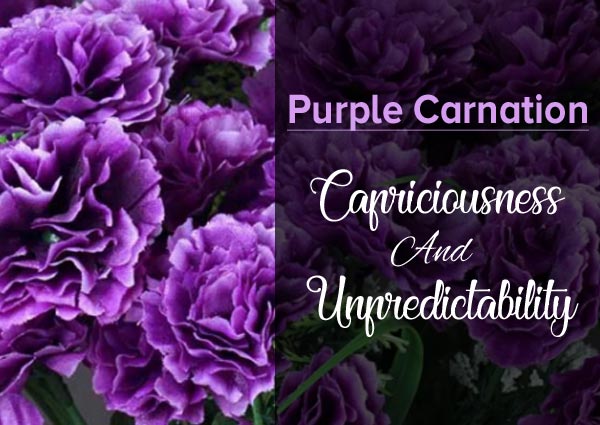 Purple carnations symbolize instability, fancifulness and uncertainty. Lighter purple colored carnation has a positive meaning and a darker purple shade of carnations stands for negative symbol.
Orange Carnation Meaning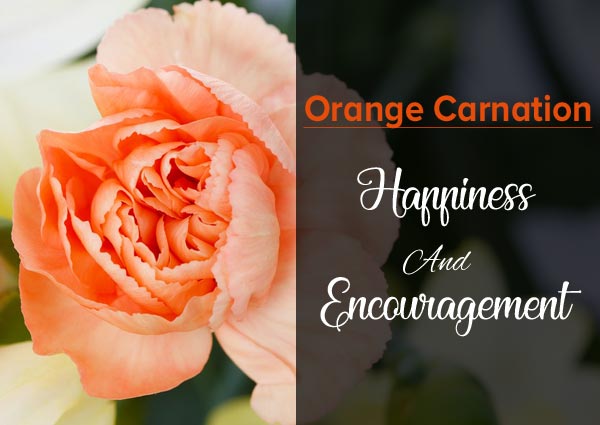 The orange carnation represents happiness, warmth, enthusiasm, success, creativity, change, determination, encouragement, health, balance, freedom, and fascination. This carnation is a perfect gift to surprise your MOM!
Blue Carnation Meaning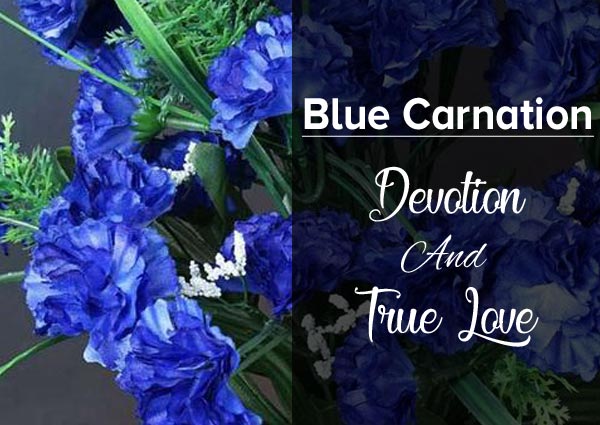 As blue flowers are often associated with peace, truth, and spirituality, blur carnations indicate the same meaning. They are popular flowers at weddings as they represent devotion and true love between the bride and groom.
Carnations: The January Birth Month Flower (Love, Loyalty, & Devotion)
Carnation is a January month flower often given to people born in this month. As they imply a variety of meanings through their colors, they are perfect gifts for the January borns. The carnation flower represents love, loyalty, & devotion and indicates that the person born in this month is genuine, loyal and down to earth.
Carnations: The First Wedding Anniversary Flower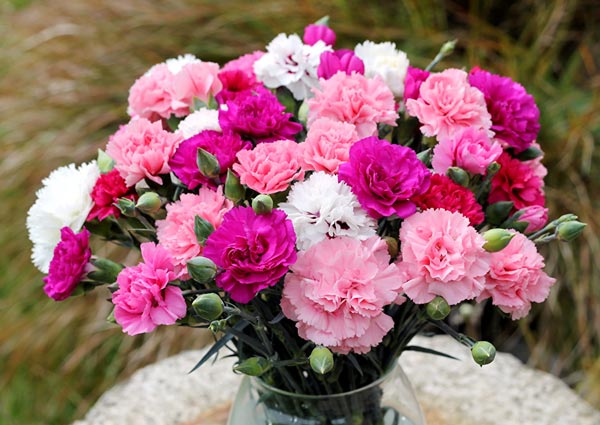 The gorgeous carnation is a traditional anniversary flower symbolic of the first wedding anniversary of a couple. Carnation flowers stands for passionate love between the couples. Legend says that a fresh bouquet of carnation would immediately lead to everlasting love. The carnations are available in a good variety of hues so that couples have the best options to represent their love. No anniversary flower can capture the sweetness, positivity, and passion of a first anniversary like a luminous carnation.
Carnation as Official Mother's Day Flowers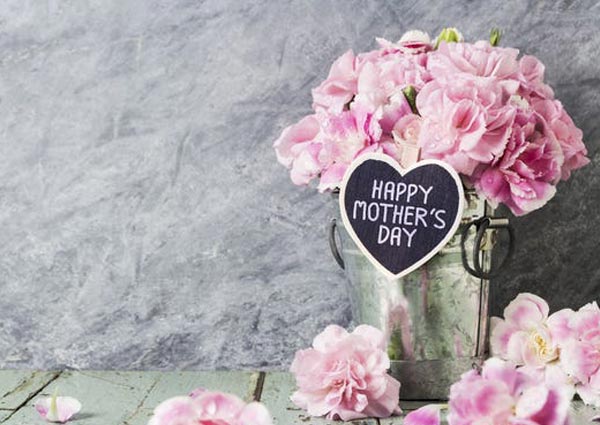 Carnation is an official Mother's Day flower worldwide. According to the history of Mother's Day, Anna Jarvis, the founder of Mother's Day, distributed hundreds of white carnations during the first celebration of this special day in the United States in 1908.
Historically, both women and men have used white or pink carnations to honor their moms on this special day. A white carnation stands for unshared love and symbolizes remembrance for a deceased mother. On the other hand, a pink carnation signifies the undying love for a mother along with feelings of thankfulness and delicate emotions to make the bond of a mother and her children strong and precious!
Interesting Facts about Carnations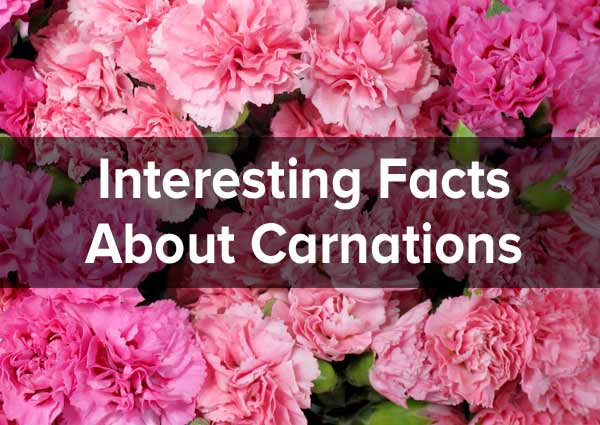 Carnations were used as interior decoration items and in the production of perfumes in ancient China.
Carnations treat digestive problems, toothache, and angina.
It is believed that carnations protect against evil things as this flower is a symbol of protection.
Wild carnations are found in Mediterranean countries such as Italy, Spain, and Greece.
Carnations are one of the long-lasting flowers as they can stay fresh for two weeks.
Carnations have three main species – Large-flowered carnations, Spray carnations (Mini Carnations), and Dwarf flowered carnations.
Carnations are edible in nature, and used in restaurants to decorate dishes for an aesthetic appeal.
The Final Note
Hope this fascinating information about carnations intrigued you. Knowing so much about them must have made you feel excited to buy carnations online on the next special occasion that falls in the calendars. These meaningful blossoms will convey the special message of your heart to your special one and guarantee to make your bond stronger.

Sakshi Ecavade is our in-house content developer having a good understanding about the gifting industry. She creates quality content surrounding flowers, chocolates, plants, cakes, and other products which makes excellent gifts for the people. Accurate and authentic information is what she tries to deliver through her blogs.