"There is only one happiness in this life, to love and be loved." – George Sand
It's certainly the best feeling in the world to share every thought that comes into your head with someone without worrying about the consequences of being judged. Having a go-to person in life is merely luck and God's grace on the part of some as it depends on the your life circumstances. Valentine 2022 will be a very special day for you if you want your cupid to write your love story. And, if you are lucky enough to have that special someone in your life as well as in your heart, Valentine's Week is for you. Valentine is not a new thing that you learned about today. Every year, we mark it on our calendars, in our hearts, and in our minds, and each of us knows it is a week-long celebration dedicated to the love birds that deserves a great big Valentine's Week celebration paired with fabulous & romantic Valentine Week gift ideas for boyfriend & girlfriend.
The loveliest week of the year is just around the corner, and it's never too early to start planning. The week leading up to Valentine's Day begins on 7 February 2022, consists of several mushy holidays, and culminates with the biggest of them all; Valentine's Day. Even though many only know and follow the latter, occasions such as Rose day, Proposal day, and Chocolate day are rapidly gaining popularity, especially among young people. The time to celebrate love and show your appreciation is now, regardless of whether you're still in love with him years after you've first met or just getting the courage to ask him out with the best Valentine's Day gifts for boyfriend or husband.
There is no denying the fact that every celebration deserves a token of love to make the occasion unique. It is the same for this most romantic day as well, and so you must come up with several fun and romantic Valentine's Day gift ideas to show how much you appreciate and love your special someone. We discussed above that it is not just one day but an entire week where you have eight chances to confess your love so that the cupid can write your eternal story as well.
With these incredible Valentine Week gifts 2022 ideas we've picked out, you'll be prepared for Valentine's week celebration to make the most of the day. So, let us have a look at the table we have curated for you –
Best Valentine's Week Gifts 2022 – Valentine Week Gift Ideas
| Valentine's Week | Valentine's Week Gift Ideas | Significance of Valentine Week |
| --- | --- | --- |
| Rose Day on 7 February, 2022 | Red Roses, Heart Shape Floral Arrangements, Rose Bouquet, and Roses with Chocolates | Valentine's Week begins on Rose Day. People of all ages exchange roses on this day to celebrate it with their loved ones. |
| Propose Day on 8 February, 2022 | Personalized Mugs & Cushions, Couple Rings, Photo Frame, and Rose Bouquets | The second day of the Valentine week is Propose Day, when people propose to each other in unique ways. |
| Chocolate Day on 9 February, 2022 | Chocolate Gift Combo, Chocolate Bouquets, Chocolates with Flowers, and Chocolates with Greeting Cards | Couples celebrate Chocolate Day with great enthusiasm. It signifies a sweet connection between them when they gift each other scrumptious chocolates. |
| Teddy Day on 10 February, 2022 | Teddy Bear, Teddy Bouquet, Soft Toys with Chocolates, and Teddy Gift Combos | Soft toys such as Teddy Bears are the cutest. Teddy is given around this time to commemorate the cutest moments in relationships. |
| Promise Day on 11 February, 2022 | Flower Bouquet, Chocolates with Greeting Cards, Valentine Cakes with Greetings, and Valentine Greeting Card | During Promise Day, we honor our long-term commitments and promises. Be sure you are ready to live with your promise. |
| Hug Day on 12 February, 2022 | Couple Teddy Bear, Hugging Teddy Bear, Soft Toys with Chocolates, and Flowers & Teddy Combo | The oxytocin hormone is released when you hug someone. In turn, it promotes trust and loyalty. |
| Kiss Day on 13 February, 2022 | Kissing Soft Toys, Personalized couple cup, cake & greeting card, and Flower Arrangements | Kisses are the best way to express what can't be expressed in words. |
| Valentine's Day on 14 February, 2022 | Flower Arrangements, Valentine Chocolates, Greeting Cards, and Personalized Valentine Gifts | Valentine's Day is the last day of the Valentine Week. Its significance goes far beyond gifts. The day is all about romance. Give your valentine a day to remember by making him/her feel special. |
Valentine's Day is a time to celebrate the passionate love hidden in many hearts, and it's never too early to start planning for the loveliest week of February, which takes place. As the wind blows, love is carried from one person to another; the moon shines in the sky to reveal the passionate love hidden in many hearts; the birds chirp to express the love hidden in all hearts; this is the charm of Valentine's Day, which falls in February every year. We are here discussing the most anticipated Valentine's week next year, which will start on the 7th of February 2022, and continue through the 14th of February, which will mark the day of lovers with Valentine's Day.
We have compiled a comprehensive gift guide for Valentine's Day 2022 with Valentine best sellers to help you find the perfect and the most romantic Valentine gifts for him/her. You can find gift ideas on this page for every day of Valentine's week, so you don't have to worry about forgetting your partner.
So, let us have a look at what we have in store for Valentine's Week 2022 –
1. Rose Day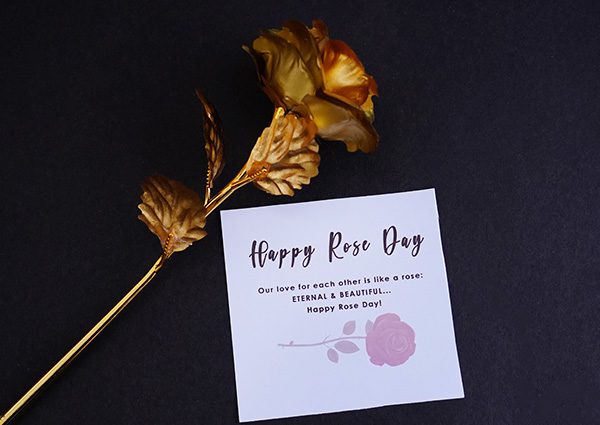 7 February 2022, marks Rose Day, starting the exciting week. The obvious choice is to give a rose, whether in the form of a bouquet of fresh posies or a keepsake that won't fade. Valentine's Day is the first day on the calendar that falls within Valentine's week, which is eagerly awaited by couples. On this day, you can bring a smile to your loving partner's face by buying wonderful Rose Day gifts. There are gold-plated roses, mixed flower bouquets, personalized gifts, and other items that will capture the attention of anyone.
If you are searching for Rose Day gifts for him or someone special in your life, this list of gifts for Rose Day can be your go-to options for sure –
Red Rose Bouquet to Say "I Love You"
A Rose Plant for Home Decoration
Mixed Flower Arrangement for Every Special Person on Your List
A Combo of Golden Rose with Men's Grooming Kit as Thoughtful Rose Day Gift
Heart-Shaped Flower Arrangement for Romantic Valentine's Week Start
2. Propose Day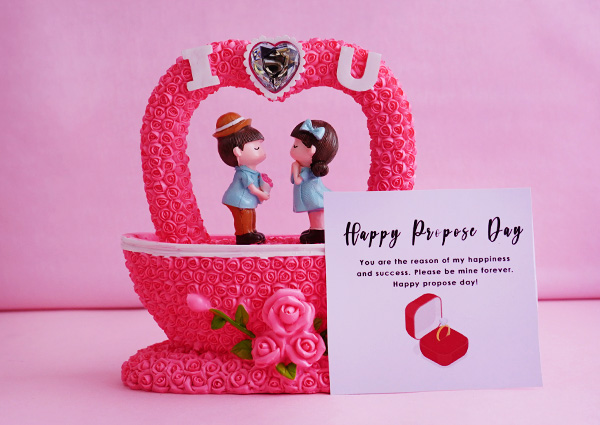 There will likely be a lot of kneeling down on 8 February, 2022. Plan an elaborate proposal with a sparkling stone for your girlfriend or boyfriend if you want to be traditional. For many people, this day represents the day when they will propose infinite love to their beloved. Propose Day gifts can convince your beloved to accept your love immediately, giving new meaning to your love proposal.
Here, we have a few gift items for Propose Day 2022 helpful for people to buy Valentine gifts for him or propose your love of life –
Love Message Bottle for Romantic Propose Day
Gorgeous Flower Arrangements to Propose Her Romantically
Propose Day Special Cushions & Mugs
Valentine Heart-Shaped Cake for Special Celebration
Personalized Canvas with Romantic Love Note
3. Chocolate Day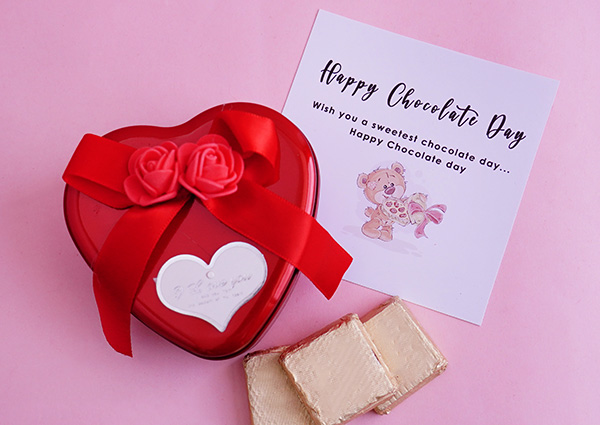 A sweet tooth will be glad to know that Chocolate Day is being celebrated on 9 February, 2022. There is nothing wrong with a chocolate box full of sweet treats, which might be gone by the end of the day. The sweet smell of chocolates is definitely a heavenly feeling! You should not forget to send a box of delicious chocolates to your girlfriend on Chocolate Day as a Chocolate Day gift so that you can express your love to her in a sweet way. Make your loved one feel special by sending your beloved chocolates made from scratch or exotic chocolates.
Are you still wondering what to get to your girlfriend on Chocolate Day? Make sure to check the list we have curated here for you with amazing and affordable gifts for Chocolate Day 2022 –
Chocolate Gift Box for Delightful Chocolate Day Celebration
Personalized Chocolates Engraved with "I Love You"
Chocolate Bouquet for Special People in Your Life
Combo of Chocolates and Teddy Bear to Make Her Feel Special
Chocolate Cake for Valentine's Day to Relish Delightful Treat
4. Teddy Day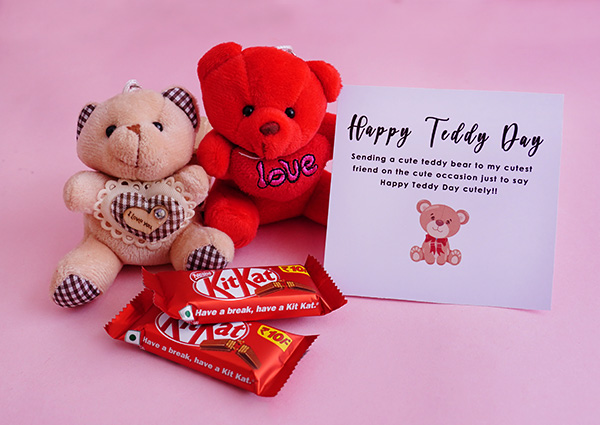 Teddy Day will be observed on 10 February, 2022, and if you know your partner is fond of furry friends, this is the day to purchase a large or small-sized stuffed bear. You can win the heart of your lady love with these Teddy Day gifts that can be used to express your tender love in a new way. A love relationship needs to have symbols of cuteness, innocence, warmth, and softness like these soft toys online.
Teddy with Heart saying "I Love You"
Teddy Bear with Chocolates for Happy Teddy Day to Her
Teddy Bear Bouquet to Stand Out from Normal Gifting
A Combo of Soft Toys with Valentine Greeting Card for Expressive Teddy Day Wish
A Huge Mushy Teddy Bear for Sister or Daughter or Your Girlfriend
5. Promise Day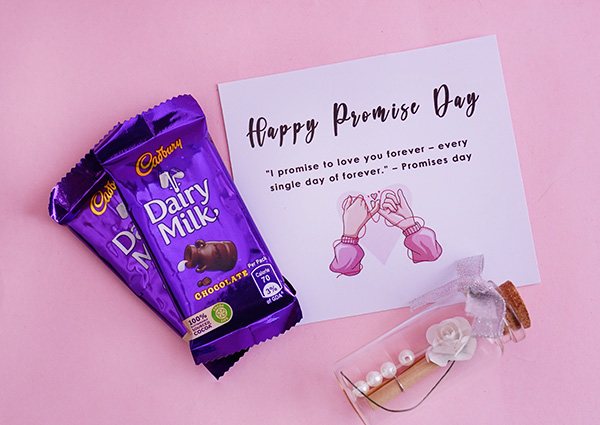 On 11 February, 2022, we celebrate Promise Day, a day when the spirit of love is deepened. You can seal the deal with a gift that says so or a promise ring which will eventually be replaced with wedding bands if you're with the one you want to spend forever with. Embrace your promise of love with these thoughtful Promise Day gifts. Gourmet hampers, teddy bears with a love message, flower bouquets, love notes in bottles, and other such Valentine week special gifts can strengthen your relationship.
Are you in search of a perfect gift for promise day if you wish to commit your love to your partner? Well, worry not as we got your covered with some nice promise day gift options –
Scented Candles for Romantic Promise Day Celebration
Promise Day Message Greeting Card to Make Good Impact
Personalized gifts for Valentine's Day for Everyone Special in Your Life
Promise Day Greeting Cards Reflecting Your Promises & Commitments
Couple Promise Rings to Celebrate Promise Day with Partner
6. Hug Day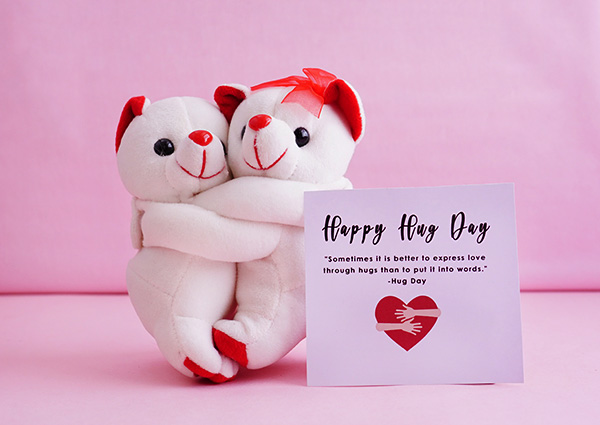 A thoughtful gift like a pillow or mug is ideal for marking Hug Day, which falls on 12 February, 2022. A hug establishes a strong bonding between couples and makes them feel closer to one another. Hug Day gifts will make your special someone feel loved and cared for on this special week of love. There are many types of gift baskets available, including chocolates, flowers, hampers, teddy bears, and many more.
Apart from these special gifts for Hug Day, we have this list of some romantic and thoughtful gift options to choose from –
Valentine Flowers Online for Partner to Make Hug Day Special
Hug Me Cushion for Girlfriend/Boyfriend
Aromatic Candles to Create Romantic Atmosphere for Hug Day Celebration
Flowers with Cake to Celebrate Hug Day with Wife or Husband
Decorate Home Together to Spend Quality Time with Partner
7. Kiss Day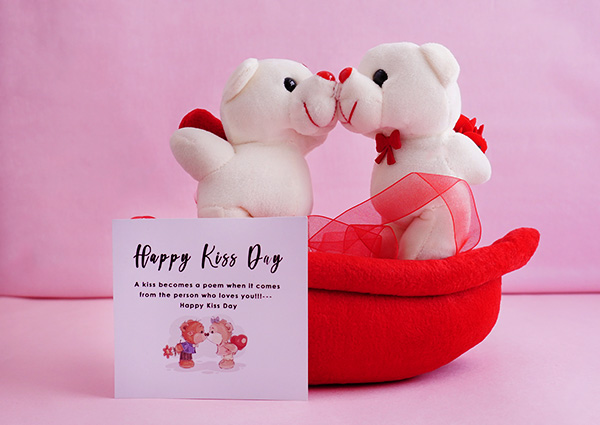 A kiss on someone's cheek is an adorable way to celebrate Kiss Day, which is the 13th of February, 2022. Along with that, themed gifts featuring lip motifs and kisses are an adorable choice for the occasion as well. You can surprise your sweetheart with a wide variety of Kiss Day gifts that include gourmet hampers, floral arrangements, teddy bear and chocolate combos, and delicious cakes.
Special occasions like Kiss Day needs special celebrations along with thoughtful and unique gifts for kiss day. This is why we have curated this special list of gifts for kiss day. Let us see what we have on our list for you –
Valentine Cakes Online for Delightful Kiss Day Celebration
Personalized C=Mug & Cushion Combo for Thoughtful Gifting Purpose
Kissing Teddy Bear for Her to Wish Happy Kiss Day
Lip Printed Cushion Cover or Decor Item for Home
Kiss Me Theme Cake for Delightful Celebration
8. Valentine's Day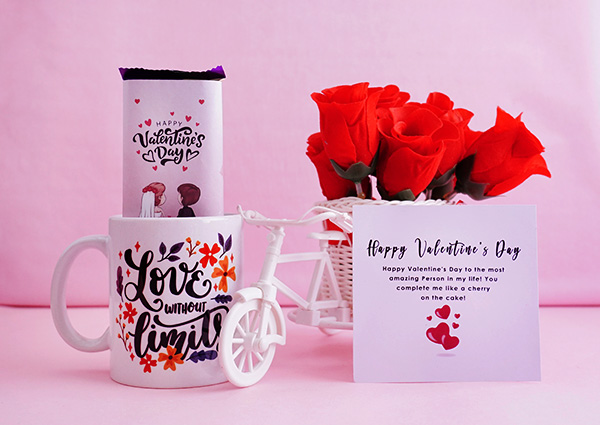 It's Valentine's Day 2022 on 14 February, but you knew that already, didn't you? On Valentine's Day, cute decor picks or hamper will be greatly appreciated by your partner. Were you trying to find Valentine's Week gifts for your girlfriend? Send your sweetheart a bouquet of flowers, a cute teddy bear and cake, a personalized gift, and other Valentine's Day gifts. As a special token of love, there are also unique Valentine's Day gifts for him like perfume, cufflinks and tie sets, gourmet hampers, men's grooming kits, and much more.
Apart from the listed gift items above, we have some more options that are thoughtful and romantic at the same time. Let us see –
Valentine Flowers with Cake for Partner to Relish Delightful Treat
Red Velvet Cake for Valentine's Day for Her
Personalized Valentine Gifts for Remarkable Celebration
Date Night with Partner for Romantic Valentine's Day celebration
Valentine Gift Hampers for Family & Friends
The Final Takeaway
Love should not be expressed in just one moment or even on one particular day, but instead as a feeling to be cherished. In keeping with this theme, Valentine week is celebrated with great enthusiasm in many parts of the world and spreads the message of love. This special season begins with the celebration of Rose Day and ends with Valentine's Day. The best way to make the most of this love week is to get your loved one Valentine Week Gifts Online right now. It is time to make your love life totally new with these wonderful Valentine gifts for wife or husband or someone special in your list that can easily be delivered to India as well as abroad within the schedule time frame. Let's rewrite your love story from the beginning.
Now, if you are wondering about how to send Valentine gifts to Delhi or anywhere in India, Giftalove.com can be your solution for sure. This is one of the most popular and widely considered online gift stores in India providing its delivery services not only in India but across the world with utmost ease and convenience.
So, what are you waiting for? Quickly place your order and celebrate Valentine's Day 2022 with Giftalove.com.

Sakshi Ecavade is our in-house content developer having a good understanding about the gifting industry. She creates quality content surrounding flowers, chocolates, plants, cakes, and other products which makes excellent gifts for the people. Accurate and authentic information is what she tries to deliver through her blogs.