"Growing apart will not change the fact that for a long time we grew side by side; our roots will also be tangled."With these words of Ally Condie, somewhere the hearts of the sisters that are in tandem with that of brothers agree. Childhood is not merely a phase of life; it is a complete journey which reflects your inner as well as outward personality. Talking about childhood, how can anyone forget about siblings? Siblings are the most beautiful gift which your parents have given you in life. No matter what you do and how you do, your brothers and sisters are always going to be with you from dusk to dawn and in every thick and thin of life. Cherish this beautiful relationship by a Rakhi which is meant to strengthen the bond that is held strong between you and your brother.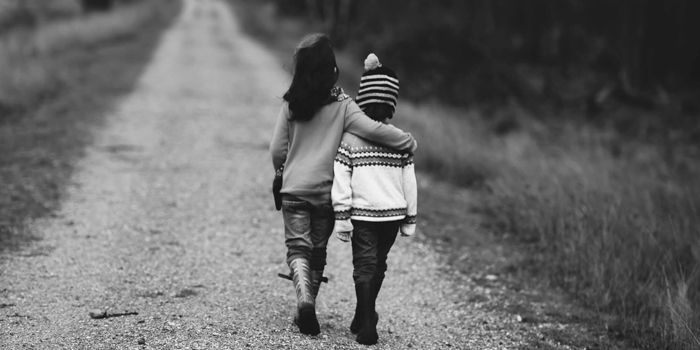 Each one of us has spent quite a long time with siblings. Sometimes bickering and sometimes squabbling, the slow and steady wave of childhood has passed now and all of you have grown up into mature people for whom all the bickering have converted into mature discussions, and arguments have converted into the difference of opinions. But in all the growing ages and all growing minds, the one thing that is still the same is the blossom of the memories which you have earned in your life.
Lets us remind all those hearty moments which are somewhere kept secure in camera rolls or captured in photographs that are very close to your heart and often knocks the door of your mind's eye.
Giving weird nicknames to each other
You must have that memory saved in your heart when you used to call out your siblings with weird names like "motu" or "Mental" which are just perfect to pull the leg of your favorite partners in crime. The art of giving names to them is the love which has taken the form of these naughty activities that are perfect to embellish your day with a broader smile on your face.
Teddies and Dolls are irritating for brothers
If you are a sister of the most dramatic brother, then you and your dolls must have suffered a lot in your childhood. Does God know what is the rivalry between your dolls and your brother? Every time he noticed you playing with your dollhouse; he used to throw them or pull their hairs. Maybe this gives him a sigh of satisfaction.
The kitchen set was the favorite game
You must have remembered those days when you used to have a kitchen set with you in which you used to cook food and do all the motherly chores. Even girls dress up like ladies wearing Saree draped from Dupattas. These memories have no replacements until now.
Evening time equals to Cycling time
Remember your first cycle? And of course your summer vacations? The evenings of hot summers are the memorable ones when you and your siblings ride bicycles. Those were the moments which can never be forgotten. The whole month of practicing and your elder brother holding you from behind and the pain of scratched knees and bleeding elbows which can be healed by the soft touch of your mother. All these moments are priceless.
Maggie: Ultimate solution for hunger
How can anyone forget Maggie? Many of the squabbles have been sorted out on the plate of Maggie. Sisters are the best cooks for brothers who are available for them even at midnight. No one can get out from those special nights when you have almost bagged your sister for Maggie at 2 in the night.
Indore games are at first priority
Ludo, Chess, Snake & Ladder, and Carrom; these were the stellar games around which your childhood revolves. The fights over the turns and then glasses of nimbu pani and sandwiches were just perfect for the hot summer noon. You surely have no idea how many beautiful colors you have added in the picture of your memories.
Brothers were the little scientists of the house
Agh! How irritating these brothers were in childhood. They need to cut open each and every electronic item in the house. Be it radio or a TV remote, your brother has tried his new experiments on every item of the house. Indulging in wires and sockets; he was somewhere giving shape to his future. That is why it is said that childhood reflects the inner you as well as the future you.
By recalling all these childhood memories, your heart must have overflowed with emotions. All these beautiful memories of childhood are the only thing that is clouding your mind right now. The persons with whom you have shared all these unforgettable moments might get changed, but these memories will always be preserved in your mind's eye forever and ever.
Distances are not a matter of fact when it comes to heart-to-heart connections. The only thing that matters is love. If you and your brother will not be together on this Raksha Bandhan, then there is no need to be sad as your bonding will not be faded. There is no need to sit with a box of tissues, get up and make this Rakhi happening for your brother by sending him Rakhi and gifts. GiftaLove.com is one such recommended portal that offers a wide range of Rakhis and Rakhi gifts and also worldwide delivery services through which you can send Rakhi for Brothers to any location.
Sakshi Ecavade is our in-house content developer having a good understanding about the gifting industry. She creates quality content surrounding flowers, chocolates, plants, cakes, and other products which makes excellent gifts for the people. Accurate and authentic information is what she tries to deliver through her blogs.