Now that we've successfully welcomed the winter wedding season, it's almost impossible and out of context not to talk about the trendy and latest wedding outfits, perfect to reign in the wedding receptions, marking the end of 2021 and, of course, beginning of 2022. Here, in this new write-up, we have tried our best to curate a list of the latest bridal fashion trends for 2022 to give all the brides and bridesmaids the best ideas to get their best outfits for the D-day. Also, we have covered the jewelry section stating what they should look for when shopping for necklaces or to buy earrings online for brides.
If 2021 bridal fashion trends have anything to show to us, it is how wedding festivities aren't just with regards to the dress any longer. Furthermore, women essentially don't simply put all the investment into the lehenga when choosing the wedding outfit. They put their hard-earned money into a heritage that she makes, which can be passed down to the future. Generations as well. And, that heritage can be made by only compiling the most quintessential components of new fashion styles into their wedding outfits. And, to get the best results, only wedding dress does not matter, but brides or the brides-to-be leave no stone unturned in getting their hands on the latest and the best bridal jewellery collection. Both bride and groom also book cosmetics and spa hampers online to make their special day relaxing and one of their bests.
Furthermore, if you are wondering where do we fit into that, you will be glad to know that our responsibility is to bring you all the latest styles and fashion trends in our wedding look books we have come up with today. Bridal outfits are currently and always centered around their personal choices, personality, and their comfort, in light of the fact that the looks brides put resources into may wind up being considered for a variety of occasions. What was once about the big day look has now become about the wedding closet: from the D-day to the mehendi function, the sangeet ceremony, and the wedding reception. The wedding linen is tied in with taking new styles and fusing them with the online necklaces sets they have bought for them.
So, here we have some of the bridal fashion trends we have ready for you that we recommend to keep an eye on for weddings in 2022 –
1. Colors in Trend for Fashionable Bridal Outfit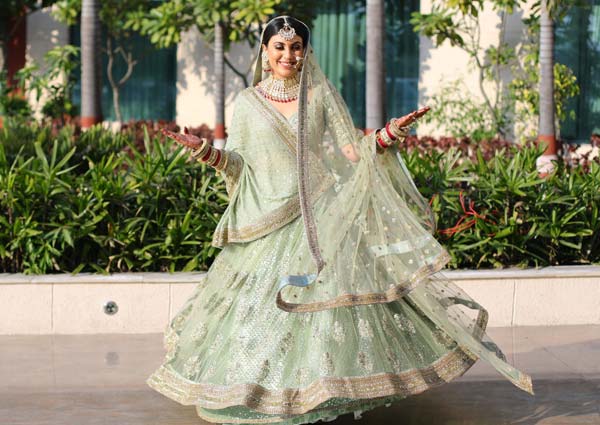 While we want to see a large number of colors and patterns being accepted for the coming year being embraced and accepted with open hearts for Indian and other religious wedding ceremonies, our full wagers are on brilliant pastels like blush pink and lavender alongside natural olive greens and surprisingly the Pantone shades of the years like ultimate gray and bright yellow for the lehenga. So, if you are not into red colors for dresses or outfits, you can definitely go with pastel colors with no
2. Floral Kadas are More in Trend than Kaleeras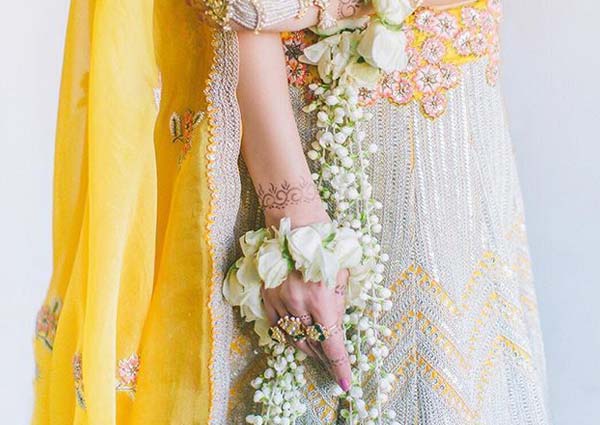 Brides-to-be love floral kaleeras to enhance their bridal look, and these jewelry items have increased demand more than regular kadas or bangles. In any case, our consideration has been as of late got by these stunning floral kadas that are presumably ideally suited for mehendi and haldi functions. Also, the internet has been going wild over floral kadas, as are we. It is such a perfect pattern that we are enamored with the possibility of a woman picking up designer bangles and sets to amp up their look with something unique and stylish.
3. Colorblock Outfits Will Definitely Trend for weddings in 2022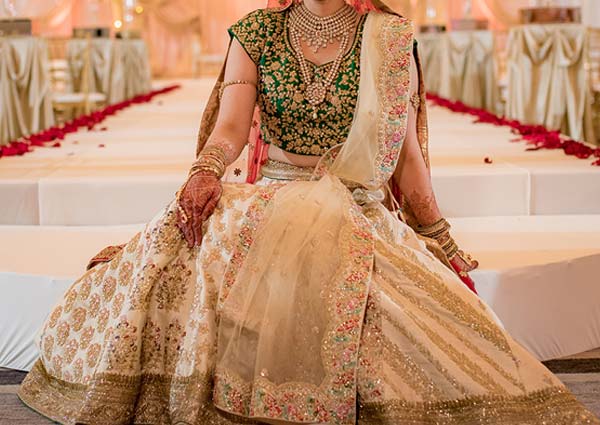 If you have still not decided what to wear on your special day, you can definitely go for a colorblock dress, whether it is a lehenga, saree, or long skirt. Color-blocked outfits are extremely popular nowadays for all the traditional festivals and special occasions like weddings and receptions. Also, on account of fashioners like Sabyasachi, you'll get to know about the latest pattern in terms of authenticity and their ethnic touch. Now, if you are confused about how to do colorblock, you can choose the simplest way of mixing and matching the two different and contrasting colors to create a different and unique wedding outfit. For instance, purple and bright yellow, or orange and blush pink will go well for every skin tone and personality.
4. Go with Blouses having Designer Necklines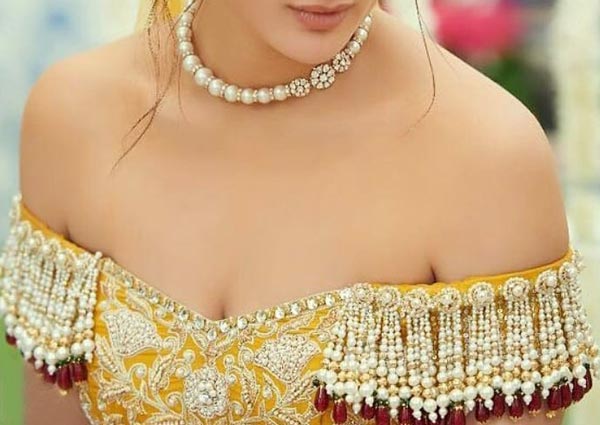 It's so 2021 & 22 appropriate to wear conservative blouses for weddings and receptions! The new year will bring bridal fashion a new twist, as the necklines of blouses become even more outrageously unique and gorgeous. There will be a variety of blouse designs for 2022, whether they opt for plunging necklines or edgy fringe. Many popular and famous designers give blouse necklines the jewelry look for the brides loving minimalistic look even in their special days.
5. Shimmer & Mirror Work will Follow 2022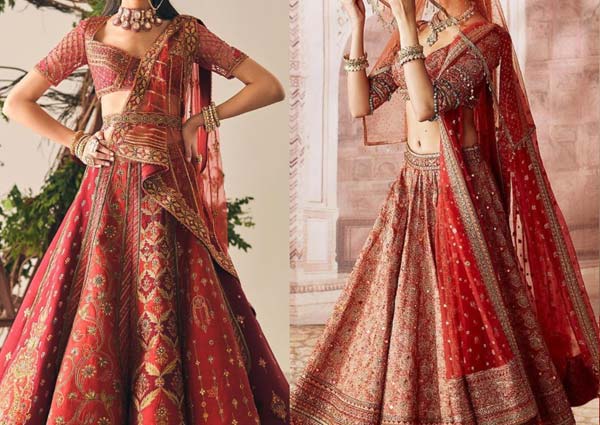 We just can't seem to get enough sequins, shimmers, and mirror work in the outfits when special days like weddings and receptions are the talk of the hour. Glitz and glam with a hint of bling! An elegant wedding gown can do wonders for a girl's self-esteem and self-confidence. Mirror work outfits are among the most enticing & sought-after choices for brides and bridesmaids. Not only are they stunning, but they are exquisite and sophisticated. This trend is sure to reign supreme in the 2022 wedding season.
6. Elegant Head Jewellery is Must Have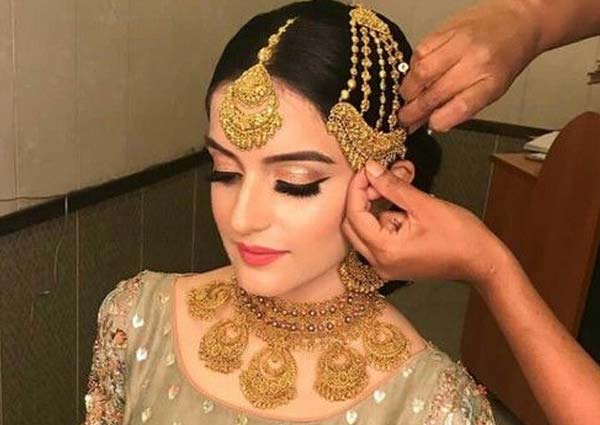 Right now, bridal headgear like bridal hairbands, matha patti, and other styles are all trending for a trending bridal look. However, the designs for the traditional head jewelry have changed a lot as jewelry designers incorporate half-moon-like designs or even more modern styles that are amazing for new-age brides! People prefer to hands on the latest bridal jewellery ideas to enhance their look with something traditional with a hint of authenticity.
Also, if you are looking for new launches of jewellery items launched in 2021 to enhance your look for every special festival and celebration, you can check out our write-up covering "17 Dazzling Jewelries to Turn Oneself into a Fashionable Diva" to get new ideas.
7. Maximalism is Always Rage in Wedding Season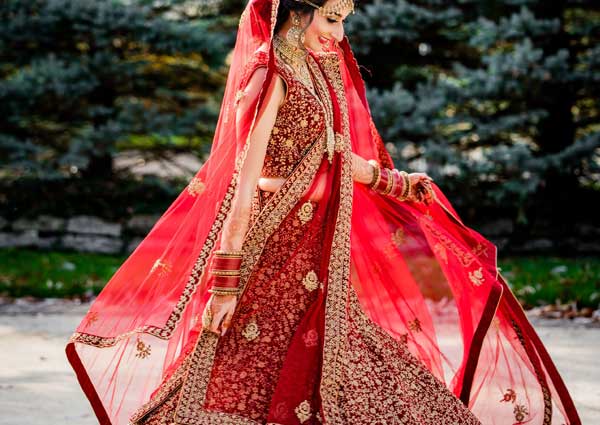 One thing we can't wait to see in the 2022 wedding seasons and that we have already seen by the end of 2021 are brides embracing maximalist style outfits and jewelry items. OTT jewelry, heavily embroidered outfits, and all the works. Brides aren't scaling down for intimate weddings; they embrace the opposite and flaunt their wealth and luxury.
8. Floral Mehendi Designs are in Trend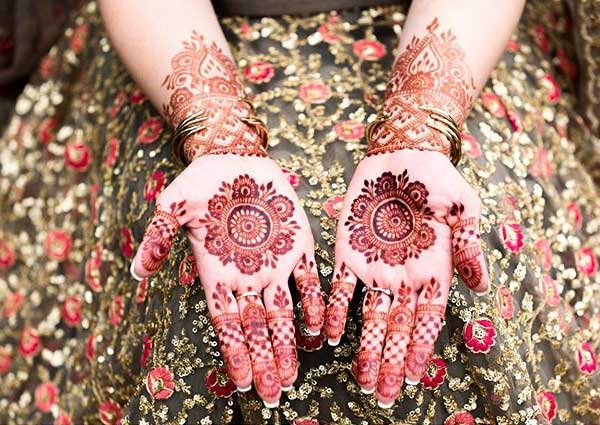 There was a boom in mehndi designs with peacocks and lotuses in 2021, as well as glitter henna was also widely preferred by brides and bridesmaids. But brides are now getting floral mehndi designs at their weddings, which will become a great hit in 2022 wedding seasons. And, who are we to complain? There is nothing more amazing than intricately designed floral mehndi, for sure! Not only in Mehendi designs, floral designs and textures are also used in jewelry and wedding lehengas to create an exciting and unique look.
9. Blouses with Stylish Shoulders and Sleeves
The wedding lehenga is incomplete without pairing it with a matching blouse. Nowadays, people are inclined towards blouses having unique shoulders and sleeves. They will definitely be the highlight of the wedding day for the coming 2022 year as well.
10. Chevron Print Outfits for Wedding Season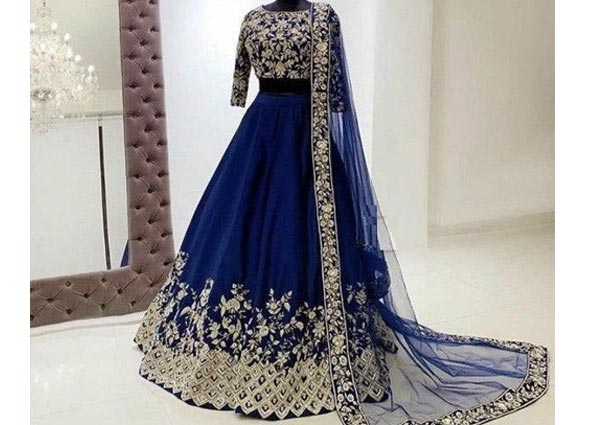 The zig-zag pattern, also known as the Chevron print, has been popular since 2014. This year, we not only saw a lot of brides and designers embracing the chevron print, but we also hope this trend will continue into this new year's wedding season.
11. Pakistani Style Wedding Outfits Rocking 2021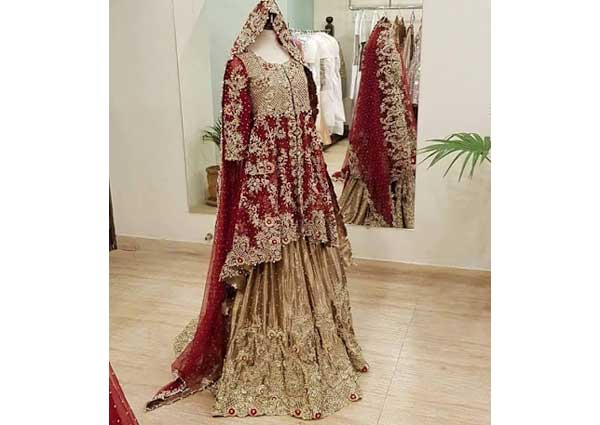 It's impossible to resist the OTT embroidery and stunning colors on Pakistani suits and shararas. It is amazing how beautiful the silhouettes look, and silk and crepe only make them look even better! If you also wish to curate your wedding outfit, you can definitely take ideas from Pakistani serials where the actresses wear bright, decent, and new-in-trend long suits, simply perfect to attend weddings without losing your style and your comfort zone.
12. Bridal Lehengas in Gorgeous Shades of Metallics
Brides have also experimented with their lehenga colors, ranging from fiery greens and blues to delicate pinks and lavenders. Nevertheless, grey was the most popular color among brides this year in 2021 and back in 2020 as well. Whether it was for their pre-wedding functions or their big D-day, brides chose metallic colors like gray, silver, and golden to amp up their look with something unique, interesting, and trendy.
13. The Added Cape Sleeves in Lehengas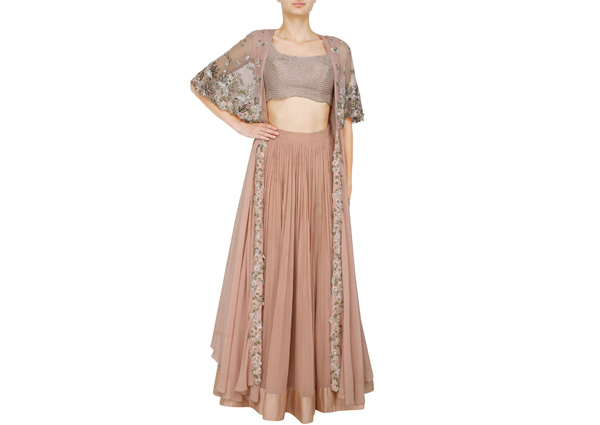 2021 has seen the emergence of some raging innovative trends, including cape sleeves. These "giving the illusion of a cape" sleeves have been featured on dresses and blouses alike and can vary from mid-length to floor-length. This is one of the best and most popular bridal outfit elements due to the contemporary edge they can add!
14. Personalized Bridal Outfits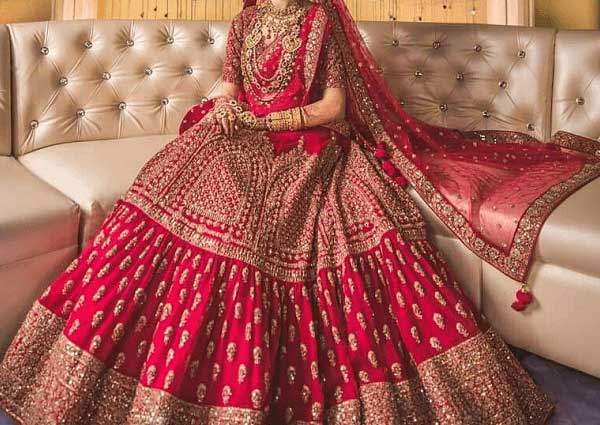 Couples have been personalizing their wedding in an attempt to enhance their special day. There isn't any aspect of a wedding that can't be tailored, from decor to food, drinks, and even outfits. Brides are personalizing even the smallest of details in their outfits to add that much-needed personal touch. We saw a lot of new ways to customize our ensembles, whether it was stitching our names on the latkans, writing Sanskrit shlokas on our Dupattas, or embroidering our love stories on the embroidered lehengas.
15. Bridal Lehengas with Off-Shoulder Cholis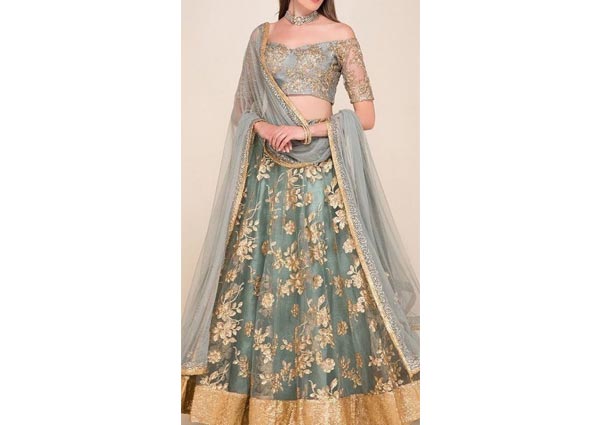 In 2020, brides opted for off-shoulder cholis for their wedding day attire because they've been wearing them for their pre-wedding celebrations, but they've also been wearing them for their haldi and sangeet parties. Nowadays, brides aren't scared of wearing sexy blouses on their wedding day either, unlike earlier times. That is why, even in the 2021 and 2022 wedding seasons, ladies are going gaga over the stylish and sexy looks more than the simple ones, and why not? This is one day that comes once in life, fortunately, and unfortunately.
16. Extended Silhouettes & Asymmetrical Hemmed Skirts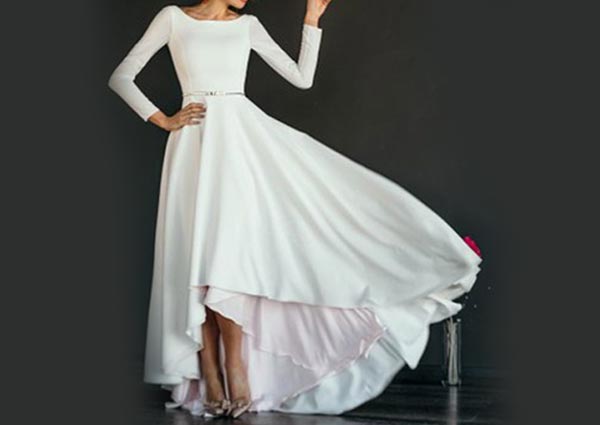 The ruffled, pleated, and tiered hems of lehenga skirts and gowns have been a hot trend in 2021, bringing a touch of modernism to their traditional outfits. This particular style features an extended silhouette that adds a charming finishing touch to the whole outfit, and it's not surprising that it's considered among the best dress trends for brides in 2021.
17. Structured Ruffles Add Definition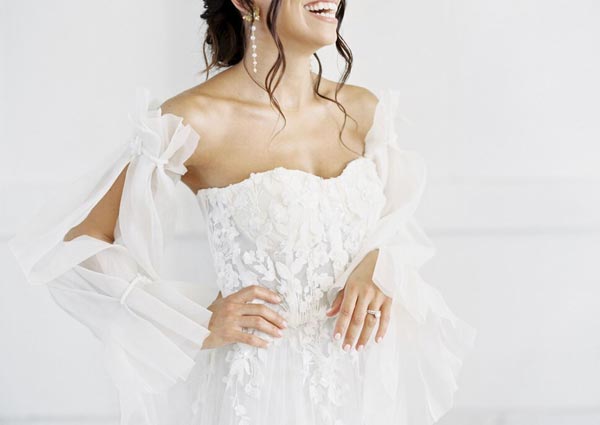 Ruffles and structured ruffles, which enhance your bridal outfit, are undoubtedly on the "experimental bridal outfits list."." Every component of the bridal outfit features ruffles, whether it is to do with dupattas, blouses, and their necklines, or lehenga skirts.
18. The Trend of Unending Trails and Veils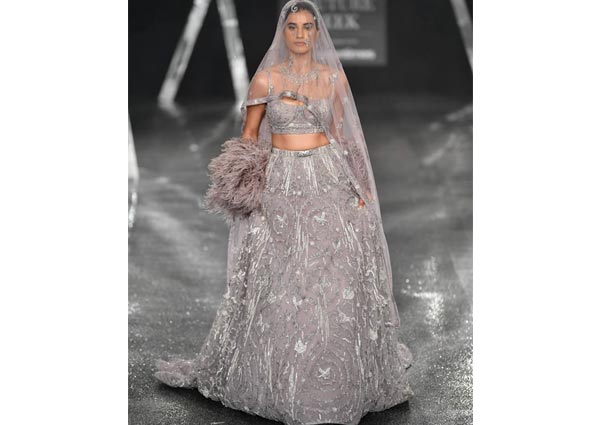 A trend that only recently outgrew itself was long trails in bridal gowns or long veils. This trend is definitely not going away anytime soon since Deepika and Priyanka frequently wear long trails and veils in their bridal attire. The veil at the Christian wedding of Priyanka Chopra was 75 feet long. That's incredible!
19. Seashells is Newest Trend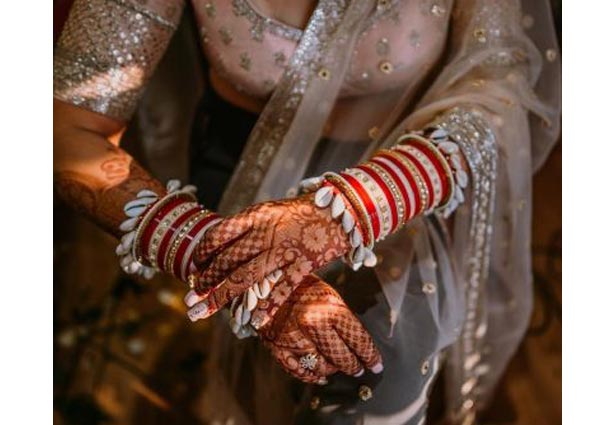 This year has been wonderful for seashells! We absolutely loved the shells that washed over 2020, whether it was jewelry made from seashells or outfits decorated with cowrie shells! As trend watchers on the internet, we noticed seashells on kangan's bridal blouses, earrings, kaleeras, haathphools, and several other garments. The pieces we tested blew us away from more than the ones we were expecting, and if seashells are here to stay in bridal outfits and jewelry, we're not mad.
20. Scintillating Sequin Lehengas for Extra Special Weddings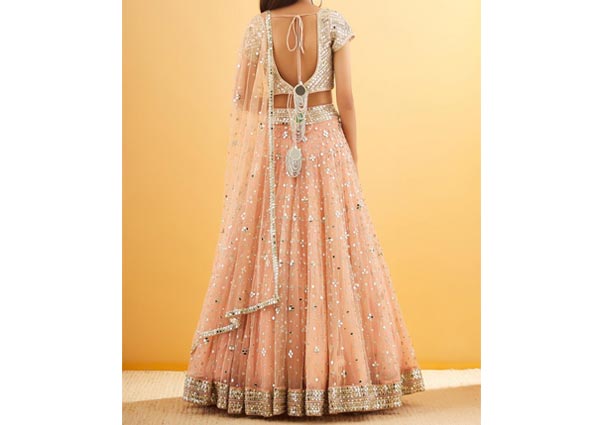 Honestly, let's face it. The year of the saree in 2020 was certainly the year of sequin sarees! Sequin sarees have seen an increase in popularity thanks to designer Manish Malhotra. Brides and other formal wearers embraced sequin sarees, but we also witnessed celebrities from across the globe showering love on this outfit type. It's cool to wear a little extra bling, right?
21. We Swooned Over Floral Lehengas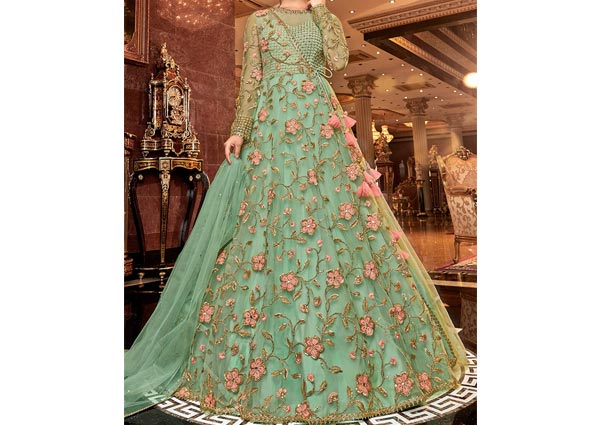 As far as bridal fashion goes, some trends are timeless. There are many brides-to-be who like these wedding trends and find them appealing. Floral lehengas are one such 2020 bridal fashion trend. We're seeing wedding brides wearing floral-printed and embellished lehengas for all kinds of occasions in addition to Mehendi, day weddings, and other traditional functions!
22. Contrasting Dupattas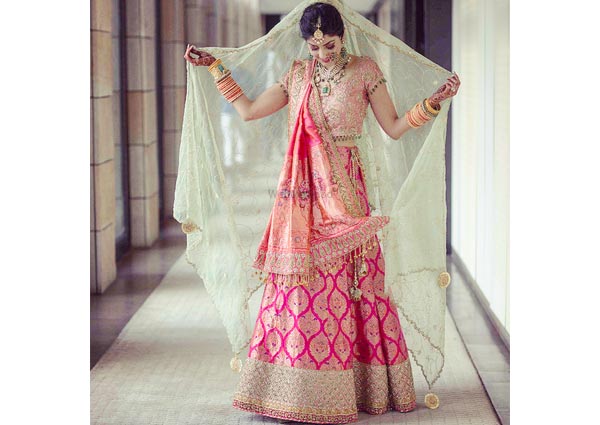 It is considered incomplete for an Indian bride not to wear a dupatta. The brides don't usually add a different colour dupatta to their lehengas as part of their bridal outfits. For her special day, the millennial bride wants not only unique decor, food, and venue options, but also an interesting and unusual trousseau. We also saw some brides wear contrasting dupattas to match their outfits like pros!
23. Anarkali For Intimate Weddings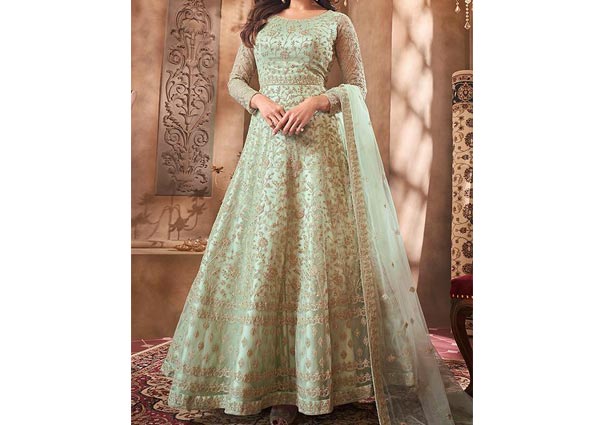 The angrakha looks like it belongs to royal families, if you have ever seen one. Anarkalis are heavier and harder to wear than these, which is perfect for the bride of 2021 who wants an intimate wedding. We hope that this trend will carry over to the new year, as these comfortable and regal-looking silhouettes are popular in 2021.
24. Brocade Skirts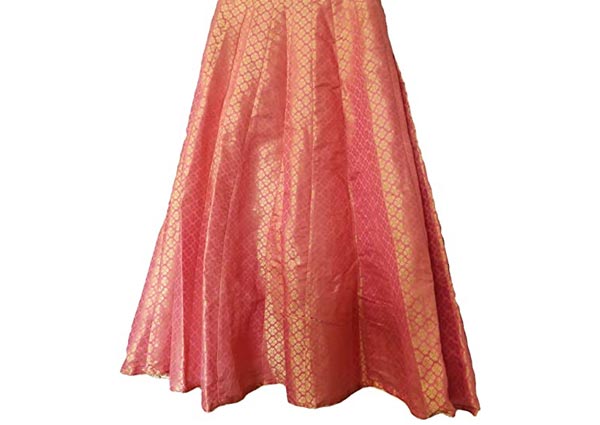 A heavy brocade lehenga or skirt was another trend from 2020 that we absolutely loved. The kind of outfits that worked best for a small wedding were heavy brocade skirts, grand ghers, and simple tops or minimal cholis. This option of clothing is popular with brides who want to stand out at their intimate weddings and do something different. These plants are easy to handle at the same time that they are beautiful, making them more popular this year!
25. Oxidize Jewelries are Back in Trend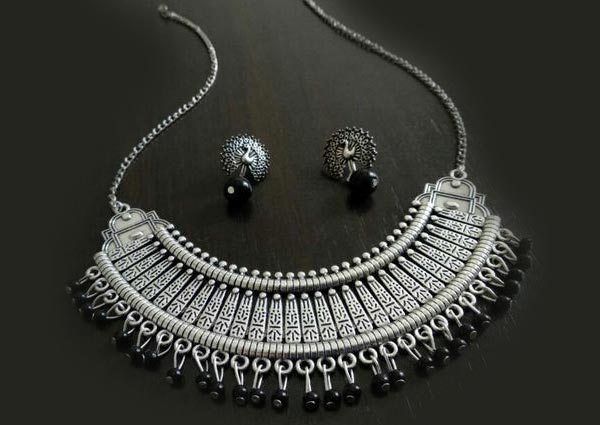 Jewelry that conjures up images of sultry, seductive and special has been finding a special place in the jewellery wardrobes of actresses, divas and women in general for quite some time. There have been many celebrities who have been photographed wearing their oxidized jewellery onscreen and offscreen, such as Sonam Kapoor Ahuja, Vidya Balan, Kareena Kapoor Khan, Konkona Sen Sharma, etc. Some people also refer to oxidized jewellery as black metal jewellery due to its black and darkened appearance. Oxidized jewellery is currently trending and has taken the world by storm. Brides also give their best to find the perfect oxidised jewellery online to amp up their look.
The Final Takeaway
The Indian wedding is considered a traditional event where the bride and groom dress in ethnic attire and adorn themselves with traditional jewelry. These events are all about over-the-top arrangements, functions, outfits, decorations, and most importantly, jewelry. Aside from everything else, the bride's and the bridesmaid's jewelry look run under the radar, so choosing stunning styles for them is crucial. In this article, we've listed the top wedding outfits and the latest wedding styles that'll up the ante for every bride and bridesmaid at a special event like a wedding. Talking about weddings and not mentioning wedding gifts is just not the case. Customers can check out "10 Unique & Useful Wedding Gift Ideas to Match Your Budget!" to get the best wedding gift ideas.
At GiftaLove.com, we have always tried our level best to list down amazing, fantastic, and budget-friendly gifts for brides and bridegrooms to make their special day more special and memorable. Also, we are into offering our customers fast, reliable, and hassle-free delivery services to buy/send gifts online for him and her. Customers can easily send wedding gifts to Delhi online from GiftaLove with zero hassles and no delay. We provide our customers delivery services for international orders as well. You can order online gifts for USA, UAE, UK, Australia, Canada, and worldwide.
So, choose any of these fashion trends to make your D-day one of the bests for you and click super amazing photos in your dream bridal outfit. Be unapologetically beautiful in your own style this wedding season with us!!

Sakshi Ecavade is our in-house content developer having a good understanding about the gifting industry. She creates quality content surrounding flowers, chocolates, plants, cakes, and other products which makes excellent gifts for the people. Accurate and authentic information is what she tries to deliver through her blogs.