Festivals in India have always been a resplendent and a sumptuous affair since time immemorial. Every festival has its own ingredients which are essential for memorable and splendid celebrations. Think of Diwali without lights, Holi without colors, or Eid without biryani or seviyaan, the festivities seem to lose a lot on their flavors and extravagance in the absence of such crucial elements which imparts colors and vibrancy to them.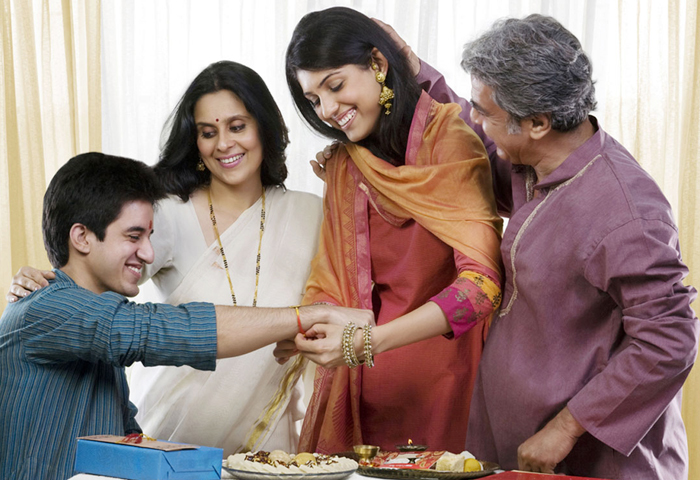 Raksha Bandhan is a similar Indian festival that epitomizes the strong and eternal bond of brothers and sisters through a sacred thread of Rakhi. This festival based on sibling love beautifully portrays the hearty feelings of love, care, adoration, support, and protection that are shared by them with each other. Just like a night with a shining moon and flowers with mesmerizing fragrances, we have listed down some crucial ingredients which are essential to make Raksha Bandhan 2019 an extravagant and luxurious affair for everyone. Make sure you have them all!!!
Brothers
The relevancy of the sacred thread of Rakhi can only be understood by women who have brothers in their life. Brothers are just like fathers who are born with the same emotions of immense love and care for their sisters. They always like to keep them guarded and keep them safe from any adversities. Raksha Bandhan is a special occasion that celebrates the even more special bond of siblings who have immense love and respect for each other. The tying Rakhi on the wrist of brothers fills the hearts of sisters with immense happiness and pride of having such amazing brothers in their lives. They are the ones who give their sisters an everlasting promise of protection and support in all the walks of life.
Sisters
As the popular Bollywood song says, "Behene ne Bhai ki kalai pe pyar bandha h…", a Rakhi is not just a beautiful thread that is tied on the wrist of a brother as a formality, but a string imbued with emotions of deep love and care. Sisters are very protective in terms of their brothers and always like to be pampered by them. An elder sister is just like a mother who takes care of their little brothers and guides them always. Whereas a younger sister is treated like a daughter by her elder brother and always make efforts to provide her a good and successful life. This is the bond which is celebrated during the occasion of Raksha Bandhan.
A social message: With India witnessing a big drop in the population of girls, it's time to give them their due and valid share in the society without considering them a burden or a liability. Men who lack sisters in their life are missing on a precious bond that is admired and lived by their fellow brothers.
Presence of Deep Emotions of Love & Care
In a world, where people are moving away from joint family setups and preferring nuclear families more, the emotions that once existed between brothers and sisters have seen a fall. But, there are still a lot of people for whom distance never matters and what most matter for them is the love and affection they have in their hearts for their siblings. Raksha Bandhan celebrates these pious feelings housed in every sibling's heart for their brothers and sisters all over the world. This festival is a magnificent celebration of this amazing bond which they share no matter what are their circumstances.
Rakhi
Celebrating Raksha Bandhan without a Rakhi seems imperfect and without jollifications. A Rakhi is a thread of love and care that binds two siblings together and connects their hearts and souls forever. The emotion with which a sister buys rakhi for her brother or sometimes created it with her own hands is what signifies the power of their relationship. This beautiful thread is the celebration of their incredible bond and shows how deep and loveable is their sibling bond. We have heard in legends that how a thread of rakhi has recreated history and made mighty and powerful people fallen on their knees for their Rakhi sisters.
Rakhi Puja Thali
Just like every Indian festival, the festival of Raksha Bandhan is also celebrated with all the traditionalism and in a ceremonious way. It begins with the sisters getting up early in the morning and offering their prayers to God for the well-being of their brothers. This Rakhi ritual seems to be incomplete without a beautiful Rakhi Puja thali that is decorated with all the beautiful colors and eye-pleasing materials to impart a festive appeal to the Rakhi celebrations. These religious thalis are plated with sweets, roli, chawal, a lit diya, and a Rakhi to perform the ritual of Raksha Bandhan. This designer thali infuses a festive flavor in your celebrations and makes sisters feel at a place as everything required for the Puja ceremony will be properly placed in it.
Plush Rakhi gifts
Raksha Bandhan has flavors of excitement in it as soon after the Rakhi ceremony, the gifts are exchanged by brothers and sisters. The tangy relationship shared by siblings is made more enthusiastic one with Rakhi gifts for siblings. Brothers get the most wonderful gifts for their sisters like jewelry, apparels, handbags, gift coupons, or tokens of money to please them and make them the happiest souls on this earth. Not only the brothers but also sisters never stayed behind in surprising their brothers with gifts for Raksha Bandhan. They accompany their Rakhis with the most stunning and delicious gifts like, chocolates, sweets, dry fruits, grooming kit, watches, wallets, etc. to send brothers cloud nine with their choices.
Beautiful Traditional & Ethnic Attires
With the arrival of the festivals in India, people go on a shopping spree to don on their best traditional avatars for the festive celebrations. Both men and women pick ethnic attires to tune with the traditional theme of festivals and wish to look their best in front of everyone. Raksha Bandhan witnesses both men and women strolling in the markets just like a flock of sheep. Boys in Kurta pyjamas and girls in salwar suits and sarees is what the landscape of Raksha Bandhan in every household looks like.
Mouth-drooling dishes and sweets
Talking of festivals and how can we forget the delicious and mouth-watering delicacies to gorge on the festive occasions. Raksha Bandhan is an occasion which witnesses a big and fun family get together in which everyone has a good time together. Delicious and tempting dishes are cooked at home for everyone and relished on while having a good chit chat session. Special sweets are also prepared to sweeten everyone's mouth on this splendid festival.
No Space for Religious Taboos
India is a secular country in which every citizen is given a fundamental right to freedom. Raksha Bandhan is a festival that has witnessed a massive change in its celebration patterns over the years. This festival is no more a festival of the Hindus but is celebrated by the people of all religions. When the country does not discriminate, then who are we to impose such taboos on us or our children. This Raksha Bandhan, break the shackles of religious disparities and indulge in religion-free Rakhi celebrations. It's time for a change, so be the one to carry this torch forward!
Make this Raksha Bandhan the happiest one by culminating all these ingredients together for sweetest Rakhi celebrations. If you wish to buy some stunning Rakhi for brother online, then GiftaLove.com is a renowned online rakhi store with a smorgasbord of Rakhi and Rakhi gifts online at affordable prices.
Sakshi Ecavade is our in-house content developer having a good understanding about the gifting industry. She creates quality content for Giftalove.com and tries her best to impart new dimension to our collection of gifts through her blogs.