The most splendid celebration of the year, Diwali, is here! Diwali carries pictures of perfectly enlightened yards to our psyches. It is a celebration of lights, happiness, prosperity, and togetherness. The many shades of lights mean the joyful feelings in us. And, we share all those pleasantness and feelings of happiness and prosperity over a plate full of delicious Diwali sweets. And, this signifies that Deepawali is also popularly known as the "Sweets Festival of India." Diwali, obviously, is related to the triumph of good over evil. Lights are symbolic of goodness and positive energy, and looking at this logically, Diwali really is tied in with spreading inspirational tones & positive vibes. We get each other gifts, we embellish homes with lights and blossoms, and we wear new pretty clothes all in the expectation of coming happiness and positivity.
So, this year, for Diwali 2022, make your home Diwali ready with some popular and effective Diwali decoration ideas and embellish your home with positivity and a touch of happiness. Diwali preparations start somewhere around a month before Diwali, with the essential step of cleaning the homes. You can also begin your Diwali home cleaning with simple steps with "10+ Easy Steps to Deep Clean Homes for Diwali 2022." After the cleaning up, people start with their Diwali shopping for the pooja, Diwali presents for friends and family, new clothes, Diwali lights & candles, and a bunch of delicious boxes of sweets for Diwali. Furthermore, the last thing in the Diwali preparation is jazzing up your home for the celebration.
On the auspicious occasion of Deepawali, houses are enhanced to invite Goddess Lakshmi and Lord Ganesha for flourishing. Homes are additionally enlivened because, on this day, Lord Ram, alongside Sita and Lakshman, came to Ayodhya following 14 years of outcast. In their honor, the Ayodhyavaasi enriched their homesteads wonderfully with candles and diyas for Diwali. So, we are here with some effective, simple, easy on the pockets, and trendy Diwali home decoration ideas to jazz up your place for the Deepawali celebration.
Without any further ado, let us have a look at the list of ideas for home decoration for the amazing Diwali celebration:
Diwali Home Decoration with Flowers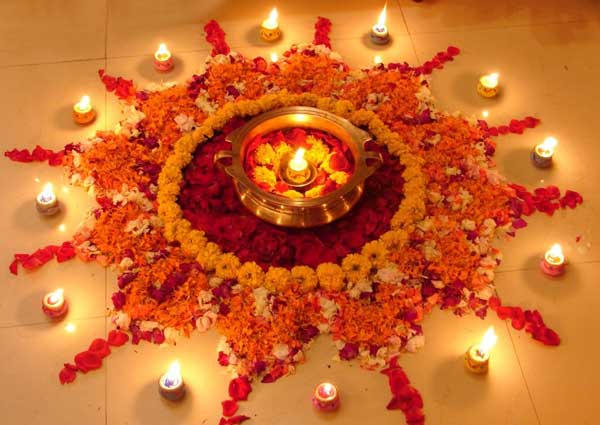 In the Hindu culture, flowers are considered auspicious, and generally, they are nature's best manifestations. Thus, beautifying your home with new and fragrant blossoms is the best approach to satisfy the gods and make the home a positive spot. You can adorn the entryways, walls, railings of the stairs with strings and laurels of Marigold. The radiant orange and yellow shade of the Marigold is representative of fresh starts and blessedness. Then, at that point, toward the edges of your home, you can put jars with new flowers or pruned flowering plants.
Flowers are an absolute necessity in our celebrations, and we've grown up beautifying our homes with flowers and exhausted of doing the same thing consistently on every festival? We should look at these new Diwali home decoration thoughts with flowers. Most poojas and merriments can't get along without the marigold flowers.
Nothing too weighty; simply a single flower line hung together with a good way off makes a nice and pretty flowers drapery. You can utilize your flowers in colors that match your stylistic theme. Reds, oranges, yellows, and pinks will usually be bubbly top choices. Assuming you need to keep it significantly less complex, string a couple of laurels on a branch, a stick, a steel pole, or even a few holders to top off void dividers.
You could hang these marigold garlands behind Ganesha and Lakshmi idols. It may be a corner you need to design with your brassware and lights or an unfilled wall you need to make beautiful for Diwali. Apart from flowers, people are nowadays leaning towards home decoration with green plants. Also, people buy air-purifying plants for Diwali online to send thoughtful gifts to each other.
Also, you can get the best plants for Diwali from our post "7 Indoor Plants to Bless Homes with Good Luck & Wealth This Diwali."
Diwali Home Decoration with Torans and Bandarwals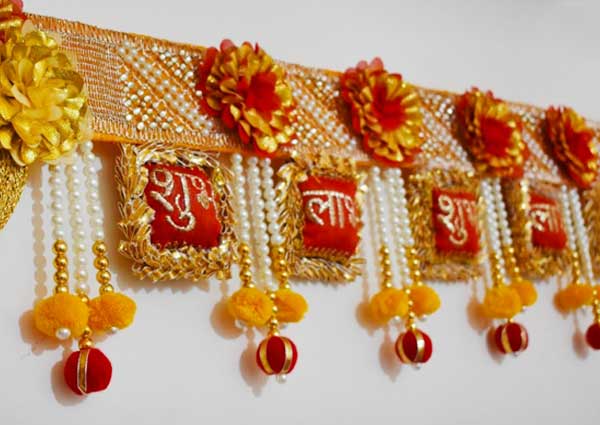 Torans are beautiful entryway hanging, used for embellishing the doors traditionally. On Diwali, Mango leaves Torans are held tight on gateways to attract goddess, good health, and prosperity in life. Mango leaves are hopeful in Hinduism and are great in retaining carbon dioxide and releasing oxygen. Apart from this, you can find many attractive and gorgeous torans for Diwali to embellish the doors and entryways. Bandarwals are another decorative and traditional door hanging thing. Embellishing the place of Diwali calls for hanging Shubh Diwali, Happy Diwali Bandarwals, architect bandarwals on the entryways of the homes. You can make the bandarwals on your own or get them from the stores in various attractive designs.
Diwali Home Decoration with Diyas and Candles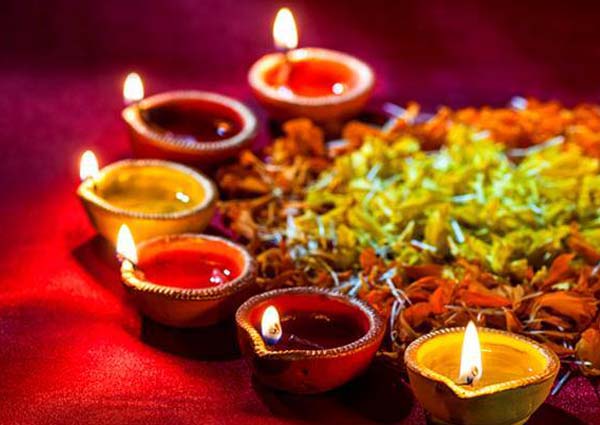 Diwali or Deepawali is the celebration of lights. Deepawali, in a real sense, signifies rows of light.' Therefore, on Diwali, the earth gets enlightened with countless flashing lights in the form of earthen diyas. Decorating and embellishing different parts of the home with colorful diyas is a traditional way of celebrating the auspicious festival of Diwali. You can embellish the stairs, balcony, and rooms with Diwali diyas and candles as the best way of Diwali Decoration at home. Indeed, even in your Rangolis, you can illuminate diyas and candles.
Diwali Home Decoration with Lights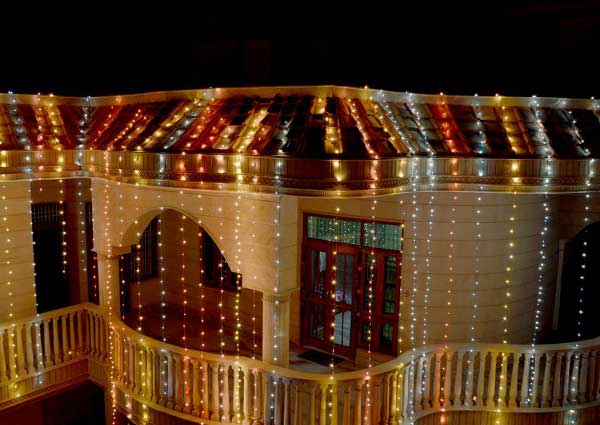 Diwali can be an incredible occasion for you to grandstand your hidden artistic abilities for home decoration. You should simply combine the lights together to coordinate with the stylistic layout of your home. The glittery lights have an extraordinary method to enlighten any encompassing. Use lights in different patterns for Diwali lighting thoughts for home or simply use them essentially for the brilliant enhancement. String LED lights are extremely famous for Diwali home decoration with lights as they are modest and go all around well with the bright idea of the celebration.
If in case you have a balcony or a verandah, you can embellish it with lights, diyas, and garlands. You can likewise make Rangoli on the floor and brighten the windows and different surfaces with diyas, blossoms, and hanging lights. These days, oil diyas aren't extremely famous as LED lights are more convenient to use for home decoration.
Diwali Decoration Ideas for Pooja Room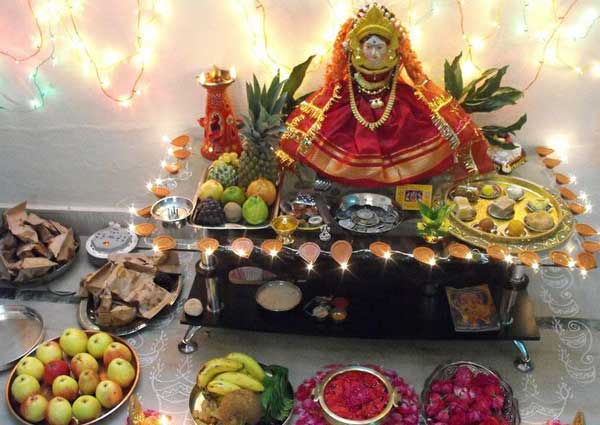 Talking about Diwali and the auspicious celebration at home, we cannot simply ignore the most important place, i.e., the pooja room of the house. Cleaning the room and all the dainty idols is again the first step, and then we come to decorating the pooja room for Diwali. Here, we have some simple yet effective ideas to get the job done:
Earthen Diyas: Diyas or earthen lights are quintessentially the best Diwali decoration ways. These earthen lights enlighten the eminence of your home. You can also enhance the simple look of diyas with the help of excellent paints, shimmers, and pearls. Aside from the Pooja room or pooja thali decoration, you can embellish the stairs, foyers, front entryway, and gallery with faintly lit diyas.
Scented candles: Scented candles are an incredible addition to the Pooja rooms as well. You can line up candles around the Laxmi and Ganesha idols and let your home climate absorb the aroma of goodness and positivity this Diwali
Rangoli: Rangoli is a well-established and popular custom to deck up a home with the goodness of colors. You can amp up the pooja room floor with colorful Rangoli designs to invite God and Goddess with warm hearts.
Lord Ganesh and Goddess Lakshmi: Diwali is dedicated to worshipping Goddess Lakshmi and Lord Ganesha for wellbeing, good fortune, positivity, and mental health. You can buy new beautiful Laxmi Ganesha idols for Diwali and adorn the pooja room with flower petals and garlands.
Conclusion
We should illuminate this Diwali with some entirely different thoughts that involve happiness, positivity, togetherness, and many boxes of delicious sweets. The approaches we have here turn out to be the best home decoration ideas for Diwali to amp up your home and yards with attractive and blingy decorative items. That way, you can improve on enrichments and save a ton of cash that could somehow or another have gone down on stylistic theme costs. It is consistently enjoyable to clean up the home and enhance it with Diwali lights enrichment.
However, if you run out of better approaches to buying gifts for Diwali to send wishes to family and friends, GiftaLove.com can be your savior. We have a very amazing and vast assortment of Deepawali gifts from where you can find the best items for friends, family, and relatives to send your Diwali wishes and blessings. Also, we have fast and reliable delivery services to send Diwali gifts online India from across the world.
So, let us serve you and make your Diwali more than happy and blissful!!

Priya Gupta is the in-house content writer and developer of Giftalove.com. Her ever-smiling face, big heart, and jolly-good personality make her stand out. Her writing style demonstrates a harmonious union between passion and creativity. She is a multitasking person, delivering flawless work while listening to music, and dancing to the beats of Justin Bieber. All she needs is a cup of coffee to express her views through her words!