The auspicious festival of Karwa Chauth is a significant occasion for a ton of married Indian ladies living in and across India. On this day, which is one of the important days celebrated in the Northern District of the country, ladies observe fast for the entire day and pray to God for great wellbeing and long life for their husbands. The husbands of the modern era also follow the tradition of fasting for their wives and buy online gifts for wife on Karwachauth to express their love. Whether engaged or, in some cases, even unmarried, females observe the fast for their imminent partners.
Karwachauth, also known as Karaka Chaturthi, one of the important Hindu fasting festivals for married women, falls in the month of Kartik, and this year, Karwachauth will be celebrated on November 4 Wednesday. Karwa Chauth – "Karwa" is the synonym for "pot," & "Chauth" means "fourth," stating that the festival is celebrated on the fourth day of Kartik month according to the Hindu calendar. Talking about the significance and the importance of Karwachauth, even unmarried girls observe fast to celebrate this auspicious festival to get their dream life partner.
Ladies observe fast from sunset to sunrise, spruce up, wear traditional dresses like saree or suits, and apply henna on their hands. From purchasing new outfits to jewelry for Karwachauth, women don't leave any stone unturned to deck up representing their day when they were new brides. Be that as it may, the celebration isn't simply famous due to the tradition of fasting and dolling up. There are a ton of huge ceremonies which ladies ought to follow during the Karwachauth celebration.
For all the ladies or women, married, unmarried, or new brides, who will be observing their first Karwachauth fast, it is very important to know when is Karwachauth 2022 and what are the important traditional & customs to follow for a blissful ritualistic Karwachauth celebration. And, there, this share pops up. Don't forget to check it out to make your celebration completely traditional:
When in Karwachauth 2022?
Karwachauth is falling on 13th October, 2022, on Thursday
Karwachauth Puja Muhurat – 05:54 PM to 07:08 PM
Karwachauth Upvaas Time – 06:20 AM to 08:09 PM
Moonrise on Karwachauth Day – 08:09 PM
Karwachauth Begins – 01:59 AM on 13th October, 2022
Karwachauth Ends – 03:08 AM 14th October, 2022
History behind Karwachauth
There are many tales that are associated with the sacred festival of Karwachauth. Some of those popular tales are:
The Story of Veeravati
This is a story about Veeravati, the only sister of seven brothers. She was married to a great kind, and for the longevity of her husband's life, she decided to observe a fast. By the end of the day, she was feeling very hungry and thirsty; due to brotherly love, her brother decided to help her fasten up the process of fast, and they built a fire behind the mountain. Veervati got tricked and thought that fire was the moon, after which she broke her fast. As she broke fast and had food, the news arrived that her husband had died. After hearing it, she starts to cry broken-heartedly, which compelled the goddess Parvati to appear and help her. Goddess Parvati told her that she was tricked by her brother, so she should repeat the fast again and this time properly. Then she fasted again, and her husband came back, then Karwachauth vrat came into existence.
The Story of Karwa
Karwa was a very devoted wife (pati-vrata). Her love was so powerful and pure that it gave her spiritual powers. One day when her husband was swimming in the river, a Crocodile caught her husband. Karwa demanded from Yama to send her husband back and send that Crocodile to hell. At first, the Yama declined, but when Karwa threatened Yama that she would curse him then even Yama got scared and followed her instructions. From then on, Karwachauth is celebrated by devoted married women.
The Story of Savitri
When Yamraj came to take Satyavan's life, Savitri tried to stop him from taking her husband. The Yama refused, and due to the loss of her husband, she stopped eating and drinking. Lord Yama asked her wish for anything else except for her husband's life, and her wish will be granted. Savitri asked for children, and as she was pati-vrata wife, she would not bear the child of any man, so Yama was forced to send her husband back and after which they lived a happy life. This is a story for Savitri Amavasya, mostly observed in Odisha.
Significance of Karwa Chauth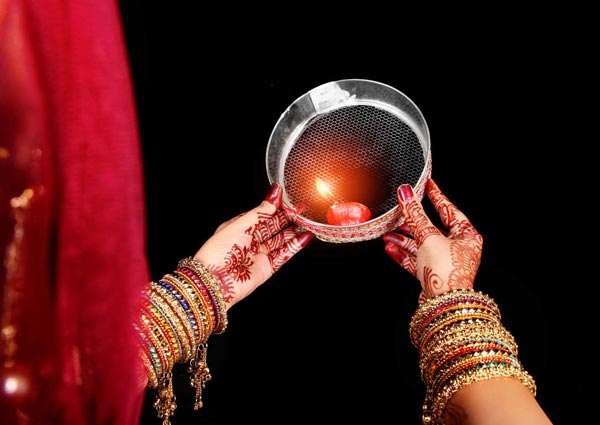 Karwa Chauth is seen to praise companionship, sisterhood, and harmony. By and large, according to the historical stories, this auspicious day was celebrated and honored as a day dedicated to the prayers for the long life and well-being of soldiers in the wars. Likewise, today's Karwachauth celebration alludes to the long existence of marriage life. Aside from this, special fasting festival has considerable importance. It represents love and a strong relationship among couples as well as family members. It recognizes the significance of married women in her Sasural. Not at all like other fasting festivals, Karwa Chauth is a festival for a wedded ladies; to exhibit her affection and commitment towards her soul mate.
Karwa Chauth Rituals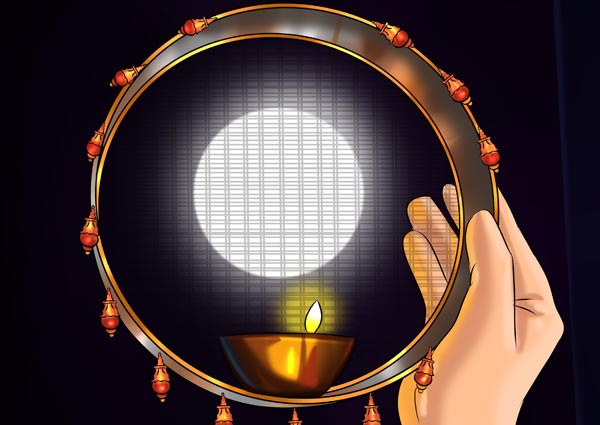 Karwachauth isn't just a fasting festival but also known as heaps of excellent Hindu traditions and ceremonies related to the festival. People start planning and preparation for the celebration much before the day. Ladies purchase traditional clothes, shingar, adornments for themselves, and all the essential Karwachauth puja items like karwa, strainer, matthi, and Karwa Chauth puja thali. One day before, women adorn their hands with excellent henna designs. It is said that the darker the shade of the henna, the more deeply the husband cherishes her. Karwa Chauth Mehndi is considered auspicious; as it represents flourishing and good luck. You can check out "6 Minimal and Trendy Mehndi Designs for Women of Today!" to have some amazing, modern, and traditional henna designs for Karwachauth.
On Karwa Chauth, every woman gets up right on time, i.e., early in the morning and before sunrise, as they have to eat and drink before dawn.
The mother-in-law gives Sargi to daughter-in-law (Saas to Bahu) or anybody senior in the home. Also, even if any mother-in-law is far away from her darling daughter-in-law, they prefer to send sargi gifts for Bahu online to make the sure ritualistic celebration of Karwachauth.
Sargi includes vermicelli kheer or feni, matthi, shingar, jewelry, and some clothes.
When the day begins, women doll up and observe fast all day long, till the moonrise.
For all those who observe first Karwa Chauth fast, women wear their wedding attire. They wear new bangles and, in the evening, women sit in a circle and pass each other Karwachauth thali. The process of story-telling follows the rituals.
On this day, women worship the divine God Shiva and Goddess Parvati with Karwas filled with sweets and savories.
After the Moon shows up, women break their fast by observing the moon through a strainer or sieve and afterward look at their husbands through it.
Likewise, the couple partakes in a prosperous wedded life that goes on for however many pores as there are in the strainer.
After this, the husbands give their significant other a first sip of water of the day with some sweets to break their fast.
Customarily, a gift is given to a little girl's relative on her first Karwa Chauth, which involves feeke maththis and dry fruits. The gift is known as "Baya."
Karwachauth Puja Vidhi
The Puja vidhi for Karwachauth is very strict and very elaborate, and it needs special attention to detail. Let us explain the Karwachauth rituals in a detailed manner:
These festivities start a few days before the festival itself as the woman starts their shopping for their Suhaag products, new clothes, accessories, and puja items.
The day of Karwachauth starts at 4:00 AM in the morning when women wake up and get dressed up. Then those women eat Sargi with other women or their husbands. Sargi is a full satvik meal that contains beverages as well.
After having Sargi, the next puja begins in the afternoon; when women sit in a circle, they repeat the holy tale, then they pass their thalis around the circle and chant the holy song seven times. The holy song goes like this:
"Veero kudiye karvara,
sarva suhagan karvara,
ae Katti na ateri na,
khumb chrakhara feri na,
gavand per pai naa,
sui ch dhaga pai na,
ruthda manai na,
suthda jagai na,
behen pyari veera,
chan chade te pani peena,
le veera kudiye kadvara,
le sarva suhagan karvara"
This song talks about things women should not do while observing the fast, like they are not allowed cutting anything, weaving clothes, thread the needle, to plead or to cheer anyone up, to wake up anyone from sleep.
The fast ends when the moon rises in the sky, then women pray to the moon for the health and long life of husbands, and they drink water from the hands of their husbands.
Conclusion
Karwachauth is undoubtedly one such festival for which every married woman waits eagerly. She dolls up and prepares for the ceremony. To have that perfect and stylish look, you can check out "Some Styling Tips for Women to Look Drop Dead Gorgeous on Karwa Chauth 2022!" And, as far as special gifts for Karwachauth are concerned, GiftaLove.com can be the solution. We have a vast range of gifts perfect for sending to wife and husband on Karwachauth. Saas and Bahu can also send sargi gifts online to each other for a ritualistic celebration. People avail same Day Karwachauth gifts to India delivery service to send gift hampers and combos to their partners to wish Karwachauth.

Sakshi Ecavade is our in-house content developer having a good understanding about the gifting industry. She creates quality content surrounding flowers, chocolates, plants, cakes, and other products which makes excellent gifts for the people. Accurate and authentic information is what she tries to deliver through her blogs.