When is Karwa Chauth 2022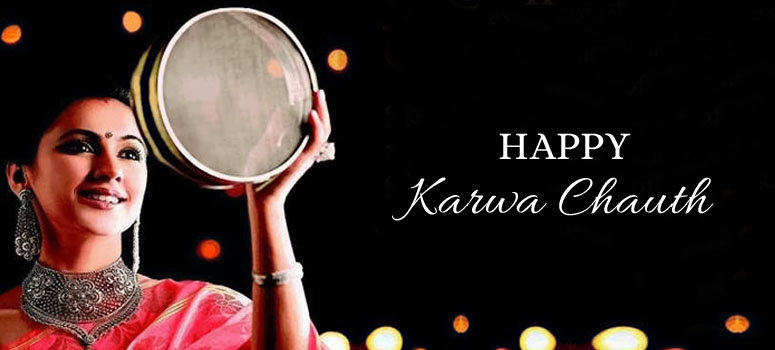 Karwa Chauth, also known as Karak Chaturthi करक चतुर्थी), is a special day that epitomizes strong and everlasting relationships of the married couples. Falling in the Hindu month of Kartik on Krishna Paksha Chaturthi and just nine days before the festival of Diwali, Karwa Chauth is one of the most important Hindu celebrations observed by married women for the well-being and longevity of their husbands. Though this festival is celebrated all over India, it is more prominently observed in the country's northern states such as Punjab, Haryana, Rajasthan, Uttar Pradesh, Delhi, and others. Women with much gaiety and fervor keenly follow the tradition of observing a waterless fast on this very special day. The married women worship Lord Shiva and Goddess Parvati on Karwa Chauth to seek divine blessings for their husbands and open their fasts only after sighting and making offerings to the moon.
The husbands too shower their wives with love, care, and gratitude through lavish Karwa Chauth Gifts for wife and also break their fasts with water and delicious Karwa Chauth sweets and chocolates. So, celebrate Karwa Chauth 2022 with happiness and devotion and get blessed with a happy married life ahead.
Know here the timings of the upcoming Karwa Chauth to celebrate this special couple-friendly festival in a ritualistic manner.
Karva Chauth 2022 Date
As per the Hindu Panchang, the date of Krishna Paksha Chaturthi in the month of Kartik is on Thrusday, 13 October, 2022 and will begin at 1:59 am. This tithi will end on Friday, 14 October at 3:08 am. So, the festival of Karwa Chauth will be observed on the same day of Chaturthi, i.e. 13 October.
Karva Chauth 2022 Puja Timings
The shubh muhurat for Karva Chauth in 2022 will be of 1 hour 17 minutes. On this festive occasion, women can worship Chauth Mata or Mata Parvati, Lord Ganesha, Lord Shiva, and Lord Kartikeya between 05:43 pm to 06:59 pm on 13th October 2022.
Karva Chauth 2022 Moonrise Timings
The timing for moonrise on Karva Chauth 2022 is at 08:07 in the night. After moonrise, women can offer Arghya made with water, milk, and flowers to it.
Karva Chauth Puja Vidhi
1. On the day of Karwa Chauth festival, women should take bath early in the morning and don new clothes. After that, take a pledge for Karva Chauth fast.
2. Once you have taken the vow of the fast, recite this mantra - ''मम सुखसौभाग्य पुत्रपौत्रादि सुस्थिर श्री प्राप्तये कर्क चतुर्थी व्रतमहं करिष्ये'
3. Next is to read or listen to the Karwa Chauth story fasting by carrying water in a Karva.
4. While worshipping, offer cosmetic items to Maa Parvati and embellish her with clothes.
5. Pray to Lord Shiva and Goddess Parvati for your happy and long married life.
6. After moonrise, worship and offer Arghya to the moon.
7. Once the pooja is over, you can break your fast and drink water from the hands of your husband.
8. Touch the feet of your elders to take their blessings.
Rules of Karva Chauth Fasting
Sargi should be eaten in the morning before you commence your fast.
Wear complete makeup and new clothes.
Keep your fast till the moonrise.
The fast should be broken by drinking water from husbands' hands.
Karwa Chauth 2022 Puja Shubh Muhurat & Moonrise Timings in Different States of India
| City | Date | Fasting Time | Puja Muhurat | Duration | Moonrise timings | Chaturthi Tithi Begins | Chaturthi Tithi Ends |
| --- | --- | --- | --- | --- | --- | --- | --- |
| NCT of Delhi | 13 October 2022 | 06:27 AM to 08:07 PM | 05:43 PM to 06:59 PM | 01 Hour 17 Minutes | 08:07 PM | 03:01 AM on Oct 13 | 05:43 AM on Oct 14 |
| Mumbai | 13 October 2022 | 06:36 AM to 08:46PM | 06:09 PM to 07:24 PM | 01 Hour 15 Minutes | 08:46 PM | 03:01 AM on Oct 13 | 05:43 AM on Oct 14 |
| Punjab | 13 October 2022 | 06:29 AM to 08:07 PM | 05:43 PM to 07:00 PM | 01 Hour 17 Minutes | 08:07 PM | 03:01 AM on Oct 13 | 05:43 AM on Oct 14 |
| Gurgaon | 13 October 2022 | 06:28 AM to 08:08 PM | 05:51 PM to 07:06 PM | 01 Hour 16 Minutes | 08:08 PM | 03:01 AM on Oct 13 | 05:43 AM on Oct 14 |
| Uttar Pradesh | 13 October 2022 | 06:06 AM to 08:04 PM | 05:40 PM to 07:02 PM | 01 Hour 16 Minutes | 08:09 PM | 03:01 AM on Oct 13 | 05:43 AM on Oct 14 |
| Ahmedabad | 13 October 2022 | 06:40 AM to 08:39 PM | 06:07 PM to 07:22 PM | 01 Hour 15 Minutes | 08:39 PM | 03:01 AM on Oct 13 | 05:43 AM on Oct 14 |
| Hyderabad | 13 October 2022 | 06:12 AM to 08:27 PM | 05:56 PM to 07:03 PM | 01 Hour 15 Minutes | 08:27 PM | 03:01 AM on Oct 13 | 05:43 AM on Oct 14 |
| Bengaluru | 13 October 2022 | 06:11 AM to 08:39 PM | 05:56 PM to 07:10 PM | 01 Hour 14 Minutes | 08:29 PM | 03:01 AM on Oct 13 | 05:43 AM on Oct 14 |
| Jaipur | 13 October 2022 | 06:31 AM to 08:17 PM | 05:50 PM to 07:06 PM | 01 Hour 16 Minutes | 08:17 PM | 06:48 AM on Oct 13 | 07:29 AM on Oct 14 |
| Chennai | 13 October 2022 | 06:01 AM to 08:28 PM | 05:45 PM to 06:59 PM | 01 Hour 14 Minutes | 08:28 PM | 03:01 AM on Oct 13 | 05:43 AM on Oct 14 |
| Kolkata | 13 October 2022 | 05:37 AM to 07:35 PM | 05:04 PM to 06:20 PM | 01 Hour 15 Minutes | 07:35 PM | 03:01 AM on Oct 13 | 05:43 AM on Oct 14 |
Dates of Karwa Chauth for Next Five Years (2022-2026)
| Year | Date | Day | Puja Timings | Moonrise Timing |
| --- | --- | --- | --- | --- |
| 2022 | 13th October | Thursday | 05:54 PM to 07:09 PM | 08:09 PM |
| 2023 | 1st November | Wednesday | 05:36 PM to 06:54 PM | 08:15 PM |
| 2024 | 20th October | Sunday | 05:46 PM to 07:02 PM | 07:54 PM |
| 2025 | 10th October | Friday | 05:57 PM to 07:11 PM | 08:13 PM |
| 2026 | 29th October | Thursday | 05:38 PM to 06:56 PM | 08:11 PM |