Karwa Chauth Vrat Katha
Karwa Chauth, a yearly festival rejcoied by married women all around India, holds a great importance in Indian culture. On this very day, married women seek blessings from Goddess Parvati for their husbands' long life & prosperity. The fasting is the major ritual observed on this very day. It is an age-old custom to narrate the stories related to this festival reflecting the importance of age-old traditions of fasting. The songs and stories that repeat the power of devotion towards husband are often narrated by elderly women or a priest. There are numerous legends that circulate the significance of Karwa Chauth fast. Karwa Chauth Vrat Katha narrated to married women strengthen their moral values and make them confident regarding their inner strength. Karwa Chauth Vrat Katha goes as follow: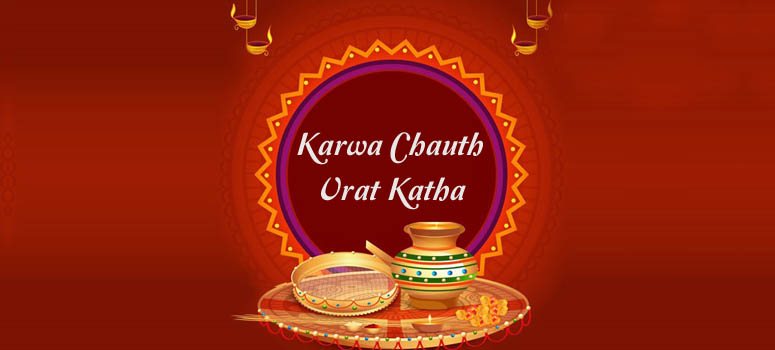 Long time ago, there lived a princess named Veervati in a glorious kingdom. She was the one and only sister of her seven brothers. When she became a young woman, she was married to mighty king. To celebrate her first Karwa Chauth, she returned to her parent's home as per ritual. On the auspicious day, she followed the customs of observing vrat for her husband. By the evening, she had severe pangs of hunger as well as thirst. As a result she almost fainted. The body constituents of the queen were too weak to sustain the severity of fasting ritual which she was required to observe until moonrise. The seven brothers, who loved Veervati a lot, couldn't bear the pain of their one and only sister. So, they determined to fix a mirror in a 'pipal' tree that made it seem like a moon. As Veervati was passionately awaiting the appearance of the moon, she assumed mirror as the moon and broke her fast.
As soon as she ended her fast and took the first morsel of the day, she got shocking news that her husband died. Inconsolable, she rushed back to her in-law's home. Along theway when she was crying, Goddess Parvati and Lord Shiva appeared in front of her & revealed her brothers' plan. Queen Veervati realized the mistake and pleaded to them for forgiveness. Parvati and Shiva assured that her husband would be brought back to life if she observes stern fast ritual. They further explained that her husband would be ill for some period. So, when she went to palace, she saw her husband lying there in coma with scores of needles pricked in his whole body. The queen was able to pull out just one needle per day. In the following year right on the day of Karwa Chauth, she was full of hope since just one needle was left to pull out from her husband's body. Unlike earlier year, the queen was bent on following the customs strictly & set out to purchase essentials needed for Karwa Chauth puja. In this short-lived superseding period, her maid took off the only needle from king's body & as a result the king came into conscious and came out of coma. However, the king misjudged and supposed the maid as his wife. Well, queen Veervati was quite shocked by this. In spite of she remained devoted & kept the fast rigorously. One day when the King was on a routine visit to the other state, he asked Veervati if she would like to get something from that state. In reply, the queen said she wanted a pair of identical dolls. The king agreed on the same. Then Veervati started humming a song that was as follow- "Roli ki Goli ho gayi..." meaning the queen has turned into a maid and the maid has turned into a queen. When the king asked why she sung this song, Veervati narrated the whole story. The king realized his mistake and felt sorry for that & re-instated her as queen.
The story depicts that if a woman is bent on her devotion & love towards her husband, she'll be blessed with an amazing married life, no matter how many problems, tests or hardships she may endure.