Karwa Chauth Quotes, Messages & Greetings
Karwa Chauth Quotes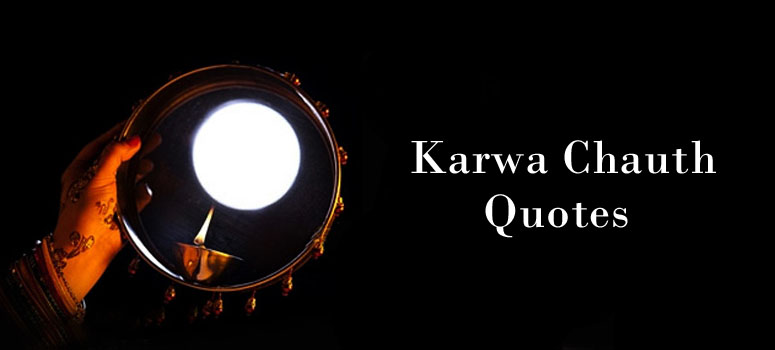 1. "May this moonlight fill your life with cheer, hilarity, vivacity, and harmony. Happy Karwa Chauth!"
2. "Like the beautiful moon lighting up the night sky, your love has filled my life with every joy...May this auspicious day bring you all the happiness. Happy Karwa Chauth"
3. Celebrate the years of togetherness and the marital bliss on this Karwa Chauth with your darling spouse. Have a wonderful Karwa Chauth!
4. Marriage is the sacred bond that unites two individuals of different personalities together. May this Karwa Chauth strengthens your marital bond more and infuse it with extreme joy and happiness.
5. The amazing bond between a husband and wife is an everlasting one. They are lifelong companions which together makes their life journey more exciting and worthwhile. The festival of Karwa Chauth celebrates this marital companionship.
6. Karwa Chauth is a celebration of blissful marriage and the immense love and care that exists between married couples.
7. May the moonlight of Karwa Chauth fill one's married life with happiness, peace, and harmony. Happy Karwa Chauth!!!
8. I never wanted the stars,
Never asked for the moon,
I like them right where they are,
All I want is you.
Happy Karwa Chauth!!!
9. Hope this day strengthens the loving bond between us. May God bless you with a happy and long married life. Happy Karwa Chauth to everyone!!!
10. "Marriage is a life-long journey which thrives on love, commitment, trust, communication, patience, and companionship." Karwa Chauth celebrates these human emotions existing between married couples.
Karwa Chauth Messages for Wife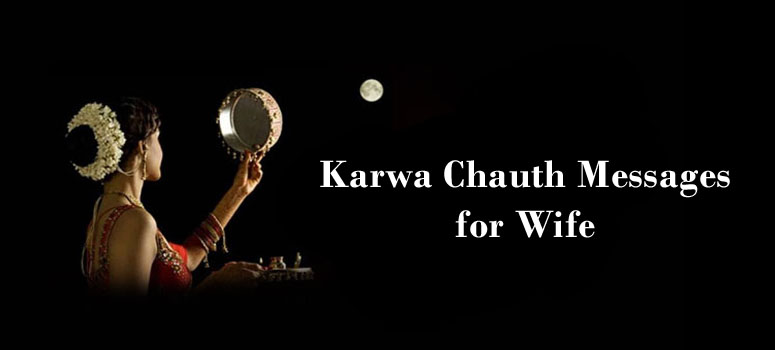 Karwa Chauth is the festival which brings a lot of gaiety and excitement among womenfolk who are seen embellished in attractive red clothes and wonderful accessories. As wives do so much for their husbands and their families without demanding anything in return, it is also the responsibility of the husbands to shower them with their love and care, and also with stunning Karwa Chauth gifts for wife on this incredible festive occasion.
Below are some messages which will perfectly convey your hearty feelings to her in the most adorable way.
1. Your companionship has made my life meaningful and beautiful. Thanks for being such a sweetheart, my love! Happy Karwa Chauth to You, Wife!
2. "Thank You" is never enough to express my gratitude for your unconditional love and support in my life. May you be my wife in every life! Happy Karwa Chauth, Love.
3. Let Karwa Chauth be a special occasion to express my deep love and admiration for you. Without you, my life would have been a flavorless journey. Thanks for being my support system, my wife.
4. I feel immensely proud to see you as my wife walking beside me always. I really want to thank you for the stern Karwa Chauth fast you have kept for my long life. Hope this festival brings immense love and happiness in our lives.
5. May the festival of Karwa Chauth fill our lives with happiness, love, and prosperity. I pray to God that we always stay happy together and create memorable memories that will last for a lifetime. Thanks, darling for keeping this difficult fast for me.
Karwa Chauth Messages for Husband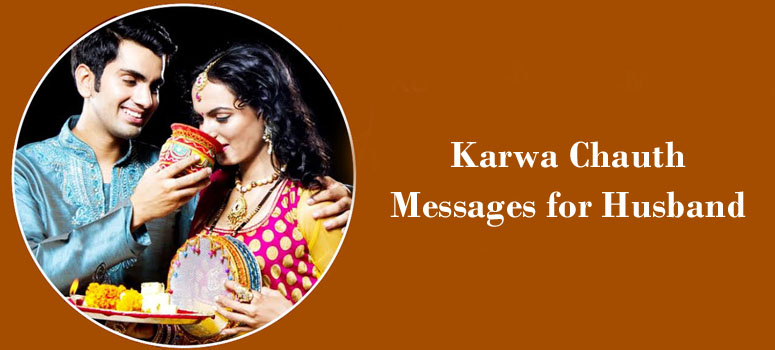 He is the one on whose shoulder you lean and cries, he is the one who's love gives you strength, he is the one who always supports you in your decisions, and he is the one who is the reason for your smile and happiness. Make this special person who is your HUSBAND feel extremely special with not just Karwa Chauth gifts, but also with a heartwarming Karwa Chauth messages for him.
1. You are a ray of hope and a source of happiness in my life, my dear husband. Today, I keep this Karwa Chauth fast for you to pray for your happiness and long life so that we always stay together happy forever. Happy Karwa Chauth Love!!!
2. May the bright light of the Karwa Chauth moon fill our life with joy and hope for a bright future. As your wife, I pray for your prosperity and long life from Lord Shiva and Goddess Parvati. Wish you a very happy Karwa Chauth my darling hubby!!!
3. This Karwa Chauth reminds me of the seven wonderful nuptial vows that we took holding our hands together. The bright color of the vermilion and the shining Mangalsutra in my neck reminds me that I belong to you. Let's indulge in the wonderful celebrations of this festival together and pray for our togetherness from God.
4. The red sindoor on my forehead, the jingling sound of the bangles, the bright Mehendi on my hand, and my beautiful red attire depicts how a happily married woman I am. You have been a wonderful husband and will always be. Love you to the moon and back. Happy Karwa Chauth!!!
5. Under the shiny sky decked with innumerable twinkling stars and a bright Karwa Chauth full moon, let's relive the beautiful moment of our marriage once again. I am all dressed in red from head to toe just like a bride only for you. Wishing my love a very happy and blissful Karwa Chauth!!!
Karwa Chauth Messages for Mother-in-Law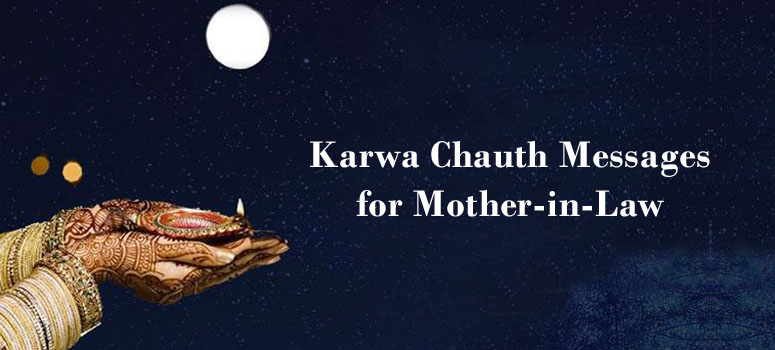 Only a woman can experience the pain of leaving her parent's house after getting married. Her heart gets filled with all kinds of mixed feelings for her new home. She always tries to win the parental love and support of her parents-in-law by serving them and taking care of them. In her new house, if there is someone whom she somewhat relies on after her husband is her mother-in-law. She is the one who makes the home of the bride a perfect and worthy place with her love and support. If you too are blessed with a loving and caring Saas, then send these messages to her on the occasion of Karwa Chauth and express your love and respect.
1. Leaving my home, my parents were a tough and emotional moment for me, but your love and care always makes me feel that this is also my HOME SWEET HOME. Thanks for the beautiful Sargi. I wish you a very happy Karwa Chauth my dearest mom.
2. Thank you mother-in-law for sending your love and care wrapped in this Sargi. You are the best and I love you the most. Happy Karwa Chauth Maa!
3. May this Karwa Chauth bless you with a happy, healthful, and long life, my sweet mother-in-law. Sending you my love and respect with this special Sargi gift…Happy Karwa Chauth!
4. I pray for your happiness and blissful married life on Karwa Chauth, my dearest mother-in-law. Thanks for sending me your blessings with this Sargi thali. Happy Karwa Chauth Maa!
5. For me, you have always been an inspiration for how to be an amazing wife…. Wishing you Karwa Chauth filled with joy and smiles.
Hindi Karwa Chauth Messages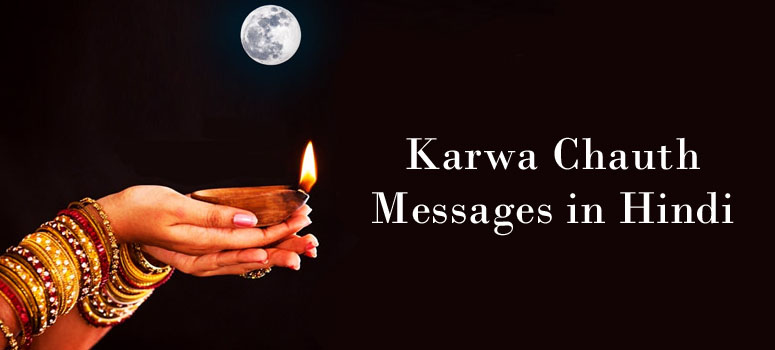 1. चाँद की चमक के साथ
साँसों की महक के साथ
श्रद्धा की रात लिए
विश्वास की सौगात लिए
पति की मंगल कामना लिए
आई है ये ख़ास रात
करवा चौथ की शुभकामनायें !
2. एक दुआ माँगते हैं हम अपने भगवान से
चाहतें हैं आपकी खुशी पूरे ईमान से
सब हसरतें हो पूरी आपकी
और आप मुस्कराओ दिलो-जान-से
करवा चौथ की शुभकामनायें !
3. आए तो संग लाये खुशियाँ हज़ार
हर साल मनाएं हम यह त्योहार
भर दे हमारा दामन खुशियों के साथ
दे जाये उम्र तुम्हे हज़ार हज़ार साल
करवा चौथ की हार्दिक शुभकामनायें !
4. सुबह की किरण में सरगी मिलेगी
आज हर पत्नी दुल्हन की तरह सजेगी
इस व्रत से हमारे पति की उमर बढ़ेगी
हर पत्नी को माता यह आशीर्वाद देगी
करवा चौथ की हार्दिक शुभकामनायें !
5. करवा चौथ का त्यौहार है बड़ा पावन
खुशियों से भरा रहे हर सुहागन का आंगन
दुआ करती हूँ अपने पति के लंबे उम्र की
चाहती हूँ हर जनम में उनका साथ मिले
उनका प्यार सदा बरसता रहे है, ये आशा
हर सुहागन का सुहाग रहे सलामत हमेशा
करवा चौथ की हार्दिक शुभकामनायें !
6. सुख-दुःख में हम-तुम
हर पल साथ निभाएंगे
एक जन्म नहीं सातों जन्म
पति-पत्नी बन आएंगे
करवा चौथ की हार्दिक शुभकामनाएं!!
7. इस जीवन में मुझे, जो मिला है तेरा साथ
दुःख सारे मिट गए, हुआ खुशियों का आगाज़
करवा चौथ की हार्दिक शुभकामनाएं!!
8. धन्य वो देवी जो पति सुख के लिए व्रत पावे
धन्य वो पति जो देवी रूप पत्नी पावे
धन्य वो स्वरुप जो मनुष्यता का दीप जलावे
करवा चौथ की हार्दिक शुभकामनाएं!!
9. प्रिया प्रेम व्रत है राखो
उत्सव पावन आयो रे
चरण पिया संसार म्हारो
पिया म्हारो प्यारो रे
शौर्य, यश, दीर्धायु,
है यही प्रार्थना
करवा चौथ आयो रे
करवा चौथ की शुभकामनाएं!!
10. चाँद की पूजा करके करती हूँ में तेरी सलामती की दुआ,
तुझे लग जाए मेरी भी उम्र गम रहे हर पल तुझसे जुदा
करवा चौथ की बधाई!!
Karwa Chauth Greetings