Karwa Chauth Story
The festival of Karwa Chauth in India is celebrated with great excitement and happiness by the couples. It is the celebration of the bliss and joy of the marital bond and brings couples closer to each other. On this auspicious occasion, we see large throngs of women dressed in red with gleaming ornaments and Mehendi on their hands who keep daylong fasts for the long life of their husbands. But, have you ever thought why this festival is celebrated in India? Well, just like other festivals, Karwa Chauth is also based on several mythological and historical legends which serve as evidence of how women have stood in front of their husbands like protective walls from dangers. They brought back their husbands from the clutches of death with their staunch efforts by keeping waterless Karwa Chauth fasts for their husbands.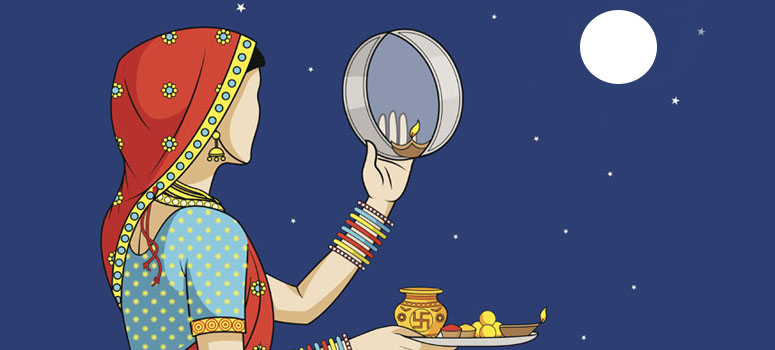 Read here the Karwa Chauth stories to know more about this festival dedicated to the blissful marital harmony.
Queen Veervati's Story: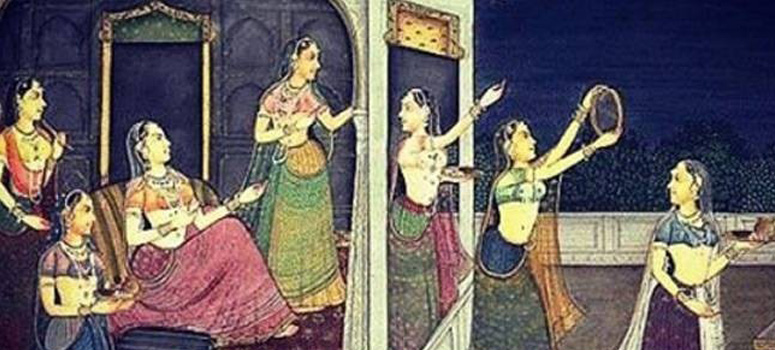 This is the story of a woman named Veervati who was a true Pativrata according to the Hindu traditions. She was the only sister of her seven brothers who was deeply loved and cared for by them and these feelings of her brothers led to the creation of this Karwa Chauth story.
The Karwa Chauth story of Queen Veervati goes like this…
On the occasion of her first Karwa Chauth after marriage, Queen Veervati returned to her parent's home. Her brothers were very excited to see their sister after a year of her marriage. On the day of karwa Chauth, she kept a staunch waterless fast for the long life and happiness of her husband. As time passed and evening approached, she started eagerly waiting for the moon to rise so that she can break her fast. Since it was the first time for her, she started feeling famished and thirsty. Seeing her difficult plight, her brothers became worried and came up with a plan to break her fast. They created a false image of the moon on the pipal tree using a mirror and convinced her that the moon has risen and now she can break her fast. Mistaking this fake moon with a real one, she broke her fast. The time she took the first bite of food in her mouth, the news of her husband's death broke in. Broken by the grief of the demise of her husband, she wept the whole night and her pain compelled a Goddess to appear in front of her and made her acquainted with the trick played by her brothers on her. The Goddess told Veervati to keep Karwa Chauth fast again with utter devotion and her husband's life was restored back again. She did as the Goddess said and Yama, the God of Death, infused life in her husband.
Satyavan & Savitri Story: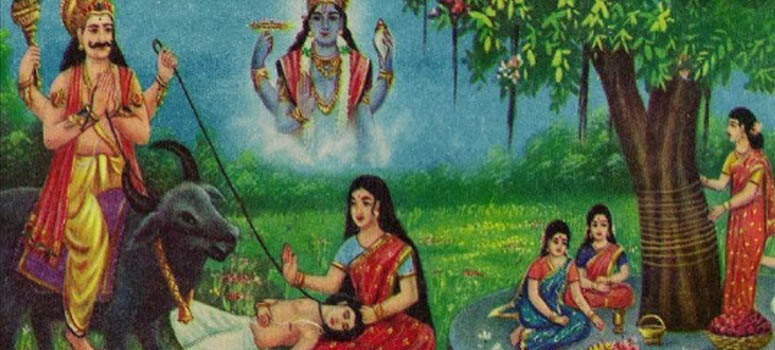 This is certainly the most popular story of Karwa Chauth that speaks about the love and devotion of a wide for her husband. It is also a tale that depicts the power of a wife to procure his dead husband's soul from Yama, the Death God. Satyavan & Savitri was a happy married couple whose life turned upside down when Yama took the life of Satyavan. Savitri pleased to Yama for his soul, but he refused. She gave up food and water in retaliation and followed Yama carrying her husband's soul. He asked her to demand any boon from him except his husband's life, but she was adamant to bring back his husband to life. She asked for children in blessings to which he agreed. But, as she a Pativrata woman who refused to move forward in life with other man and have children with him, Yama has no other choice, but to infuse life in her husband.
Karwa Legend: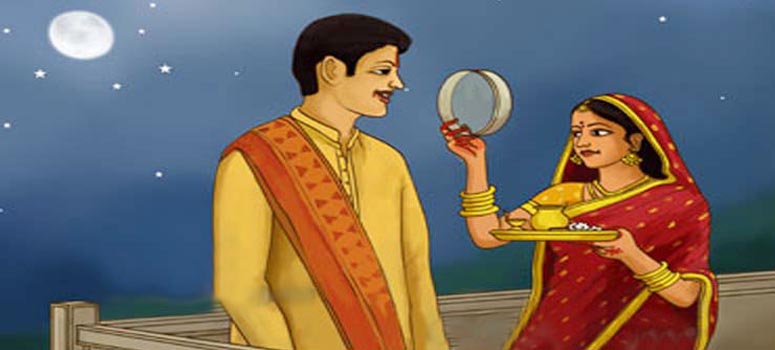 This is a story of a Pativrata woman named Karwa who deeply loved her husband and this devotion and dedication towards him impressed God who bestowed her with spiritual powers. When her husband went to a river to take a bath, he was caught by a crocodile. In a dejected and frowned state, she tied the crocodile with cotton yarn and asked Yama, the Death God, to send the reptile to hell. Considering this as an unnecessary request, God rejected it. This made her lose her cool and forces her to threaten Yama with a curse using her powers. Terrified by her powers, he sent the crocodile to hell and blessed her husband with a long life.
Mahabharata Legend: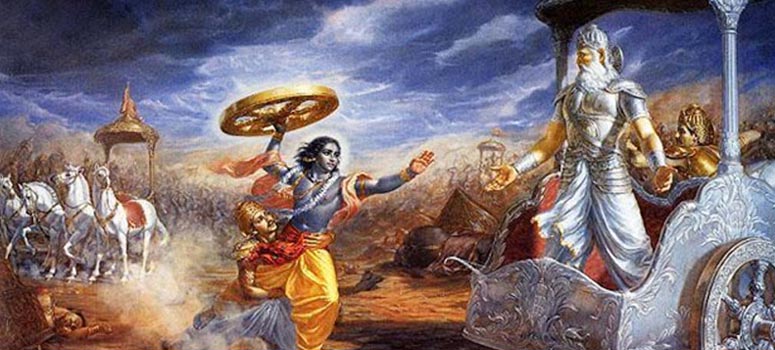 This Karwa Chauth mythological legend talked about how the fast of Karwa Chauth kept by Draupadi helped Pandavas to overcome all the problems which they faced in the absence of Arjuna. Draupadi was guided by Lord Krishna to observe this fast as there was evidence of its success from the earlier events. When Goddess Parvati was stuck in a similar situation like this, she was told by Lord Shiva about the importance of Karwa Chauth fast through the legend of Veervati.
Read these amazing Karwa Chauth stories and get closer to your rich culture and traditions. These stories will definitely bring couples closer by infusing extreme love and happiness in their lives. They will cherish their marital bond more and will understand the true value and sacredness of the wedding bond. Make this Karwa Chauth 2021 special and extraordinary for your loving and caring partner by showering the person with special Karwa Chauth gifts.
Enjoy the festival!!!