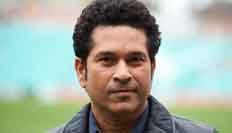 One of the legends of Indian cricket, which no one can forget, is Sachin Tendulkar. He has become a huge inspiration for many youngsters in India and across the globe to take up this sport. In a country where cricket is followed like a sacred religion, Sachin Tendulkar is revered as a god. There are not many cricketers whose fame can be matched with Tendulkar. He is considered one of the legends in the field of cricket. On his 50th birthday, let's peek into his early life and cricket career.
Early Life
Sachin Ramesh Tendulkar was born on 24th April 1973 in Mumbai to a Brahmin Maharashtrian family. His father, Ramesh Tendulkar, was a Marathi poet and novelist, and his mother, Rajni, worked in the insurance industry. He has two elder half-brothers, Nitin and Ajit, and an elder half-sister, Savita.
During his early childhood, Tendulkar was a huge fan of both cricket and tennis. Following his tennis idol, John McEnroe, he grew long hair. He also wore tennis wristbands, and headbands, and even carried a racquet to show his love for tennis.
It was his elder brother Ajit who, in 1984, introduced Tendulkar to Ramakant Achrekar for training in cricket. He was very impressed with Tendulkar's skills and was accepted for training. Achrekar advised him to leave his then school, Indian Education Society's New English School, to join Sharadashram Vidyamandir School in Dadar. During his training, Tendulkar stayed at his uncle and aunt's house, as they resided close to Shivaji Park, where the training took place.
At the age of 11, Tendulkar played for Kanga Cricket League. In 1987, he attended the MRF Pace Foundation to train as a fast bowler. But the Australian cricketer, Dennis Lillee, suggested he focus on batting instead.
Career
At the age of 19, he scored a century at the WACA, which is considered to be one of the best innings played in Australia. Even Sir Don Bradman, one of the greatest batsmen ever, complimented Tendulkar by confiding in his wife that he felt like Tendulkar played like himself.
In 2000, Tendulkar became the first batter to score 50 international hundreds. He also passed Brian Lara as the leading Test run-scorer. In 2011, during the World Cup victory, Tendulkar scored 482 runs at an average of 53.55 in the tournament. On his 39th birthday, he became the first cricketer to score a hundred centuries in internationals. During his long and historic career in cricket, he has played for the Indian Cricket Team, Mumbai Indians, Yorkshire Cricket Team, and ACC Asian XI.
In 2012, he announced his retirement from the limited overs format but continued to play Test Cricket. In 2013, after a memorable 200th test cricket against West Indies, he retired from this form of cricket.
Awards and achievements
Here are some of important the awards and achievements Sachin Tendulkar has been honoured with:
| Year | Achievements |
| --- | --- |
| 1994 | Arjuna Award by the Government of India |
| 1997-98 | Khel Ratna Award, India's highest award for achievement in sports |
| 1997 | Wisden Cricketer of the Year |
| 1999 | Padma Shri Award |
| 2001 | Wankhede Stadium named one of its stands after Tendulkar |
| 2003 | 2003 Cricket Wold Cup Player of the Tournament |
| 2008 | Padma Vibhushan Award |
| 2012 | Honorary Member of Order of Australia, given by Govt. of Australia |
| 2014 | Bharat Ratna, highest civilian award in India |
| 2014 | ESPN Cricinfo Cricketer of the Generation |
| 2019 | Inducted in the ICC Cricket Wall of Fame |
Records by Sachin Tendulkar
Below are the important records that Tendulkar has made in ODIs and Tests during his 24-year-long career in cricket:
Test Cricket

The only player to score 5 centuries in Tests before the age of 20
Fastest player to reach 10,000 runs in Tests with Brian Lara
He is the highest run-scorer in Tests
Made most centuries in Tests
Made most half-centuries in Tests
Most 4s in Tests

ODI Records

Most centuries in ODIs
Most half-centuries in ODIs
First man to hit a double century in ODI
Fastest cricketer to reach 10,000 runs in ODI
Won most Man of the Match awards

Giftalove wishes Sachin Tendulkar a very happy and blessed birthday!!