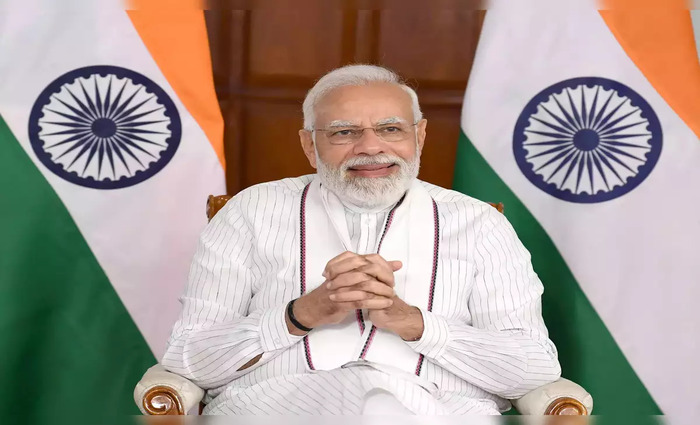 One of the most eminent political figures in India is Narendra Modi. He is the 15th and the current Prime Minister of India since 2014. He has become the face of India internationally and brought about various changes and developments in the nation. His followers address him as NaMo or Modiji. This Prime Minister of India's story is inspiring, from being only a tea-seller to a self-made leader. As his birthday approaches, let's look closer at his life from the beginning to becoming the Prime Minister of India.
Early Life
Narendra Modi was born Narendra Damodardas Modi on 17th September 1950 to a family of grocers in Vadnagar, Bombay State (Present-day Gujarat). As a child, he helped his father sell tea at his stall at the Vadnagar railway station.
Modi did his schooling from Higher Secondary School. He was an average student with a keen interest in theatre, where he loved to play larger-than-life characters. Since childhood, he was a gifted debater. He also wanted to join the Indian army but couldn't do so due to the financial constraints in the family. He completed his BA in political science distance learning from Delhi University and pursued Master's in the same subject from Gujarat University.
Modi was introduced to the Rashtriya Swayamsevak Sangh, or RSS, when he was eight. He even began attending its training sessions, and during his college days, he became a promoter of the RSS.
Career
In 1985, Narendra Modi joined the BJP as the organizing secretary of the party's Gujarat unit in 1988. In 1990, he helped conduct the L K Advani's Ayodhya Rath Yatra and was well-recognized for strengthening the BJP's presence in Gujarat.
In 1995, Modi became the National Secretary of BJP and went to New Delhi. A few years later, in 1998, he became the General Secretary of the BJP and helped his party win the Lok Sabha elections. He contested in the Gujarat Assembly Elections and became the chief minister of Gujarat in 2001 until 2014.
In March 2013, Narendra Modi was appointed to the BJP parliamentary board, and a year later, he was selected as the prime ministerial candidate from the BJP party for the 2014 Lok Sabha election. He won the elections and came on to become the 14th Prime Minister of India.
In 2019, PM Modi again had a huge victory when he defeated his nearest rival, Shalini Yadav, by winning more than 300 seats. He took his oath as the 15th Prime Minister of India on 30th May 2019.
Some major decisions by PM Modi
Below are some of the major changes that PM Modi has brought to the nation during his administration:
Abolition of article 370 meant splitting Jammu and Kashmir into two union territories.
The Muslim Women (Protection of Rights or Marriage) Act 2019 was declared unlawful.
Demonetization of 500 and 1000 rupee notes from 31st December 2016.
The GST bill implemented by the Modi administration has replaced many state and federal levies. This change has brought an increase in the government revenue.
Major schemes by PM Modi
Atal Pension Yojana
Beti Bachao Beti Padhao
Gramin Bhandaran Yojana
Har Ghar Jal
Pradhan Mantri Matri Vandana Yojana
Make in India
Swachh Bharat Mission
Pradhan Mantri Awas Yojana
Pradhan Mantri Garib Kalyan Anna Yojana
Pradhan Mantri Jeevan Jyoti Bima Yojana
Pradhan Mantri Kisan Samman Nidhi
Awards and Accolades
| Year | Award | Organisation/Country |
| --- | --- | --- |
| 2014 | Indian of the Year | CNN-IBN |
| 2018 | Champions of the Earth Award | United Nations |
| 2018 | Seoul Peace Prize | South Korea |
| 2019 | Global Goalkeepers Award | Bill & Melinda Gates Foundation |
| 2019 | Key to the City | Houston, Texas, USA |
| 2021 | Global Energy and Environment Leadership Award | Cambridge Energy Research Associates |
| 2023 | Ebaki Award | Palau |
State honors
3rd April 2016 – Order of the King Abdulaziz Al Saud, the highest honor of Saudi Arabia awarded to non-Muslims.
4th June 2016 – State order of Ghazi Amir Amanullah Khan, the highest civilian honor of Afghanistan.
10th February 2018 – Grand collar of the state of Palestine, the highest civilian honor of Palestine.
4 April 2019 – Order of Zayed, the highest civilian honor of UAE.
12th April 2019 – Order of St. Andrew, the highest civilian honor of Russia.
24th August 2019 – King Hamad order of the Renaissance, first class, the highest honor of Bahrain, awarded to foreign dignitaries.
21st December 2020 – Legion of Merit, Chief Commander, the highest degree of the Legion of Merit.
25th June 2023 – Order of the Nile, Collar, the highest civilian honor of Egypt.
25th August 2023 – Order of Honor, Grand Cross, the second-highest civilian honor of Greece.
Giftalove wishes PM Narendra Modi a very happy and blessed birthday!