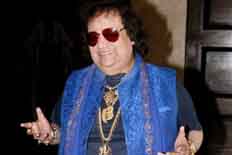 Bappi Lahiri was an eminent Bollywood music director. He was always remembered for his disco music creations on a professional count and his jewelry-clad appearance on a personal count. He re-launched Usha Uthup, Alisha Chinoy, Vijay Benedict, and others for many of his disco compositions which still resound in our memory. These disco songs made him popular as the Disco King. On his 70th birthday, here are glimpses of milestones in the life of this legendary music composer and singer.
History
Bappi Lahiri was born on 27th November 1952 as Alokesh Aparesh Lahiri to a Bengali-brahmin family in Kolkata. His mother, Bansari Lahiri, was a professional musician in classical music and Shyama Sangeet. His father, Aparesh Lahiri, was a Bengali singer. Bappi Lahiri was their only child. He first entered the world of music by learning to play the table only at age 3. His parents also trained him in other aspects of music, which was when he aspired to become famous internationally. Bappi Lahiri was a great admirer of the world-famous pop singer Elvis Presley; hence he started following Presley's mannerisms, such as wearing several gold chains.
Career
The disco king took a step into cinema at the young age of 19 when he came to Mumbai. He got his first opportunity to compose music in the 1972 Bengali film, Daadu. The first Hindi film for which he directed music was the 1973 film Nanha Shikari. Bappi Lahiri finally got fame and recognition with his work as a composer and also as a playback singer in Tahir Husain's 1975 flick Zakhmee. From then on, he composed several songs for blockbuster hits like Chalte Chalte in 1976 and Surakksha in 1979. He composed various songs for hit films such as Jaani Dost, Tohfa, Qaidi, Insaaf Main Karunga, etc. He has worked as a music director for Bengali, Tamil, Kannada, and Marathi films. He also composed various melodious ghazals like Mana Ho Tum, Kisi Azar Ko Tera, etc., for various films.
Apart from music, he also acted in some Hindi films. He debuted as an actor in the 1974 comedy Badhti Ka Naam Dadhi, starring Kishore Kumar. He has also given the voice to the character Tamatoa in the Hindi version of the 2016 animated film Moana and Elton Jon in Kingsman: The Golden Circle in 2017.
Awards and Achievements
During his career in the film industry, Bappi Lahiri has been honored with several awards and accolades.
In 1983, he entered the Guinness Book of World Records for composing more than 180 songs for 33 movies.
In 1985 he won Filmfare Award for Best Music Director for his work in the film Sharaabi.
The Government of West Bengal honored Bappi Lahiri with the Banga Bhusban Civilian Honor Award in 2017.
He was also honored with the Lifetime Achievement Award by Filmfare in 2018.
He bagged the Best Item Song of the Year award in 2012 for "Ooh La La," the only song in the film The Dirty Picture which he composed and sang against the regular music score by Vishal-Shekhar.
Bappi Lahiri was a melodious music singer and will also be remembered not only for his disco numbers but also his soulful ghazals and classical compositions. Giftalove offers a melodious homage to the great musician on his 70th birth anniversary.