Mothers Day Quotes, Wishes and Messages 2022
"There is no role in life that is more essential than that of motherhood." These realistic lines by Elder M. Russell Ballard depicts the importance of mothers in our lives. No matter how old we grow, the love of a mother never changes or fades away. Mother's Day celebrates this true spirit of motherhood and the power of motherly love. Every year on 10th of March, people pen down special thoughts for their mothers which they have never showed up in front of them. Therefore, we bring a special collection of quotes for Mother's Day to let you express your love, care, gratitude, and veneration to your mothers in a heart-warming way.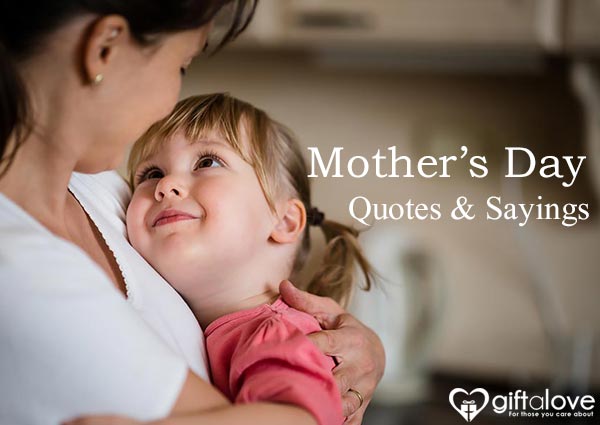 Mother's Day Quotes for Mom
Let your mom feel over the moon with these special heart-winning quotes that are straight from your heart to her.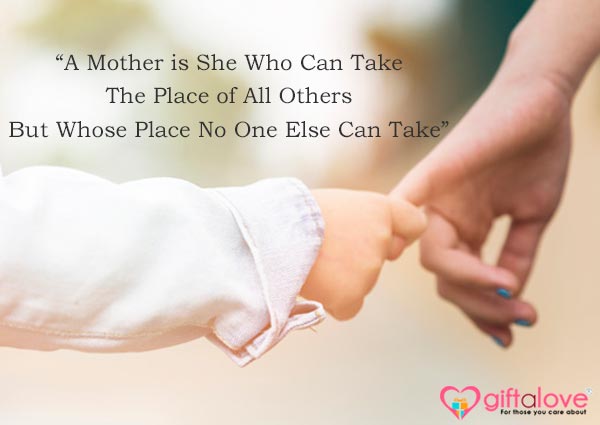 A mother is she who can take the place of all others but whose place no one else can take.
"The strength of motherhood is greater than natural laws." — Barbara Kingsolver
"Motherhood is the biggest gamble in the world. It is the glorious life force. It's huge and scary – it's an act of infinite optimism." —Gilda Radner
"Motherhood is the exquisite inconvenience of being another person's everything." —Unknown
"Mother is the heartbeat in the home; and without her, there seems to be no heartthrob." —Leroy Brownlow
"A mother's happiness is like a beacon, lighting up the future but reflected also on the past in the guise of fond memories." —Honore de Balzac
"When you look into your mother's eyes, you know that is the purest love you can find on this earth." - Mitch Albom
"God could not be everywhere, and therefore he made mothers." - Rudyard Kipling
"The heart of a mother is a deep abyss at the bottom of which you will always find forgiveness." — Honorede Balzac
"No language can express the power, and beauty, and heroism, and majesty of a mother's love. It shrinks not where man cowers, and grows stronger where man faints, and over wastes of worldly fortunes sends the radiance of its quenchless fidelity like a star." — Edwin Hubbell Chapin
Best Mother's Day Quotes & Sayings
Your mother deserves only the best. Send these amazing and affectionate popular quotes for Mother's Day to your mommy and `touch her soul with your love and care.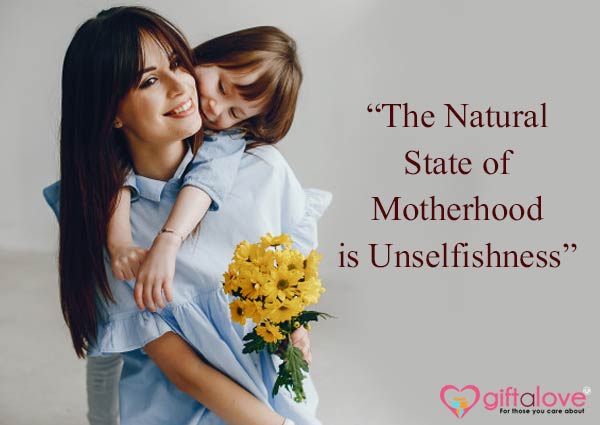 The natural state of motherhood is unselfishness.
"When you are looking at your mother, you are looking at the purest love you will ever know." —Charley Benetto
"A mother's love is everything. It is what brings a child into this world. It is what molds their entire being. When a mother sees her child in danger, she is literally capable of anything. Mothers have lifted cars off of their children and destroyed entire dynasties. A mother's love is the strongest energy known to man." —Jamie McGuire
"Motherhood: All love begins and ends there." —Robert Browning
"A mother's love for her child is like nothing else in the world. It knows no law, no pity. It dares all things and crushes down remorselessly all that stands in its path." - Agatha Christie
"Mama was my greatest teacher, a teacher of compassion, love and fearlessness. If love is sweet as a flower, then my mother is that sweet flower of love." - Stevie Wonder
"My mother was the most beautiful woman I ever saw. All I am I owe to my mother. I attribute my success in life to the moral, intellectual and physical education I received from her." - George Washington
"A child's first teacher is its mother." - Peng Liyuan
"The influence of a mother in the lives of her children is beyond calculation." - James E. Faust
"There is no role in life that is more essential than that of motherhood." - Elder M. Russell Ballar
Inspirational Mother's Day Quotes
Mothers are truly an inspiration for all of us. Time and again, they have proved to be our superheroes. Share these inspiring quotes about mom on Mother's Day and make her feel special and elated.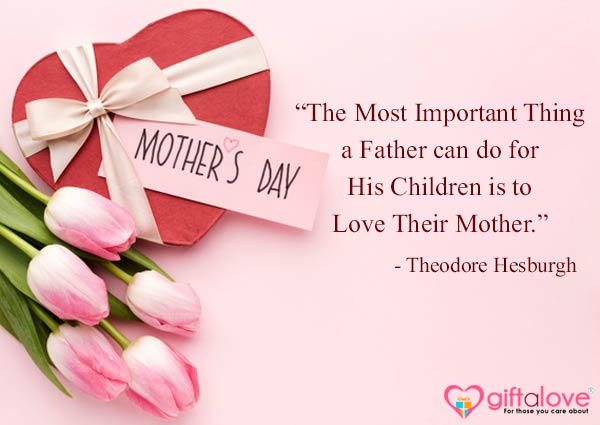 The most important thing a father can do for his children is to love their mother. - Theodore Hesburgh
"Mother's love is peace. It need not be acquired, it need not be deserved." - Erich Fromm
"A mother's arms are made of tenderness and children sleep soundly in them." —Victor Hugo
"A mother is clothed with strength and dignity, laughs without fear of the future. When she speaks her words are wise and she gives instructions with kindness." —Proverbs
"Mother love is the fuel that enables a normal human being to do the impossible." — Marion C. Garretty
"Motherhood is the greatest thing and the hardest thing." - Ricki Lake
"She was of the stuff of which great men's mothers are made. She was indispensable to high generation, feared at tea-parties, hated in shops, and loved at crises." – Thomas Hardy
"She raised us with humor, and she raised us to understand that not everything was going to be great—but how to laugh through it." – Liza Minnelli on Judy Garland
"My mom is a never ending song in my heart of comfort, happiness, and being. I may sometimes forget the words but I always remember the tune." - Graycie Harmon
"My mother was my role model before I even knew what that word was." - Lisa Leslie
Short Mother's Day Quotes
If you are not that expressive and believes in communicating your feelings in a short and simple manner, then these short quotes for Mother's Day will do the needful for you.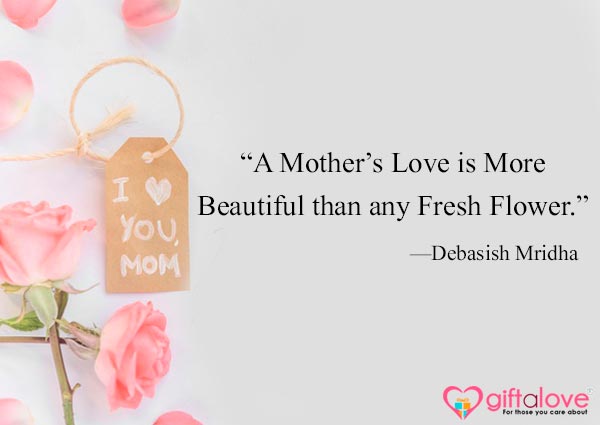 A mother's love is more beautiful than any fresh flower. —Debasish Mridha
"Life began with waking up and loving my mother's face." —George Eliot
"A mother's arms are more comforting than anyone else's." —Princess Diana
"We are born of love; love is our mother." —Rumi
"There is no influence so powerful as that of the mother." —Sara Josepha Hale
"A mother is the one who fills your heart in the first place." —Amy Tan
"The art of mothering is to teach the art of living to children." - Elaine Heffner
"A mother is a daughter's first best friend." - Author Unknown
"Mother: the most beautiful word on the lips of mankind." - Kahil Gibran
"Most mothers are instinctive philosophers." - Harriet Beecher Stowe
Famous Mother's Day Quotes
Wish you mom a very Happy Mother's Day with these popular Mother's Day quotes said by the famous personalities. She will be excited to receive them from you.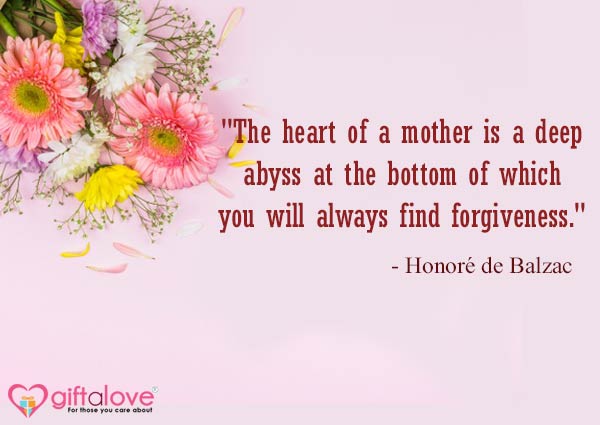 The heart of a mother is a deep abyss at the bottom of which you will always find forgiveness. - Honoré de Balzac
"There's nothing like your mother's sympathetic voice to make you want to burst into tears." - - Sophie Kinsella, Confessions of a Shopaholic
"Motherhood is the biggest gamble in the world. It is the glorious life force. It's huge and scary—it's an act of infinite optimism." - Gilda Radner
"The most beautiful word on the lips of mankind is the word 'Mother', and the most beautiful call is the call of 'My Mother'." - Kahlil Gibran
"Having kids—the responsibility of rearing good, kind, ethical, responsible human beings—is the biggest job anyone can embark on." - Maria Shriver
"What greater aspiration and challenge are there for a mother than the hope of raising a great son or daughter?" - Rose Kennedy
"When your mother asks, 'Do you want a piece of advice?' It is a mere formality. It doesn't matter if you answer yes or no. You're going to get it anyway." - Erma Bombeck
"When you are a mother, you are never really alone in your thoughts. A mother always has to think twice, once for herself and once for her child." - Sophia Loren
"A mother understands what a child does not say." - Jewish Proverb
"Don't poets know it better than others? God can't always be everywhere: and, so, invented mothers." - Sir Edwin Arnold
Mother's Day Quotes from Daughter
As mothers and daughters are no less than best friends for life, here is a special list of quotes for mom for the occasion of Mother's Day which they can send to their mommies and celebrate their loving bond.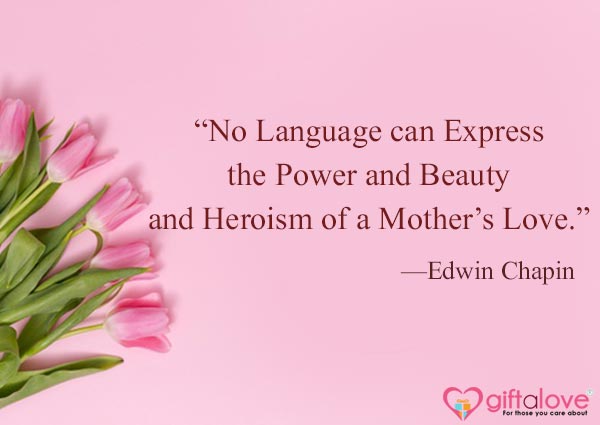 No language can express the power and beauty and heroism of a mother's love. —Edwin Chapin
"Over the years, I learned so much from mom. She taught me about the importance of home and history and family and tradition. She also taught me that aging need not mean narrowing the scope of your activities and interests or a diminution of the great pleasures to be had in the everyday." - Martha Stewart
"My Mother: She is beautiful, softened at the edges and tempered with a spine of steel. I want to grow old and be like her." - Jodi Picoult
"As mothers and daughters, we are connected with one another. My mother is the bones of my spine, keeping me straight and true. She is my blood, making sure it runs rich and strong. She is the beating of my heart." ― Kristin Hannah
"Acceptance, tolerance, bravery, compassion. These are the things my mom taught me." —Lady Gaga
"To the world, you are a mother, but to your family, you are the world." —Unknown
"The loveliest masterpiece of the heart of God is the heart of a mother." —St. Therese of Lisieux
"Of all the rights of women, the greatest is to be a mother." —Lin Yutang
"I can imagine no heroism greater than motherhood." —Lance Conrad
"Being a mother is learning about strengths you didn't know you had." —Linda Wooten

Mother's Day Quotes from Son

Sons share a very special bond with their moms. Therefore, here is a list of sweet Mother's Day quotes for mom from son which will convey your love and care in a special way.

To the world, you are a mother. To a family, you are the world.

"A man loves his sweetheart the most, his wife the best, but his mother the longest." – Irish Proverb
"My mother is my root, my foundation. She planted the seed that I base my life on, and that is the belief that the ability to achieve starts in your mind." —Michael Jordan
"To a child's ear, 'mother' is magic in any language." —Arlene Benedict
"Ain't a woman alive who could take my mama's place." -Tupac
"A mom is a son's first love." - Unknown
"No matter how old you get, sometimes, you still just need a hug from mom to make everything better." - Unknown
"Home is where your mom is." - Anonymous
"A man loves his sweetheart the most, his wife the best, but his mother the longest." -Irish Proverb
"A mother is the truest friend we have, when trials heavy and sudden fall upon us; when adversity takes the place of prosperity; when friends desert us; when trouble thickens around us, still will she cling to us, and endeavor by her kind precepts and counsels to dissipate the clouds of darkness, and cause peace to return to our hearts." ―Washington Irving

Funny Mother's Day Quotes

Sometimes, life throws some hilarious moments at children and their mothers which later becomes beautiful memories. Share these funny Mother's Day quotes and sayings with your mother and have a big laugh together memorizing those moments again.

My mother's menu consisted of two choices: Take it or leave it. - Buddy Hackett

"My mother had a great deal of trouble with me, but I think she enjoyed it." - Mark Twain
"Mothers are fonder than fathers of their children because they are more certain they are their own." – Aristotle
"A mother who is really a mother is never free." - Honore de Balzac
"You don't really understand human nature unless you know why a child on a merry-go-round will wave at his parents every time around – and why his parents will always wave back." - William D. Tammeus
"A mother is a person who seeing there are only four pieces of pie for five people, promptly announces she never did care for pie." - Tenneva Jordan
"A suburban mother's role is to deliver children obstetrically once, and by car for ever after." - Peter De Vries
"It's not easy being a mother. If it were, fathers would do it." —The Golden Girls
"A mom forgives us all our faults, not to mention one or two we don't even have." —Robert Brault
"If evolution really works, how come mothers have only two hands?" —Milton Berle

Mother's Day Quotes in Hindi

Express your love and care to your mom in a thoughtful way with these extremely special Hindi Mother's Day quotes filled with respect and affection.

बेहद मीठा कोमल होता है,
मां के प्यार से ज्यादा
कुछ नहीं अनमोल होता है.
हैप्पी मदर्स डे!!!

हजारो फूल चाहिए एक माला बनाने के लिए,
हजारों दीपक चाहिए एक आरती सजाने के लिए
हजारों बून्द चाहिए समुद्र बनाने के लिए,
पर "माँ "अकेली ही काफी है,
बच्चो की जिन्दगी को स्वर्ग बनाने के लिए..!!
Happy Mother's Day 2022
हमारे कुछ गुनाहों की सज़ा भी साथ चलती है
हम अब तन्हा नहीं चलते दवा भी साथ चलती हैI
अभी ज़िन्दा है माँ मेरी मुझे कुछ भी नहीं होगा
मैं जब घर से निकलता हूँ दुआ भी साथ चलती हैI
Happy Mother's Day
जिँदगी की पहली ‪Teacher ‎माँ,
जिँदगी की पहली ‪Friend माँ,
‪Jindagi भी माँ ‎क्योँकि,
‎Zindagi देने वाली भी माँ I

कुछ कौन सी है वो चीज़ जो यहाँ नहीं मिलती,
सब मिल जाता है लेकिन "माँ" नहीं मिलती…
माँ-बाप ऐसे होते हैं दोस्तों जो ज़िन्दगी में फिर नहीं मिलते,
खुश रखा करो उनको फिर देखो जन्नत कहाँ नहीं मिलती.

Happy Mother's Day 2022

Mother's Day Quotes for Grandmother

Make your grandma feel special with your words of appreciation on this Mother's Day. Send these sweet quotes for mom to her and express your love.

Grandmothers always have time to talk and make you feel special.

"A grandmother is a little bit parent, a little bit teacher, and a little bit best friend." —Unknown
"It's such a grand thing to be a mother of a mother—that's why the world calls her grandmother." —Unknown
"I know what it is like to be brought up with unconditional love. In my life that came from my grandmother." —Andre Leon Talley
"Life doesn't come with a manual, it comes with a grandmother." —Unknown

Mother's Day Quotes for Sister

Sister become the immediate in the absence of mother. She takes care of us in the same way as mom does. Share these incredible quotes with sister on Mother's Day and thank her for her unconditional love and support.

To have a loving relationship with a sister is not simply to have a buddy or a confident – it is to have a soulmate for life. —Victoria Secunda

"Mom: a title just above queen." —Unknown
"An older sister is a friend and defender — a listener, conspirator, a counselor and a sharer of delights. And sorrows too." —Pam Brown
"Your sisters are the only people in the world who know what it's like to have been brought up the way you were." —Betsy Cohen
"A sister is a gift to the heart, a friend to the spirit, a golden thread to the meaning of life. " —Isadora James

Mother's Day Quotes for Aunts

We all have been blessed with aunts from both maternal and paternal sides who are as loving and caring as mothers. You can also send Mother's Day quotes to them and let them feel special with your love and care.

The best aunts aren't substitute parents, they're co-conspirators. —Daryl Gregory

"Aunt: A cherished friend and personal cheerleader who will always see you through rose-colored glasses." —Unknown
"Only an aunt can give hugs like a mother, can keep secrets like a sister and share love like a friend." —Unknown
"An aunt is always there for all the times when you need a second mom." —Unknown
"An aunt is someone special to remember with warmth, think of with pride, and cherish with love." —Unknown

Mother's Day Quotes with Images

Mother's Day GIFs

Mother's Day Memes