DIY Rakhi Making Ideas for a Wonderful Raksha Bandhan 2022 Celebration!!
OMG!! The Season of Raksha Bandhan has already begun with a swarm of people all around the streets! It is a festival of brothers and sisters in India wherein both pray for a firm bond and for a prosperous life for each other in their own way. Wow! That's quite cool, isn't it? Thank God there is day which leaves a smile on the face of brothers and sisters, when they remember all those trifling fights and the way they used to make it up!! It's the time to remember all those moments and make the love grow.
Colourful enchanting Rakhis are the real delight of the season!! Every nook and cranny of the streets is flocked with a variety of aesthetically pleasing Rakhis. And, it is quite a difficult task to choose one from many wonderful choices. No worries, it can be done other way round, if you are afraid of haggling and penetrating through the crazy crowd. You can very easily make, on yourself, the best rakhi for your brother, just sitting comfortably in your den looking through the beauty of the nature through your window. Moreover the sweet chirping of the beautiful birds will for sure inspire you to be craftier.
Any brother will love this idea of a handmade rakhi more than the other crafted one. And more so, age is not a bar!! Whether he is a kid or is grown up individual, it fits to the taste of everyone. This year, if you are looking out for something unique to do and want to break the chain of monotony then look no further!
Here, we are presenting to you with a few of the Sober yet appealing DIY rakhi ideas, which will be fine with both the kids and the adults.
1. Thread rakhi
Probably the best one in this genre of Rakhis!! Easy to tie and easy to make! This is not going to take much of your time not even your effort; it's simple yet most brothers like this type of Rakhis. You just need to take a few colourful threads of your choice and twist them together and it will be done. It's your wish, how colourful you wish to make it! The more thread you will use the more it will get thicker.
Get it done right away, a fabulous gifts will for sure be yours!!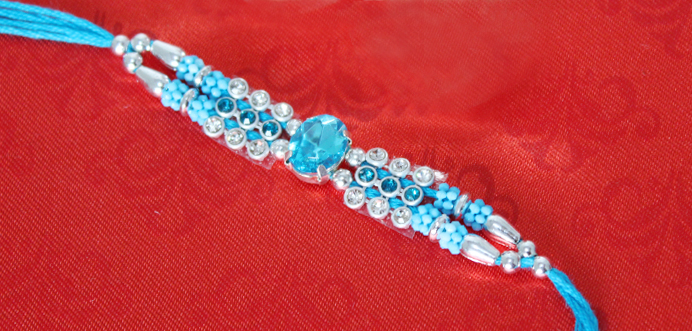 2. Ganesha Rakhi
Want to get more spiritual this Raksha Bandhan? Make a Ganesha Rakhi for your brother on your own rather than buying it from the market. It's simple to make! For this you will need an obsolete wedding invitation card from which you could cut out the picture of the Ganesh. Take a silver paper and paste the Ganesha cutting onto it. Now you can add to it threads of your choice and your Rakhi will be ready for the day.
This will be the most enchanting Rakhi ever for your brother!!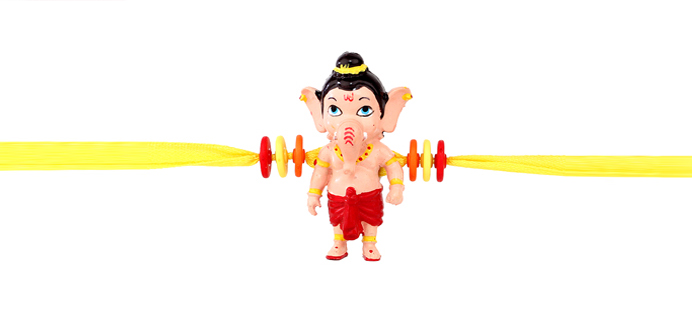 3. Foam Rakhi
Especially kids love this type of Rakhi! This is common feature of all kids that, they like foam made Rakhis, probably for its fluffiness. Foam is easily available in kids craft shops. Also most kids have foams of different colours in their craft box which you can make use of! You will just need to cut these foams in different beautiful shapes and stick them together. Now you will need to stick a thread ribbon of your choice for tying on your brother's wrist.
Let's get a little more Crafty this Raksha Bandhan!!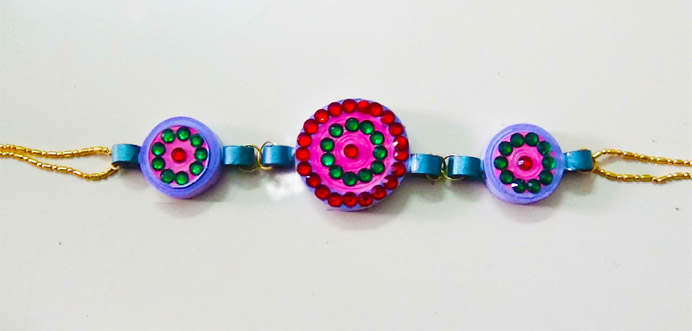 4. Beads Rakhi
This is so easy to make!! A simple effort can get you such surprising results you cannot even imagine! You will need just a handful of silk or wool strands – may be you can find them in your sewing machine or your wardrobe. Slide some beautiful beads of your choice in each of the two strands. Now twist them together. This will make a winning Rakhi ready just in a few minutes or so.
It's Lovely to Love Brothers! Do it with DIY handmade Rakhi this time!!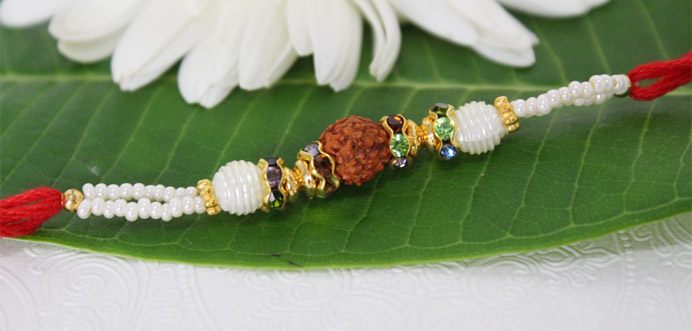 5. A Peacock Rakhi
You can be more artistic with your DIY rakhi making skills by crafting a peacock rakhi! Try to make one, this Raksha Bandhan!! You will need to arrange a pink felt paper or a paper doily which can be cut out with jagged edges. Also take some colourful felt and cut it into the shape of a peacock and stick a beautiful bead onto it. Now, take various different colours of puja threads and twist them to make ready the finished thread. Now slide through some beautiful beads into the final thread and stick it on to the base felt paper that you have made ready.
Enjoy the making of this beautiful Rakhi!!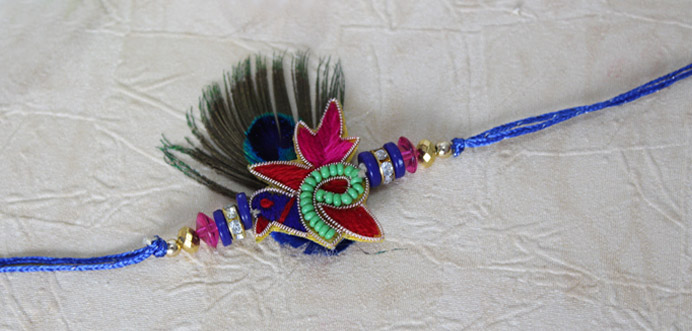 6. Vehicle Rakhi for Kids
For this all you have to do is get a puffy-fluffy sticker set and ribbons of various colours! It is one of the simplest ways to make a Rakhi at home and it will be a beautiful gift for your brother. Just stick the sticker on to the ribbons individually and your Rakhi will be ready!
A beautiful Surprise for Your handsome brother!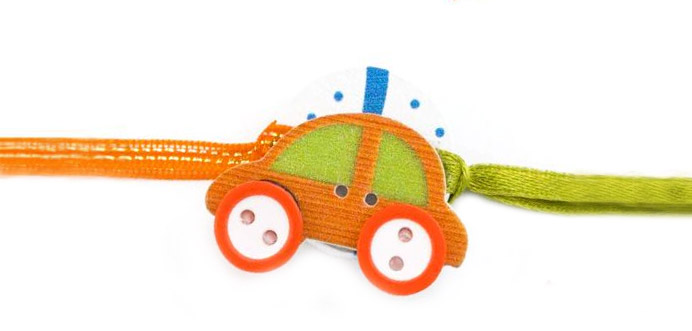 7. Letter Rakhi for Kids
This one is perfect Rakhi gift for the little one who had just started to read and learn letters of the alphabets. You will just need to buy some beads of the alphabets you need to weave in and a matching ribbon. Just slide these beads onto the ribbon and you will be ready with your Rakhi!
A great one for the little one!!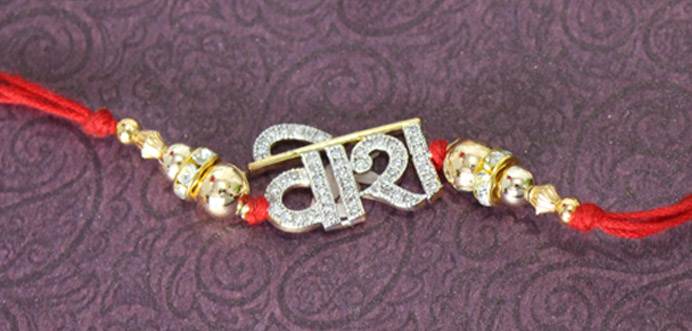 8. Cartoon Rakhi
This one is particularly great if you don't have much time left! It's attractive and it takes least time in making. This is a recycled Rakhi that can be made just in few minutes. You just have to cut out a few pictures of the cartoon characters from, wherever you want and stick them onto various colours of satin ribbons. You can make it with various kinds of cartoon characters.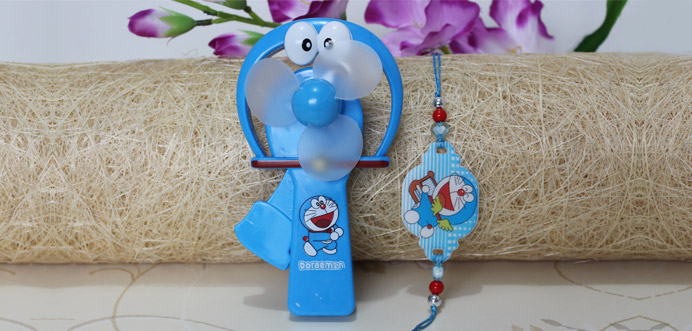 9. Button Rakhi
Simply you can make this one with the help of different colours of wool thread and beautiful buttons that you can get from the nearby shop store. Just braid the threads together in a patter same as you do while making the braids of your hair. Make sure that each of the strands of the threads should contain 2-3 colours of threads. Now stick the buttons onto the braid!!
Perfect for Perfection!!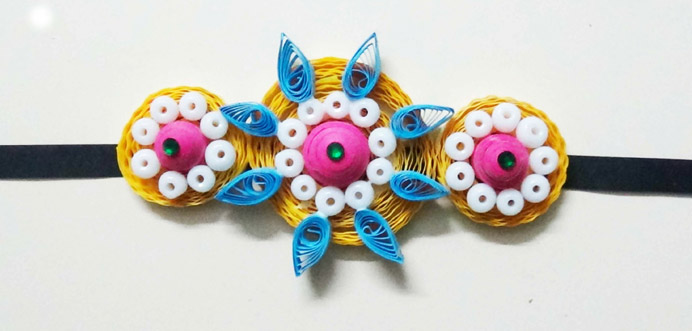 10. Knit Rakhi
A Soft & Comfy choice for the new one!! This one will be perfect, if you are looking out to make homemade rakhi for a new born baby! It is made by braiding together strands of knit fabric and will be the safest choice for your new one.
Greatttttt!! Now you already have too many options to choose from. You can either try one of them or try them all. So, you are going to pick one or all? It felt so very great helping you out on this!!