Boondi Laddu
Ingredients:
2 cups Gram Flour (Besan)
A few drops Milk
1/2 kg Ghee
2 cups Sugar
6 Stings Saffron (Kesar)
15 Green Cardamoms Powder
15 Cashewnuts
1/2 tsp Baking Powder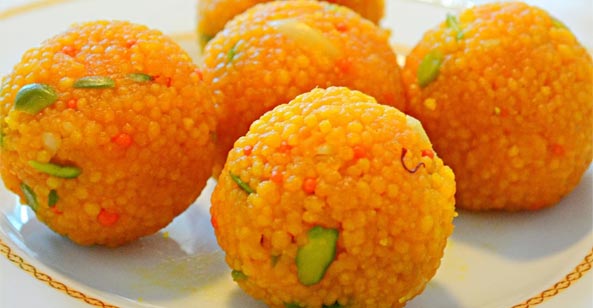 Method:
Heat water and sugar in a pan to make sugar syrup (chashni). Add cardamom powder and saffron to it and whisk well. In gram flour add soda and water to make a smooth paste. Heat ghee in a kadai or frying pan and drop the paste through a boondi maker & press out small boondis. Fry till yellow. In another frying pan put a few cashews and fry till brown. Add boondis along with the cashews and other dry fruits to previously made sugar syrup. Mix well and let it cool. Take out some boondi mix and press to make a ball-shaped laddoos. Let it cool and store in airtight containers.
Khasta Dal Kachori
Ingredients:
4 cups flour (atta)
¾ cup skinless dried black beans (urad)
½ tsp salt
1 green chilli chopped
Oil for deep frying
1tsp coriander seeds
1 tsp anise seeds (saunf)
1tsp white cumin seeds
¼ tsp asaoetida powder
½ tsp red chilli powder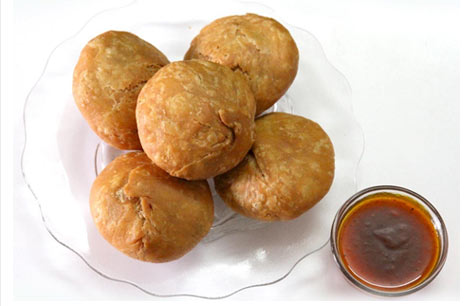 Method:
Rinse & drain the beans kept overnight soaked. Make soft dough out of flour by adding water to it. Leave the dough covered with a wet cloth for half an hour. Grind the beans adding to it- chilli powder, spices and salt for stuffing. After mixing well, divide in 16 equal portions. Divide the dough too in 16 equal portions. Smear a little oil for smoothening.
Roll each portion of dough into puris about 2-inch diameter. Fill with stuffing onto each round & roll into flat balls.
Heat oil in a pan and deep fry the kachoris. Fry till golden brown. Serve with chutney.
Vermicelli Kheer
Ingredients:
1cup Roasted Vermacili
½ tsp. Saffron
1.5 liter Milk
Dry fruit and resins
½ tsp. Cardamom Powder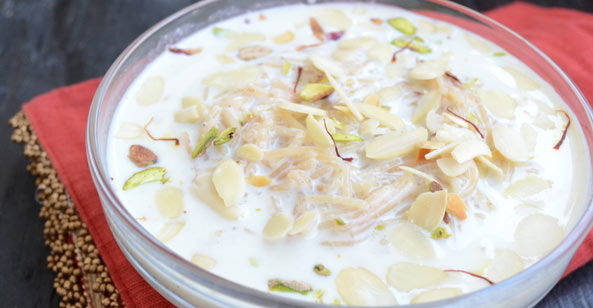 Method:
Boil milk in a pan and add roasted vermicelli. Add sugar. Boil till thick. Take saffron and dissolve it in 1 tbs. water. Add cardamom & saffron to vermicelli. Garnish with dry fruits & raisins. Serve hot or cold.
Vegetable Pakodas
Ingredients:
250 grams besan
½ tsp. red chilly powder
½ tsp. turmeric
1 tsp. Coriander paste
1 tsp. dried pomegranate seeds
1 green chilly chopped.
1 medium sized potato, chopped
1 medium sized onion, chopped (you can add vegetables like brinjal, cauliflower, cabbage, and others too)
Salt to taste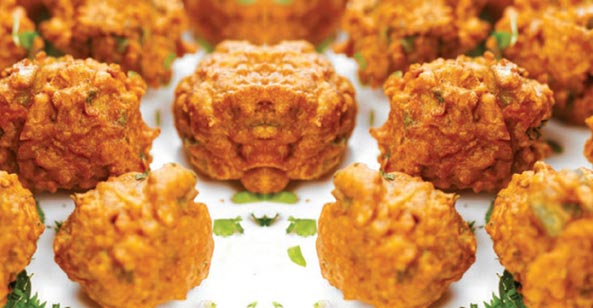 Method:
Mix all the ingredients together and make a thick batter. Heat oil in a pan. Drop portions of the batter in round shape and fry till brown. Fry till crisp and take out on tissue paper to absorb extra oil, serve hot with tamarind or green sauce.
Tamarind Rice
Ingredients:
3 cups Rice cooked with 1 tbsp butter/ghee/oil
3 tbsp Channa Dal
1/2 cup thick Tamarind extract
2 tbsp grated Ginger
1 level tsp Turmeric powder
6-8 Green Chilies slit in two
2 level tsp Red Chili powder
1/4 tsp Asafetida powder
Few Curry Leaves
3-4 dry Chilies
1/2 cup Vegetable Oil
5 tbsp Cashew nuts (broken up & kept)- Optional
Salt to Taste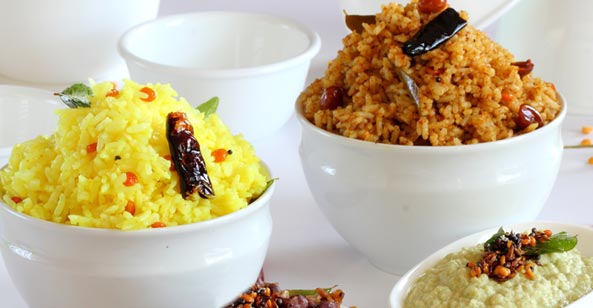 Method:Take ½ cup vegetable oil and heat in a pan. Add dry chillies, chana dal, green chillies, curry leaves, and asafetida powder. Fry till the dal is brown. Add turmeric powder, salt, grated ginger, chilli powder, crushed cashew nuts and blend for a few minutes. Stir on low flame. Add water and boil till the quantity reduces to half forming a thick batter. Put cooked rice in a pan; add prepared mixture & the extract of tamarind. Mix well and keep covered till ready to serve.
Kheer
Ingredients
¼ cup of rice (any rice of choice)
4 cups of milk
1/3 cup of sugar
Elaichi pods or ½ teaspoon of Elaichi powder
10-12 chopped almonds
10-12 chopped pistachios
10-12 chopped cashew nuts
10-12 raisins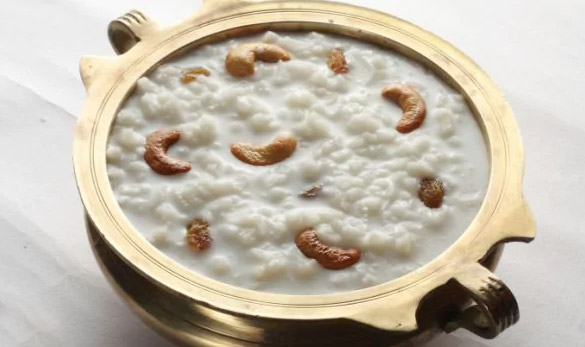 Method
Take ¼ cup of rice of choice and wash it water few times. Chop the nuts into thin slices or pieces and keep aside. Take a large pot, fill it with milk and bring it to a boil. Then, add rice and cook the mixture on a medium flame. Keep stirring in between to avoid the milk from scorching at the bottom. When the rice softens, add sugar and stir well. Continue to cook for 4-5 minutes or when the kheer becomes slightly thick or when it reaches the desired consistency. Serve the prepared kheer when it cools down and garnish it with chopped nuts.
Ghevar
Ingredients
1 and ½ cup of flour
¼ cup of milk
½ cup of ghee
2 and ½ cups of water
1 cup of sugar
1/8 edible food coloring
For Topping
Finely chopped pistachios
1-2 strands of saffron
Finely chopped almonds
Silver vark (optional)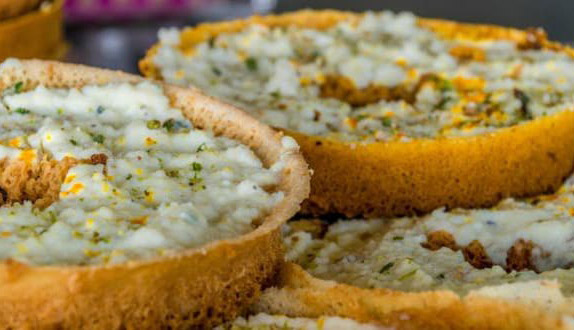 Method
In a pot, add sugar and water to make sugar syrup of 1 string consistency. Add solid ghee in a bowl and keep rubbing it with ice cubes till the ghee becomes white in color. You can add more ice cubes if needed. Then, add flour, milk and water and mix it to form a batter. Add food coloring in the water and mix it again. The consistency of this mixture should be runny.
Take a pot and fill the half of it with ghee. When the ghee becomes hot, add the batter in a single thread in the center of the pot and let the foam settle. Pour one more glass of the batter in the center and let the foam settle. Take an iron skewer to loosen the ghevar from the pot and place it on a wire mesh. Add the ghevar in the syrup and place it back on the wire mesh to let excess syrup drain. Then, garnish the top with silver vark, nuts and saffron.
Mal Pua
Ingredients
200 gms of maida
1 tsp of fennel seeds
1 cup of ghee
250 ml of water
1 tsp of cardamom powder
Semolina of 100 gm
½ tsp of baking powder
Few strands of saffron
500 ml of milk
250 ml of sugar
50 gm of khoya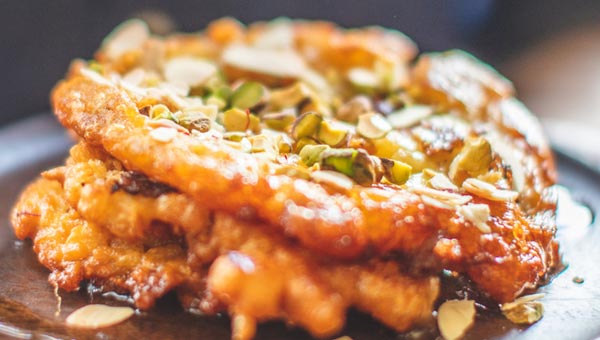 Method
Take a pan and fill it with water. Place it on a medium flame and add sugar. Stir the mixture until the sugar is fully dissolved. Then add few drops of milk and stir again. When the consistency of the sugar becomes thick, keep the prepared sugar syrup aside.
Take a bowl and add milk, semolina, fennel seeds, cardamom powder, baking powder, and refined flour and stir until it forms a semi thick or pourable like consistency. When the batter is ready, place it aside for a few minutes.
Heat the pan over low flame. Add a ladle of the prepared batter in the pan. Cook the batter till it turns in a light brown color on either side. Take the Mal Pua out of the pan and dip it in the sugar syrup prepared earlier. Take the syrup soaked Mal Puas out and place them on a plate and garnish it with almonds and pistachios.
Chiwda
Ingredients
2 cup of flattened rice (poha)
1 cup of roasted chana
Chopped choconuts
15-20 curry leaves
1 cup of raw peanuts
1 cup of cashew nuts
4 tbsp of raisins
½ cup of mustard seeds
½ cup of turmeric powder
2 tsp of powdered sugar
2 tsp sesame seeds
1 cup vegetable oil
Few pinches of asafoetida (hing)
Salt for taste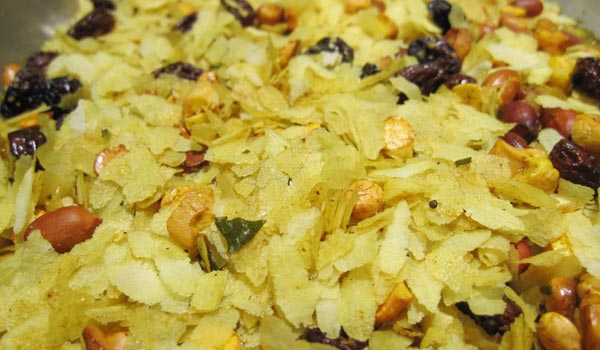 Method
Take a pan and heat the vegetable oil in it on a low flame. When the oil is heated, add poha in the oil and keep frying until it becomes crisp. While frying, keep the oil on medium flame. Meanwhile, wash the curry leaves, raisins and cashews. Place these on a kitchen towel to dry and then place on a bowl. When the poha is fried, deep fry the chana until it is golden. Then, fry the nuts and curry leaves together. Put the fried nuts and curry leaves on the paper towel.
Take a large pan and add a tsp of oil and heat on a medium flame. Add mustard and sesame seeds and fry until they pop. Then, remove the seeds and fry asafoetida and other spices, add sugar and salt and stir. Put all the fried items in the pan and fry for another two minutes. Crush the curry leaves on the top of the chiwda mixture and serve.
Coconut Barfi
Ingredients
1 ¾ Finely shredded coconut
½ + 2 tbsp condensed milk
1/8 caradmom powder
½ cup of milk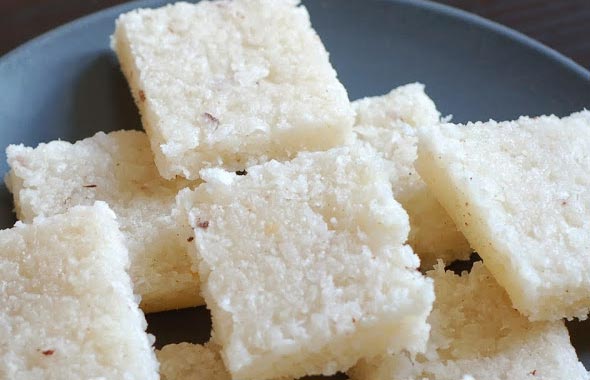 Method
Take a pan and add desiccated coconut, milk and sugar in it and stir on a medium flame until the mixture becomes gooey. Add cardamom powder and stir again till the mixture becomes thick and starts leaving the sides of the pan. Pour the mixture in a greased pan and flatten with a spatula. Let the mixture cool for 15-20 minutes. Garnish it with pistachios and almonds. Cut it into squares and store in a jar.
Sweet Kesar Rice Recipe
Ingredients:
½ tablespoon Ghee
1 ½ cups of sugar
A pinch of Saffron
4 cups orange juice
4 cups carrot juice
1 tablespoon of chopped cashew nuts
1 tablespoon of chopped almonds
10 peeled and blanched almonds
4-5 Cardamoms
6-7 black peppercorns
6-7 cloves
1 black cardamom
I inch cinnamon stick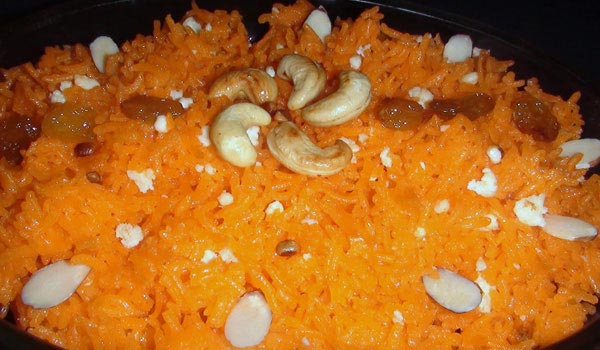 Method:
Making this highly delicious sweet Kesar rice is very easy. First you have to heat the ghee in a cooker. After that, you have to add black cardamom, cinnamon, peppercorns, cloves, and green cardamoms into the ghee and sauté for 1 minute. Then, you have to add and mix blanched almonds, cashew nuts, chopped almonds and rice nicely in the cooker as well as mix the orange and carrot juice into all the mixture. After that, you will add saffron and cook till half done. Then open the cooker and mix the sugar into it. Again, cover and cook until your rice is fully cooked. Serve hot to take the full taste and enjoy with your family and friends while eating the most delicious sweet Kesar rice.
Gulab Jamun recipe
Ingredients:
Require ghee for deep frying purpose
1 ½ cups of Mawa
¼ cup of chenna
3 teaspoon of soda bicarbonate
¼ teaspoon of green cardamom powder
3 tablespoons of refined flour
2 cups of sugar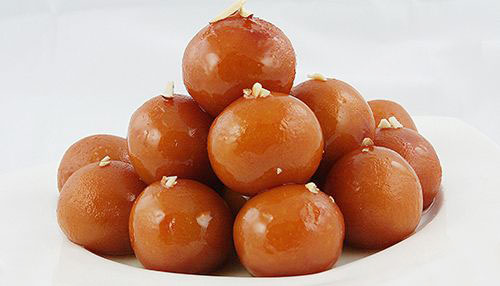 Method:
Making this highly popular and scrumptious dish is not a big task. Anyone can make it at home because its method of preparation is very easy. Let's have a look-
First, you have to grate and mash chenna and mawa and keep it in a bowl. Then mix refined flour, green cardamom powder, soda bicarbonate and little water into mashed chenna and mawa for making soft dough. After that, take this dough and divide it into sixteen equal portions and give them a ball shape.
In a pan, prepare sugar syrup by taking two cups of water and sugar. For the best sugar syrup, you have to clear syrup by removing scum from it while heating. And in another pan, heat the ghee and add balls into it. Deep fry these balls till these balls turn golden in colour. Then, add these golden balls into the sugar syrup at least for fifteen to twenty minutes. Now your gulab jamun is ready.
Balushahi recipe
Ingredients
2 cups of sugar
¼ teaspoon of soda bicarbonate
2 tablespoons of milk
6 tablespoons of yogurt whisked
1 ¼ cups of refined flour
4 tablespoons of Ghee
5-6 chopped pistachios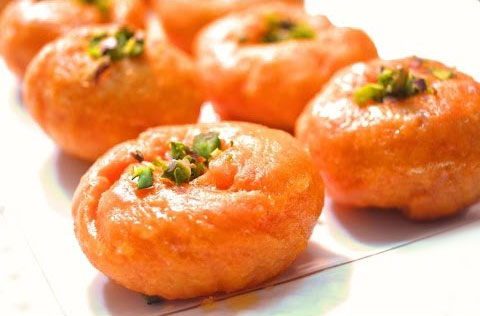 Method:
Finely mix soda bicarbonate and flour into a bowl. With your fingertips rub 4 tablespoons of ghee into the flour mixture and make it like breadcrumbs. Then, add the beaten yogurt and knead into soft dough. With a damp cloth cover this dough for forty-five minutes. After then, divide this dough into twelve equal portions and shape them into balls and make a slight dent in these balls in the center with your thumb.
Take a non-stick pan and heat required ghee. Then, gently put two to three dough balls at a time into the ghee and deep fry them on low heat. When balushahi start floating on the top, turn and fry from another side till those balushahi get golden. Drain those balls on absorbent paper after deep frying them.
Prepare the syrup of sugar with one cup of water and sugar on high heat. Add the milk to the cooking syrup and cook till the syrup attains a two string consistency. Turn off the heat and then add balushahi balls in it for two hours. Remove all balushahi from sugar syrup and garnish with pistachios.
Kaju and Pista Burfi recipe
Ingredients
Around 10 cashew nuts
Around 10 pistachios
½ sugar cup
For greasing purpose ghee is required
1 teaspoon liquid glucose
2 cups of Khoya
Little bit saffron
Method: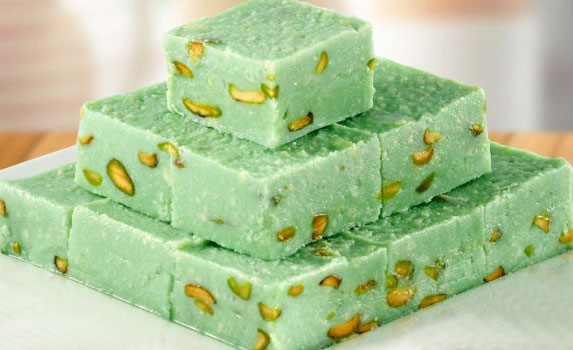 In non-stick pan, heat and cook the mixture of sugar, glucose, and khoya for fifteen minutes until khoya start leaving the sides of the pan. After that turn off the flame and divide this mixture into four portions. Add cashew nuts to two portion and pistachios to other left portions. Then mix all the four portions nicely.
After that, grease a 2-inch deep and square aluminium tray with ghee and spread all the mixture on it and divide that mixture into burfi shapes. Soak the saffron in warm water and sprinkle it on the mixture. Now, gently tap the tray on the table top and leave to set. Cut into squares and serve.
Gujia
Ingredients
500 gm Khoya
3 ¼ teaspoons desiccated coconut
25 raisins
12 blanched and chopped cashew nuts
12 blanched and chopped almonds
3 cups of sugar powder for filling
½ teaspoon green cardamom powder
½ teaspoon salt
4 cups refined flour
5 teaspoon ghee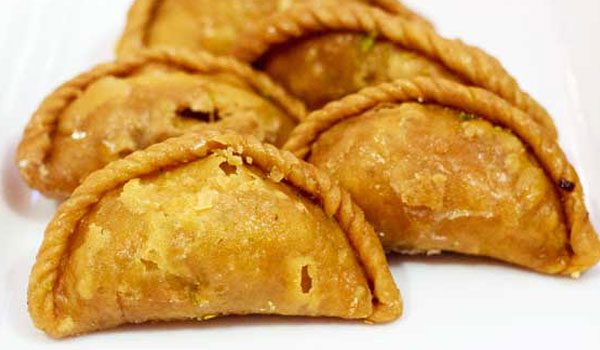 Method:
First, you have to mash khoya and roast it on medium heat till pink in a deep pan. Then, let the mixture cool. When your mixture gets cool then adds other filling ingredients to khoya and keeps it aside.
For preparing the covering, you have to sieve flour & salt and rub in five tablespoons of ghee. Into this mixture, add required water and prepare firm dough. For fifteen minutes, cover this dough with a moist cloth. After that, make small balls of equal sizes from this dough and roll each ball into puri shape.
Then, spread a puri on a greased gujiya mould and fill the mixture on it. Moisten edges of puri and fold one side of mould over the other. Press the edges of the mould and remove excess dough and reuse it.
In a pan, heat the ghee and deep fry the gujiyas on medium heat till golden brown. Drain them on an absorbent paper. After cooling, store gujiyas in an airtight container.