Raksha Bandhan - Best Songs and Poems
Raksha Bandhan falls on the day of the full moon in the Shravana month of the Hindu calendar. This auspicious festival is celebrated every year to celebrate the special relationship between a brother and sister. It is the day of love and a promise of protection between the siblings.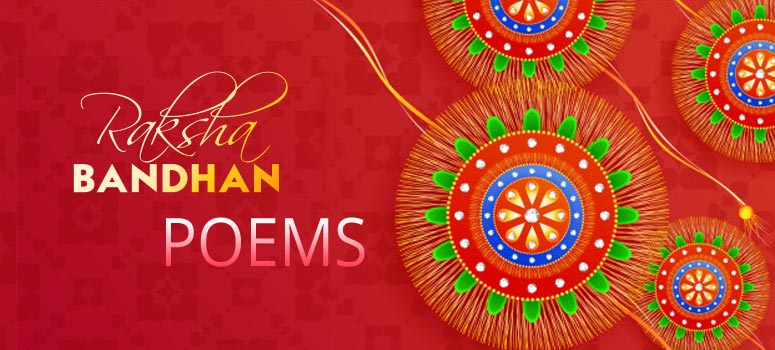 This is the best opportunity to express your love towards your siblings. So, here is a list of the best Raksha Bandhan Poems and Songs that will help you in expressing your heartfelt emotions for your sister or brother.
Raksha Bandhan Poems
1. Rakhi Day is Righteous Day by APJ Abdul Kalam
This full moon day our hearts are in brim
Feeling of faith and serenity in mind.
We light the lamps and our hears glow
Radiance of happiness and peace are in flow.
Harmonious homes are like streams of joy
Flowing and flourishing the landscape en route.
Nobility in heart and character in deed
Righteous homes alone make a beautiful State.
Sisters will tie the thread on the brothers
Abiding them to do only what is right and clean.
Put the Kumkum and blessed rice on the head
Where will dwell right thoughts and noble action.
2. Brother and Sister by Raphaella Vaisseau
Believe and Admire
Protect and Show
Watch and Listen
Love and Know
A brother's Love
is a sister's
greatest treasure
A sister's happiness
is a brother's
deepest desire
Know that you are loved
3. The Woman I Call Sister by Marissa Gertmenian
The woman I call sister
is someone who is there
The woman I call sister
is someone who always cares.
The woman I call sister
Can make me smile when time are blue
The woman I call sister
is someone very true.
The woman I call sister
By choice, she is my best friend
The woman I call sister
Will be there till the end.
The woman I call sister
is the blessing from God above
The woman I call sister
is the sister that I'll always love.

4. भैया मेरे – पूजा पाठक
प्यारे-प्यारे भैया मेरे…
सबसे अच्छे भैया मेरे…
तुम हो मेरे रखवाले…
मुझसे ये राखी बन्धवाले…
तेरी रक्षा मैं करुगी..
मेरी रक्षा तुम करना..
तेरे साथ मैं चलूँगी..
मेरे साथ तुम चलना…
राखी का ये बंधन प्यारा..
इस बंधन को बांधे रखना..
टूटे ना रिश्तो का धागा…
मजबूत अपने इरादे रखना…
जब मैं तुमसे रूठ जाऊं..
तो तुम मुझे मनाना..
जब-जब मैं रोऊँ..
तुम मुझे हंसाना..
मेरे भैया दूर ना जाना..
मुझसे तुम राखी बंधवाना..
प्यारे प्यारे भैया मेरे …
सबसे अच्छे भैया मेरे….
5. Sisters by Gillian McKay
They share a special bond that is impossible to describe.
It can only be felt and understood by the sisters who share it.
They go through life together as a team, helping and supporting each other
Through whatever this world has destined for them.
They will never give up on each other,
For giving up on your sister means giving up on yourself.
They smile together, laugh together,
Lie for each other, lie to each other and cry together.
Your sister is the one person you can confide your whole self to, the one person who understands.
She is the person who will stand by your side until the very end.
She has and always will be there for you during all the times in your life,
Whether they be happy or sad.
A sister is someone who knows you better than you know yourself.
She is someone you can't imagine your life without,
And just the thought of it makes you want to cry.
She is someone who knows you're not okay, even when you say you are.
Your sister is and always will be your very best friend.
6. Dear Brother by Shirley Rodriguez
I have searched for many years,
Lived through tunnels of tears,
Reminiscing in what could have been,
The hero I always saw within.

From time to time the thought came back,
Wasn't I your sister? Wasn't I your blood?

We each parted our own way,
Our parents didn't help, needless to say.

A couple of months ago my search finally came to an end,
My long lost brother is now my good friend.

What you mean to me I cannot express,
You're more than someone I call when I am in distress.

Today, as you walked me down the aisle,
Giving me away,
I had the biggest smile,
That on one could sway.

This is a fresh start, a new road,
Lets both sit back and watch it unfold.
7. Here's To My Brother
Here's to my brother
Remember every day
No matter what I've said
Here's what I'd like to say
I will always love you
Be with you till the end
When no one else is around
I will be your friend
I love my brother
and I always will
I'm proud to be your brother
that's how I feel And someday when we're far away
And the miles keep us apart
I'm gonna whisper
I love my brother
And you'll know it in your heart
8. A Sister is Forever by Bruce B. Wilmer
A sister's a sister forever
A bond that diminishes never
A friend who is kindly and caring
A sibling God chooses for sharing.
Few ties as deep and profound
And with so much affection abound
Though some thoughts are seldom expressed
Love endures and survives every test.
Of the constants that rest in the heart
A sister's a primary part.
She'll always be there when you need her
You listen, you value, you heed her.
As growth independence you ponder
Your feelings grow deeper and fonder
And life tells you one thing that is true
A sister's a large part of you.
And life tells you one thing that is true:,
A sister's a large part of you.
9. राखी आयी खुशियां लायी
राखी आयी खुशियां लायी
बहन आज फूलें न समाई
रखी, रोली और मिठाई
इन सब से थाली खूब सजाई !
बांधे भाई के कलाई पे धागा
भाई से लेती हैं वादा
रखी की लाज भैया निभाना
बहन को कभी भूल न जाना !
भाई देता बहन को वचन
दुःख उसके सब कर लेंगा हरन
भाई बहन का प्यार हैं
त्यौहार रखी का न्यारा हैं !
10. My Sister and Me
We laugh,
we cry,
we make time fly.
Best friends are we
my sister and me.
Rakhi Songs
1. Phoolon ka Taroon ka
Film: Hare Krishna Hare Ram
Singer: Kishore Kumar
2. Rakhi Dhago ka Tyohar
Film: Rakhi
Singer: Mohammed Rafi
3. Ye Rakhi Bandhan Hai Aisa
Film: Be-Imaan
Singer: Lata Mangeshkar and Mukesh
4. Behena ne Bhai ke Kalai se
Film: Resham ki Dori
Singer: Suman Kalyanpur
5. Bhaiya Mere Rakhi ke Bandhan ko Nibhana
Film: Chhoti Bahen
Singer: Lata Mangeshkar
6. Rang Birangi Rakhi Lekar
Film: Anpadh
Singer: Lata Mangeshkar
7. Chanda Re Mere Bhaiya
Film: Chambal ki Kasam
Singer: Lata Mangeshkar
8. Hum Behno ke Liye Mere Bhaiya
Film: Anjaana
Singer: Lata Mangeshkar
9. Nahin Mein Nahin Dekh Sakta Tujhe Rote Hue
Film: Majboor
Singer: Lata Mangeshkar
10. Mere Bhaiya Mere Chanda
Film: Kaajal
Singer: Asha Bhosle