Rakhi Thalis Decoration Ideas - A Way to Revivify Raksha Bandhan Celebration!!
Terrifically true!! The daintiness of the bond is so very much pure!! Raksha Bandhan is a day when you can open your heart to your brother and sister! The absolute faith and the unwavering conviction that has been built right from the womb of the mother cannot be explained in words. And Raksha Bandhan is one such occasion which gives you an occasion to explain that this bond is so very serene that you want it to be perpetually alive.
Raksha Bandhan 2022 is about to say hello with a pretty smile on its face, recreating an aura of love all around!! You want to be a child all over again, playing in the garden with your brother, indulging in trifling fights? So wonderful a feeling it was!! There was something enchanting it was about those times. Don't worry, it is going to feel as pleasant as you felt during those mesmerizing moments that you cherish today. It is Rakhi and you are going tie this nurturing bond, on your brother's wrist in few days or may be in few hours.
India with its diverse culture has so many customs and rituals in every other festival. Indeed, it's wonderful as these subtle aspects of festive celebration fills up life with vibrant colours in our lives. In context of Rakhi, thali decoration is the lifeblood of the celebration. You will not need words, if you keep a beautifully decorated thali ready before starting it off with the rakhi tying ceremony. And the idea is how much artfully you could do it.
Here are a few of the Rakhi thali decoration ideas that could make the ecstasy of Raksha Bandhan celebration two fold!
1. Traditional Steel Thali Decoration
This is one of the ways of traditional Rakhi thali decoration idea! You will need a steel thali that everyone has at their home. Now you have to paint it bringing out the artist within you!! You can use whichever colour you like. Alternatively you may also design the thali the way you like using oil paint inside a cone. Once you are done with painting the thali, you can take a few of the decorative items including stars and mirror cuttings and paste them on the thali. To impart to it the traditional look you can use stone, Kundan and alike. Furthermore, you can add to it your creativity to make it aesthetically pleasing!!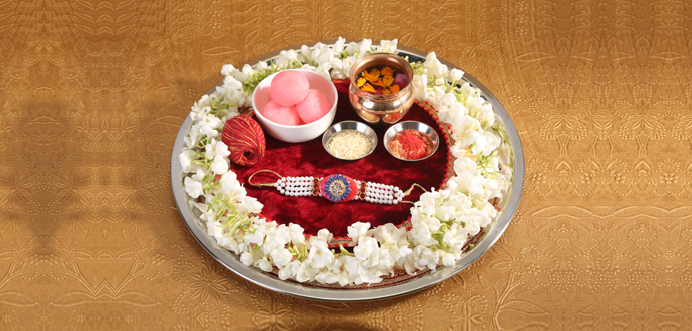 2. Ceramic Rakhi Thali Decoration
This is another way decorating an aesthetically pleasing Rakhi Thali! Take a piece of velvet paper of any colour you like, cut it into the shape of the internal dimension of the thali and paste it therein. Now, you will need to take 5-6 small bowls, one of them should be in square shape and the others in round shape. Now paint these bowls as per your choice! Place the round bowls all around the thali and the square one in the middle of it. Also, decorate these bowls and the edge of the thali with pearl chain all around! In the square bowl, now, put a decorated coconut and other materials like kumkum, sweets and rice in the round bowl. Here is an enchanting Rakhi made ready for you!!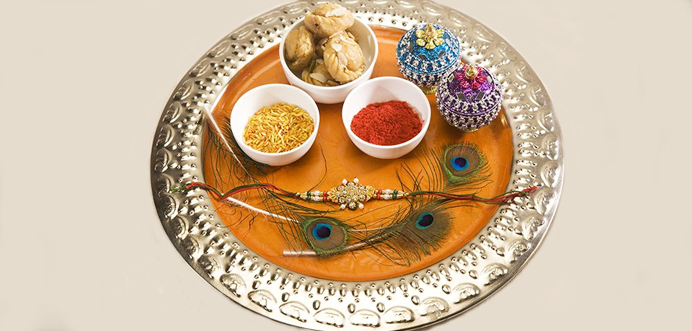 3. Designer Thali for Your Brother
Bring a thali that already has designs of leaves and flowers and bowls of different shapes made over it which will not need any further decoration! Now, use with this thali, sweets of white colour and a mesmerizing pearl Rakhi to decorate it further. Put inside Roli and chaval in the bowls present therein! Here is your extremely enthralling rakhi Thali designed for your handsome brother.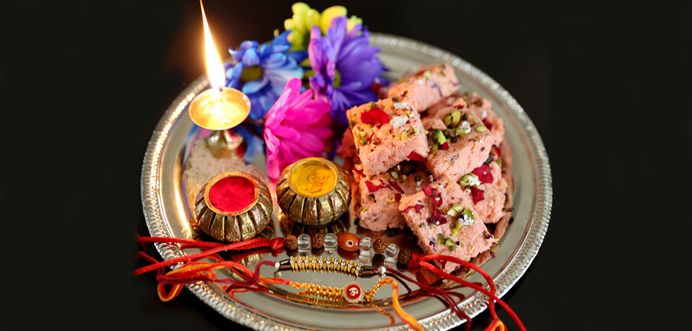 4. Royal Silver Thali Decoration
Add to oval shaped silver Thali, two beautiful bowls and keep rice inside of them and roli in the other one. If you want to add to it a royalty and gracefulness put a Lakshmi and Ganesha statue on the sides. Also put a small coconut on the thali and a beautiful Rakhi for tying on your brother's wrist. Now, your glittering silvery thali is ready!!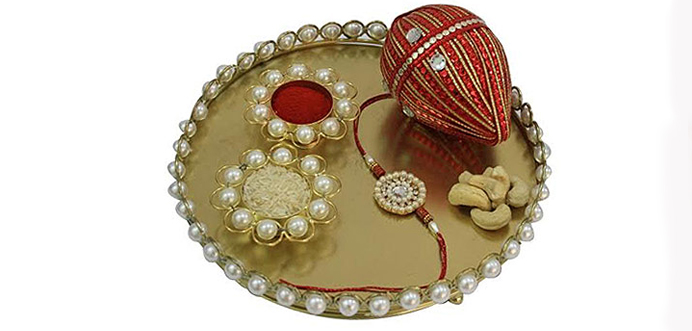 5. Unique Bamboo Thali Decoration
Bring a bamboo or a polystyrene plate! Now stick to it a beautiful piece of cloth with colour of your choice and also paste to it little stars over it. You can decorate it with earthen pitchers to impart Indian look and paint these pitchers with paint. In addition to that, you may also use pearl chains to decorate it further. At the end, put roli, rice and sweets inside these pitchers and your thali will be ready for the tika ceremony!!